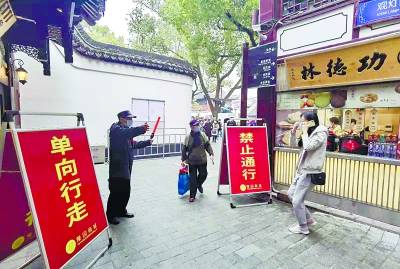 Yuyuan Mall announced that it will implement ticket-based admission at different times from February 25 to March 1(from the 14th to the 18th of the first month of the lunar calendar).Tickets cost 80 yuan for adult between 2pm and 10pm on Friday(Lantern Festival Day), and 50 yuan for children taller than 1 meter. Each person can bring one child below 1 meter for free.Tickets on Thursday, Saturday, Sunday and Monday cost 50 yuan for adults and 30 yuan for children between 4pm and 10pm. Admission will be free from Tuesday.
Visitors will be required to show their identity cards or passports and health codes before entering the malls. They must also wear masks and will have theirtemperaturetaken. The number of visitors to the shows will be limited.
Ticket booths will be set up at the intersection of Lishui Road and Ping'an Street, south of Fuyou Road and west of Jiuxiaochang Road. Entrance toYuyuan Mall can be gained through Gate 2, Gate 3, Gate 5, and exit is throughGate 1, Gate 4, Gate 6, Gate 7, and Gate 8.