Since most Chinese people were encouraged to stay put where they work and not go back to their hometown during the 2021 Spring Festival, it is expected that travel during the upcoming Qingming Festival, the first holiday after the Spring Festival, will see explosive growth.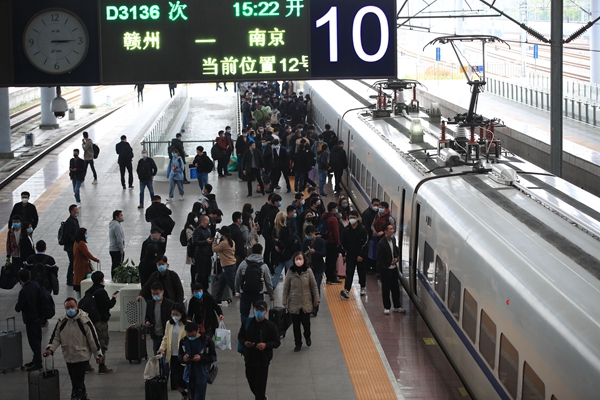 (Travelers in a railway station)

Big data collected by tourism institutions in Shanghai indicates that the number of travelers in Qingming may return to the 2019 level, reaching 100 million.
Home-stay booking from vocational rental platform Tujia has rocketed 35 times over the same period last year, among which countryside home-stay bookings account for more than 60%. Offering both nearby scenic spots and folklore experience programs, tickets for some countryside homestays were sold out in minutes, like some of those in the Mogan Mountain International Tourist Resort in Huzhou's Deqing county of Zhejiang Province.
As this year marks the 100 anniversary of the founding of the Chinese Communist Party, air ticket data from Tongcheng Travel Group also shows that, recently, the proportion of flight segments to revolutionary tourist destinations has increased by 4% compared with 2019. Internet searches for revolutionary destinations in Shanghai, Zunyi and Jinggangshan and surrounding hotels have seen an increase.