Mortician is a profession that is most misunderstood and shunned because of people's innate fear of death, but for those who choose to be a mortician, it is great way to give the deceased respect by preparing them for a dignified burial.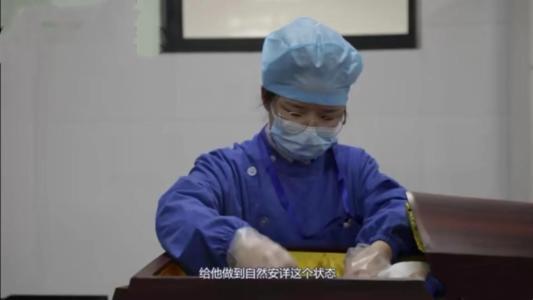 (Chen Yunqiu at her work)

Chen Yunqiu and Liu Sansan are young morticians from the Hangzhou Xiaoshan Funeral Service Center. Every day, they get up at 5 o'clock to work and sometimes even need to deal with emergencies at midnight. Bathing, dressing, doing manicures and makeup and sometimes a 1-hour massage for the dead bodies are their daily tasks. If the body is damaged, repairs are also needed.
Chen and Liu both graduated from the Beijing College of Social Administration and majored in modern funeral technology and management. When Chen, a Sichuanese lady, applied for this major before entering college, she was totally opposed in her choice by all her relatives. She thus even walked out to avoid their dissuasion. Liu Sansan's parents have also been worrying about his future career development and marriage.
But for the two, doing technical repairs and treatment for the deceased is a glory, and it is a way to comfort the family members. Chen is really touched that two years ago when she did high-quality organ repairs for three traffic policemen who died on duty, the father of one of the deceased was quite comforted, saying to her,"this is what my son really looks like, and he is just sleeping."
"Someone must do this job. I think it is glorious. Even if in the future I don't work on the front line, I will consider funeral management. Those at the last time of life should be treated with gentleness and dignity. Dead bodies mean lives in my eyes. Words of gratitude from their family members make me full of strength. I will keep doing it and I feel proud to do it," said Chen.