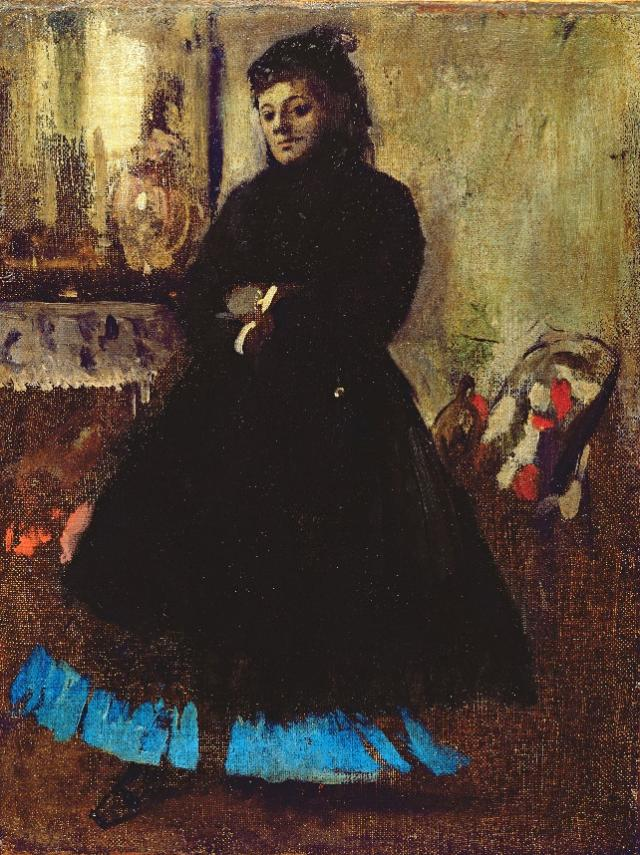 1858
Oil on canvas
33x24cm
«©MuséeMarmottanMonet,
Académiedesbeaux-arts,Paris»
Madame Ducros, born Marie Mathilde Amélie Olivier de Vézin (1810–date unknown), belonged to a Creole family in Louisiana. As a relativeofMichel Musson (1812–1885), Degas's maternal uncle, who lived in New Orleans and worked in the cotton trade, she visited the Degas family when staying in Paris. This was before July 1856, when Degas set off for Italy, where he would stay until his return in April 1859. She was accompanied by her daughter Marie-Lucie (1826–1912), her second husband, and her two daughters by her first marriage, Angèle and Gabrielle Toutant Beauregard (dates unknown). From a letter dated 13 August 1858, sent to the painter in Florence by her father, Auguste De Gas (1807–1874), we know that Degas painted portraits of the three adults and made drawings of the children.
This confidently executed portrait, which was probably a study for the more ambitious painting held at the Hermitage in Saint Petersburg, is handled allusively in order to exploit broad zones of colour.