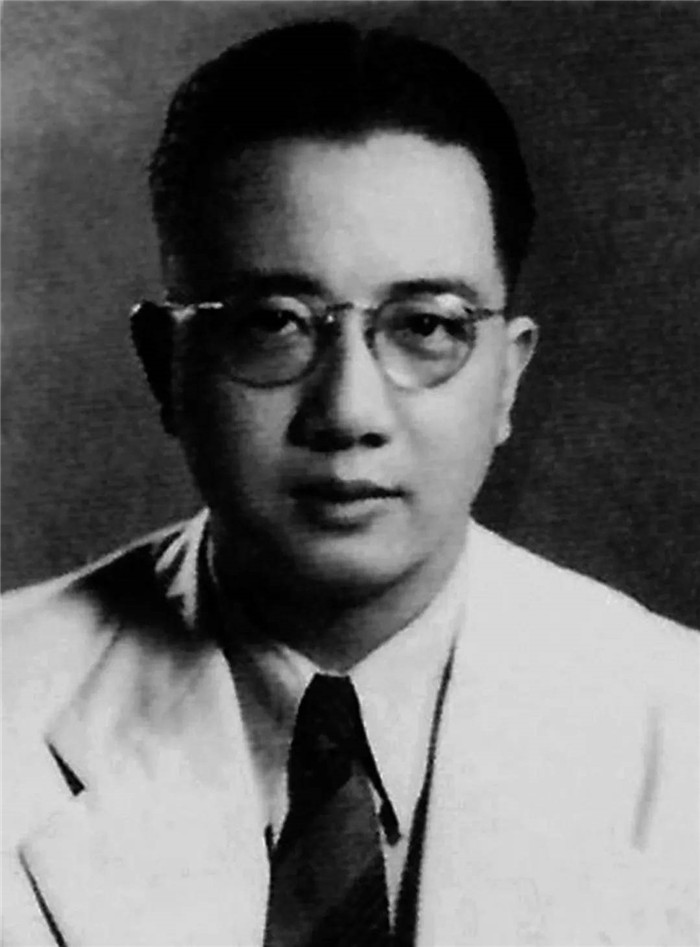 According to Fortune Magazine, China Resources was ranked 79th on the 2020 Fortune Global 500 list. The conglomerate owns a bevy of household name firms and brands including Snow beer, Yibao Water, China Resources Vanguard, Pacific Coffee and China Resources Land. China Resources is arguably ubiquitous in our everyday lives across China.
Little known is that such a huge business empire has a "red" background that is anything but ordinary. The connection between China Resources and the Communist Party of China can be traced back to the Anti Japanese war. Liow & Co, founded by Qin Bangli, a member of the Communist Party of China's Central Special Operations, was the predecessor of China Resources Group.
Qin Bangli was born in Wuxi in 1908. After his father died of tuberculosis in 1922, 14-year-old Qin Bangli gave up his studies in order to support his brother Bogu and sister to study, and went to Wuxi Fuyuan Money house as an apprentice.
Embarks on the revolutionary journey with two gold bars
In April 1931, with Gu Shunzhang and Xiang Zhongfa arrested and defected one after another, all the Central Special Operations members were exposed and put in extreme danger. In May, the Central Special Operations was restructured. Chen Yun replaced Zhou Enlai as the head of the new organization, and planned to employ new people. Qin Bangli, introduced by his brother, met Chen Yun.
The reporter learned from the Chen Yun memorial Hall that at that time, hearing that Qin Bangli had business experience, Chen Yun was very happy. He made an appointment with Qin Bangli and took two gold bars as a "meeting gift". After that, Qin Bangli received his first task: to use these two gold bars as capital to build a new secret transportation station and raise funds for the party.
With two gold bars as the "start-up fund", Qin Bangli first opened a rice shop in Shanghai to transport Wuxi rice to Shanghai for sale. After making money, he opened a furniture and woodwork shop as a cover for holding party meetings.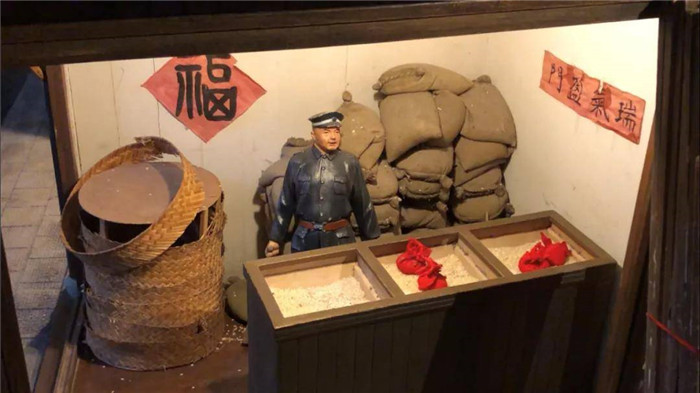 Recreation of the old Shanghai rice shops
One of Qin Bangli's business philosophies is to "put eggs in different baskets". This business philosophy also continued after he later moved to Hong Kong. After that, he also set up sugar shops, Southern groceries stores, stationery and cigarette paper shops, etc. On the one hand, he acted as a liaison station, on the other hand, he tried to rescue the arrested but undisclosed party members. In the winter of 1931, Qin Bangli joined the Communist Party of China.
In 1932, Qin Bangli was ordered to open the "Sino French pharmacy Shantou branch" in Shantou. The pharmacy became a transit hub from Shanghai to the Central Soviet Area, secretly transferring Party members and exchanging documents. With the help of this hub, more than 200 party members and cadres entered the Soviet Area, including Liu Shaoqi, Zhang Wentian, Bo Gu, Chen Yun, Lin Boqu, Li Weihan, and Chen Geng.
In the next few years, Qin Bangli traveled between Shanghai, Shantou and Ruijin. Relying on his flexible business mind and meticulousness, he accomplished the task excellently.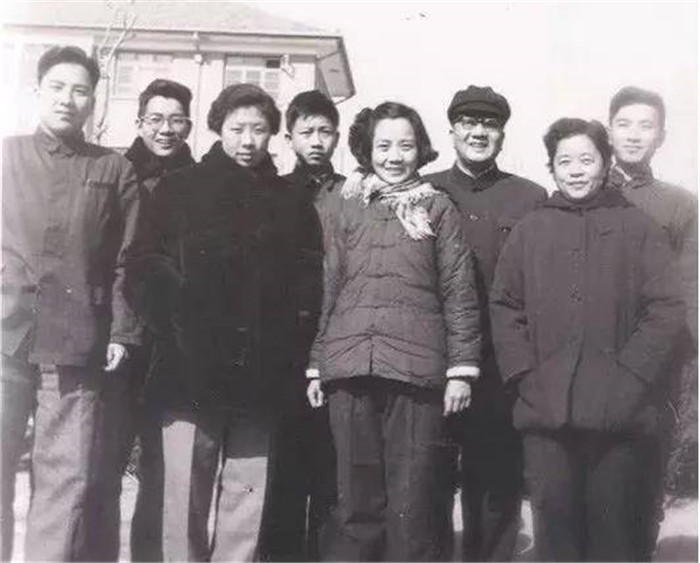 Qin Bangli (third from right) and his relatives
As a boss, he led a poor life
At the end of 1937, the Anti Japanese war broke out and the Anti Japanese national united front was formed. In January 1938, the Communist Party of China established the "Hong Kong Office of the Eighth Route Army in Hong Kong". It took Hong Kong as a transit port to collect materials for the Anti Japanese war. Qin Bangli was one of the earliest members.
When Qin Bangli first arrived in Hong Kong, he changed his name to "Yang Lian'an". In order to take good care of the collected materials and funds and send them to the Anti Japanese front line smoothly, Qin Bangli registered a legal operating company Liow & Co (Lianhehang in Pinyin) in Hong Kong, with a registered capital of US $20,000, in the Feng's building on Connaught Road just a few hundred meters away from the Eighth Route Army's office in Hong Kong. In the dialect of Wuxi, Qin Bangli's hometown, Lianhe is the homonym of Lian'an, which makes it sound more like a private company and thus was easier to conceal.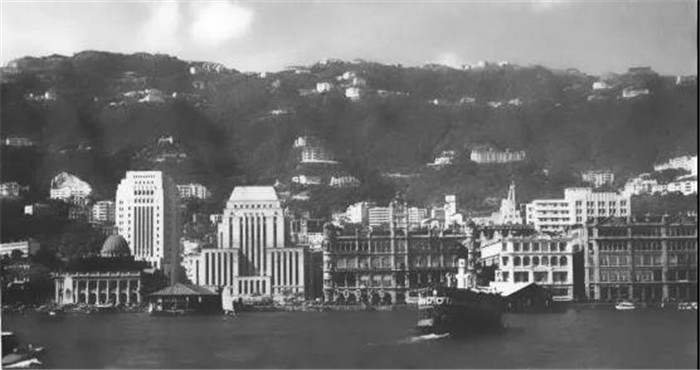 In 1938, Liow & Co, the predecessor of China Resources, was established in Victoria Bay, Hong Kong (by courtesy of official website of China Resources)
At that time, the company's disclosed business was the north and South groceries. In reality, however, its real function was to secretly purchase the urgently needed materials in the Shaanxi Gansu Ningxia region. From western medicine to medical equipment, from electronic tubes to X-ray machines, from shoes and socks to military blankets, and from transport vehicles to generators; whatever the party needed.
Although Qin Bangli's company generated huge sums of money, he himself lived a poor life. Qin Bangli's daughter, Qin Wen, once recalled that the family's financial source depended on the party's provision system, and her daily life was relatively poor. After coming to Hong Kong with her father, the family only rented a small house in Wan Chai.
On December 8, 1941, Japanese planes bombed Hong Kong. On December 10, Japanese invaders occupied Kai Tak Airport, and more than 30,000 Japanese troops entered the New Territories of Hong Kong. In 1942, the Hong Kong office moved to Guangzhou. At that time, Chiang Kai Shek's sabotage of cooperation between the KMT and CPC had been made public.
After the destruction of the Party's organizations in Guangzhou, Qin Bangli secretly left Guangzhou with funds for Chongqing. Later, Qin Bangli returned to Southern China and changed his name to "Yang Lin", which became his official name for the rest of his life.
Change the name to "China Resources"
After the victory of the Anti Japanese War, Liu Ang, Zhou Enlai's secretary, recalled Zhou Enlai's care for other democratic people and said that the main way to raise money for the democratic people was to do business on his own. Liow & Co was one of the sources of income.
At the beginning of the civil war, Qin Bangli was recalled to Shanghai to accept Zhou Enlai's new task of opening up a sea passage between coastal ports in the liberated area and Hong Kong. After returning to Hong Kong, Qin Bangli changed the name of Liow & Co to Liow & Co Import and Export Company.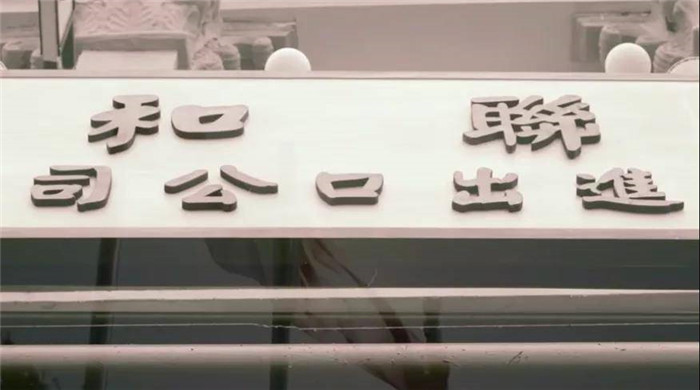 Liow & Co Import and Export Company
After more than a year of operation, Liow & Co Import and Export Company expanded both in personnel and turnover. At the celebration party for the company's relocation, Qin Bangli said that the name of the company was originally named after his own, and now it is time to give the company a resounding name. After discussion, the company changed its name to "China Resources" or Huaren in Pinyin. The name means "The Great Land of China is endowed with abundant resources".
In December 1948, China Resources was officially listed with a registered capital of HK $5 million. At the same time, the Central Committee decided to merge the China Mutual Trading Company in Hong Kong with China Resources, and successively put all the party's trading institutions in Hong Kong under China Resources.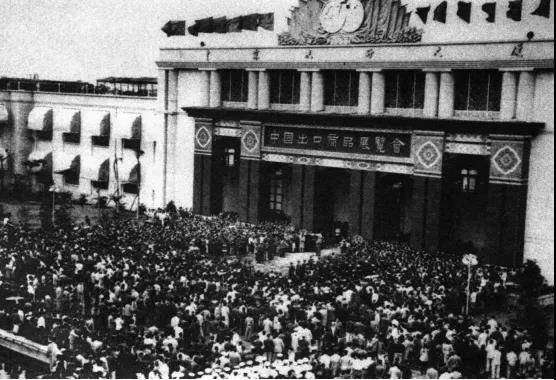 In 1956, China Resources participated in the organization of the first China Export Commodities Exhibition (the predecessor of the Canton Fair). The picture shows the grand opening ceremony of the former Sino-Soviet friendship building in Guangzhou in the spring of 1957 (by courtesy of official website of China Resources).
After the founding of new China, Qin Bangli became an important person in charge of new China's foreign trade. In August 1952, the central government decided to set up the Ministry of Foreign Trade (now the Ministry of Commerce), and China Resources was also under the jurisdiction of the Ministry of Foreign Trade. Qin Bangli was ordered to return to Beijing to serve as director of the Comprehensive Planning Bureau of the Ministry of Foreign Trade. In 1961, he served as deputy director of the Foreign Economic Liaison Committee.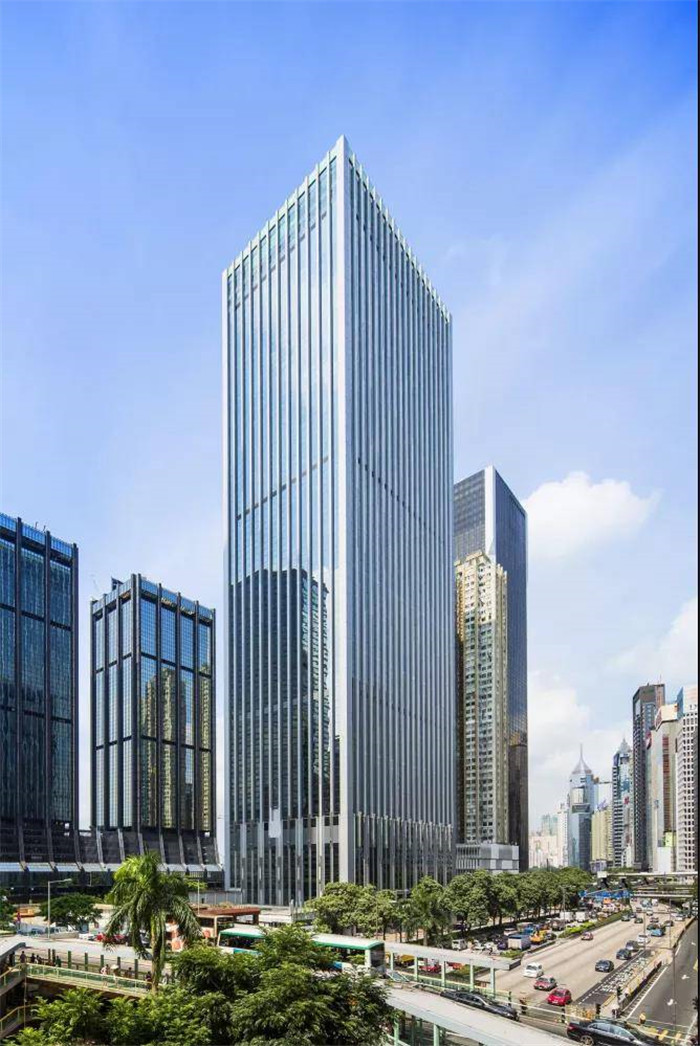 China Resources Building