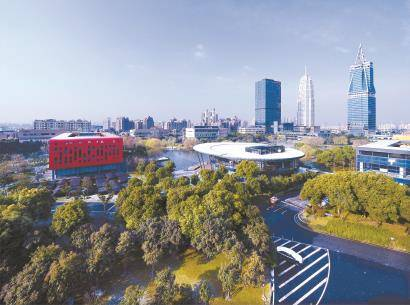 Jinqiao Economic and Technological Development Zone in Pudong New Area of Shanghai, is the first national export processing zone in China, which has long been known by the slogan "World brands are made in Jinqiao." Now, as part of a "leading area" construction project, Jinqiao will transform from an industrial park to a comprehensive urban area, and speed up the area's industrial positioning, planning, design and carrier construction.

As the only pilot Free Trade Zone in China with advanced manufacturing and producer services at its development core, Jinqiao Development Zone is a manufacturing base with the highest energy level, the best quality and the greatest contribution in Shanghai. In recent years, the traditional pillar industries in Jinqiao Development Zone have been integrated with the Internet, big data and artificial intelligence. Therefore, a new pattern has been formed with four leading industries including the "Future vehicles" industry based on new energy vehicles and intelligent driving, the "Intelligent manufacturing" industry represented by industrial networks and robots, the "Smart video" industry led by mobile Internet, Augmented Reality (AR) and Virtual Reality (VR), and the "Innovative communication" industry featuring Artificial Intelligence (AI) and 5G. In March 2020, Jinqiao 5G industrial park opened and became the first 5G Industrial Park in Shanghai and a gathering place for the research and development (R&D) of several of the biggest 5G enterprises in China, including Huawei Shanghai Research Institute, bringing about 55,000 professionals into its talent pool.
During the 14th Five Year Plan period (2021-2025), Jinqiao plans to build and develop an area of about 10 million square meters, and is expected to receive an investment of about 24.8 billion dollars (160 billion RMB). After more than 30 years of development and construction, Jinqiao Development Zone has transformed from an "area for processing" to an "area for manufacturing", and now to an "area for intelligent manufacturing". At present, Jinqiao is transitioning into a "comprehensive urban area", with its next goal to become a dynamic urban area. The future Jinqiao Development Zone will not only focus on production and ecology, but also become a suitable place for talents to live, work and enjoy their lives to the maximum. Hence, in addition to organically combining residential, commercial, recreational, occupational and other functions to promote the balance of work and living, Jinqiao will also build shared spaces and leisure facilities to establish a 24/7 vigorous urban area, aiming to become a model for "a new generation of global urban sub centers".