Pudong has begun a new journey since the "Opinions of the Central Committee of the Communist Party of China and the State Council on Supporting Pudong New Area's High-Level Reform and Opening up to Build a Leading Area for Socialist Modernization" was released in July. Over 20 Chinese and foreign media representatives visited several landmarks in Pudong to see what they demonstrated about Pudong's development and future in this developmentally leading area.
An 8K ultra-high-definition multi-functional dome theater; rare meteorites collected from around the world; lunar soil brought back by Chang'e-5; and a 1:1 replica of China's space station Tianhe core cabin are all to be found at the Shanghai Astronomy Museum (SAM). Located nearby Dishui Lake in Lingang New Area, it has become the latest cultural hit among citizens. Despite the sweltering heat and the long queue, visitors' enthusiasm is still at an all time high. At peak times, 5,000 daily tickets were sold out within two minutes.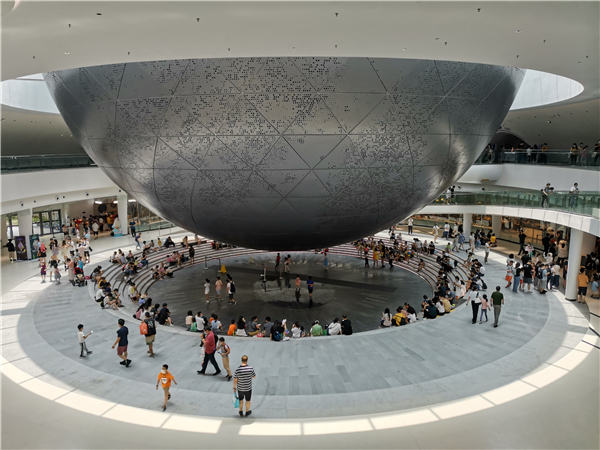 (Looking like a floating sphere, the beautiful dome theater at SAM also makes a dialogue between light and shadow.)
Covering an area of approximately 58,600 square meters and with a floor area of 38,000 square meters, the SAM is the world's largest planetarium. But as Dr. Lin Qing, director of the Astronomical Research Center of the Shanghai Science and Technology Museum, said, "What we want to build is the largest and the best planetarium." Deploying multisensory interaction, data visualization, AR, VR, biometrics and other advanced display methods, the museum shows a panoramic view of the vast universe, which opens an exploratory door to the majestic universe.
(Dr. Lin Qing introduces the interactive technology at SAM)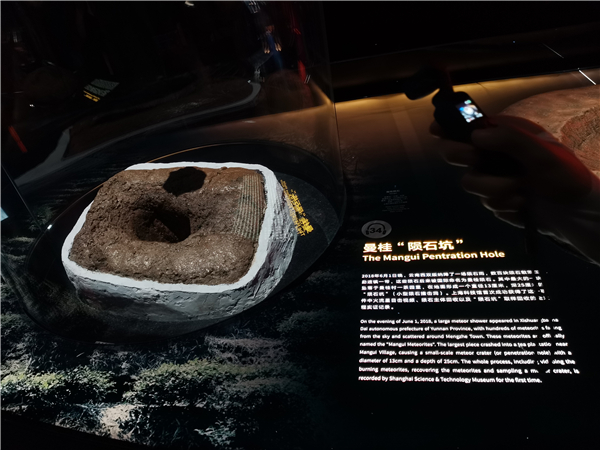 (A meteorite penetration hole displayed at SAM)
The idea of building the museum was first put forward by Prof. Ye Shuhua, China's first female observatory director and academician of the Chinese Academy of Sciences. Under her advocacy, the project was launched in 2014, and construction started in late 2016, according to Ms. Xin Ge, deputy curator of the Shanghai Science and Technology Museum and director of the SAM Construction Department. As Xin said, the location of the SAM was mainly decided according to the regional advantages of Lingang, its observational conditions near the sea and the area's ideal potential of development. In the future, the museum will play a bigger part in elevating citizens' science awareness and teenagers' science education, while serving Shanghai's science and technology development by working with universities and enterprises to showcase the latest innovation achievements.
At Zhangjiang Robot Valley, reporters got to learn a good piece of news: By the end of the 14th Five-Year Plan, the total industrial scale of the robotics industry in the park will reach RMB70 billion and 150 core robotics enterprises in total will be settled in the park. The park will become a pace-setter and innovation centre for the development of the robotics industry with a global influence. What's more exciting is that engineering company ABB is to build an advanced robotized factory right here in the Southeast of the Zhangjiang Robot Valley with an investment of 150 million dollars.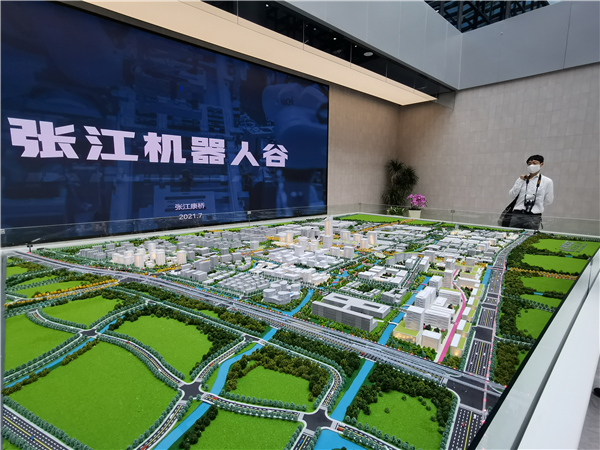 (A sand table model of Zhangjiang Robot Valley)
Currently, there are around 80 enterprises in the Valley, specializing in developing high-end medical, industrial and intelligent service robots. The robots can perform a wide variety of tasks, like doing minimally invasive surgery, solving a Rubik's Cube, making coffee, writing calligraphy and drawing.
Not long ago, a high-tech company from Changzhou City in Jiangsu Province settled a subsidiary in the Valley. With its BCI (brain-computer interface) system, people can control the computer and make commands to a drone. As the company representative said, the technology is now used in research and medical fields. In particular, it meets market demands in the scanning and rehabilitation of stroke and Alzheimer's patients.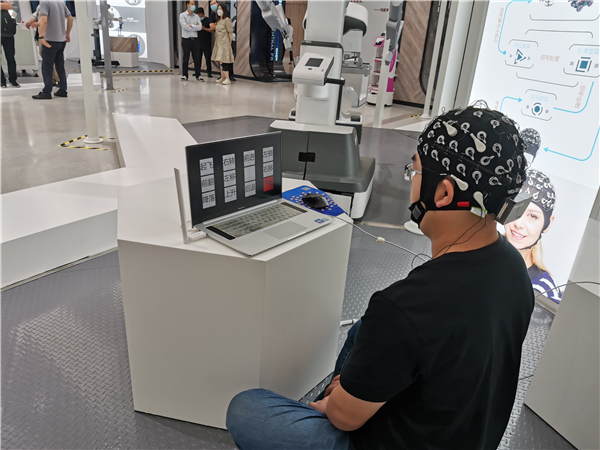 (A presentation of BCI system)
Likewise, Fourier CEO Gu Jie and his team has become another one of the first enterprises in the Valley. As Gu said, Zhangjiang has provided a sound innovation ecosystem and a talent-concentrated environment for companies like his. There are many upstream and downstream companies here, from component suppliers to application developers, allowing for the development of a complete industrial chain. What's more, this is where young talents meet. "No such place as Zhangjiang might be found in China," added Gu.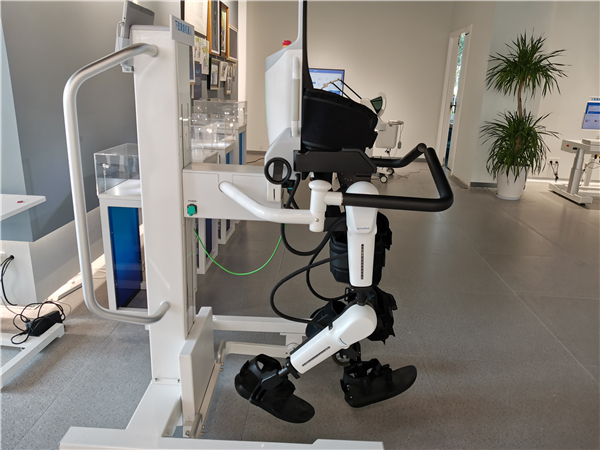 (A lower limb rehabilitation exoskeleton robot on display)
As the last stop of the visit, reporters went to Lujiazui to visit the Shanghai Futures Exchange (SFE). As a result of China's economic opening up, the SFE has so far listed 20 futures products and six options, covering major areas of the national economy such as energy, chemicals, and metals.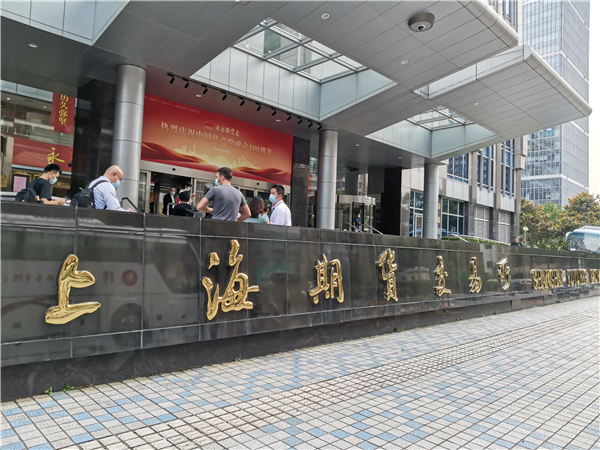 (SFE building in Lujiazui)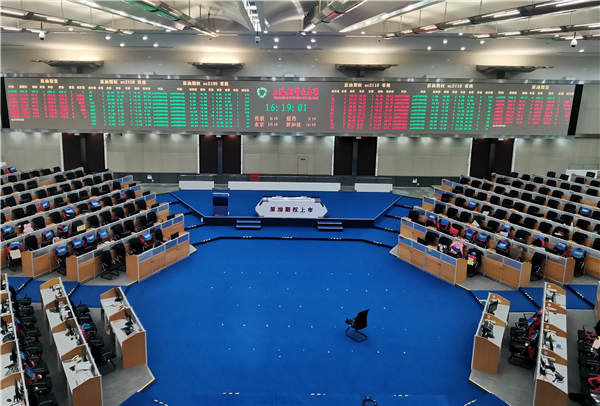 (A trading hall at SFE)
The Pudong New Area in Shanghai will play a leading role in China's new journey to fully build a modern socialist country, which is in line with SFE's transformation plans. Looking into the future, SFE will launch more internationalized options, to introduce its products, services and prices to the outside world.