One has to encounter many "firsts" in life. For Astrid Poghosyan who comes from Armenia, many of her first experiences are connected with Shanghai. She is the first Armenian student admitted to the Shanghai Conservatory of Music, the first foreign student to get a work permit in Shanghai and the first foreign administrative staff member at the Shanghai Symphony Orchestra. Over the past 12 years, she has let her musical talent bloom and pursued her dream in Shanghai.
Astrid Poghosyan works as executive assistant to the President of the Shanghai Symphony Orchestra. She is at the same time a violinist. What tune would she use to describe the city of Shanghai? In her reply, she said Shanghai cannot be described by a single song. Instead it is an album which includes all sorts of melodies. That reminds people of Shanghai's city character: inclusiveness.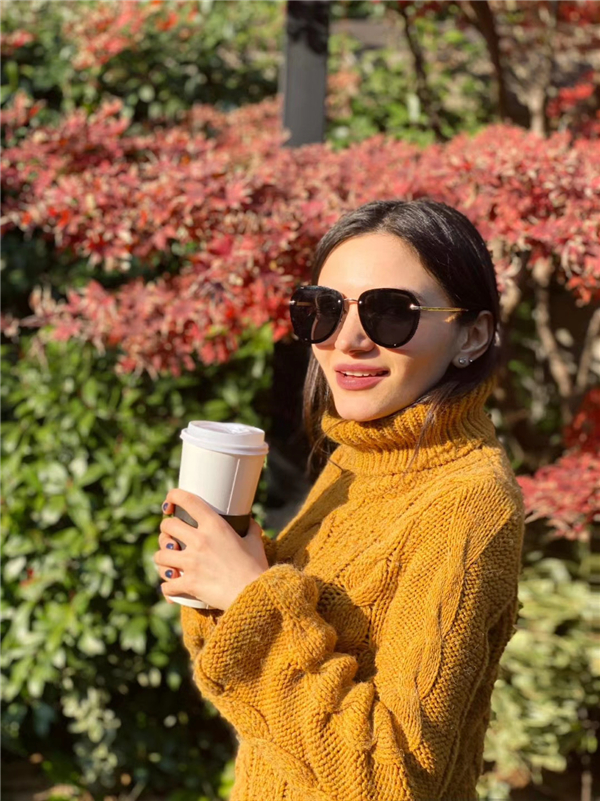 (Astrid Poghosyan)
Proud to live in Shanghai
Last year, when Astrid was taking a holiday in the US, the COVID-19 epidemic broke out in China. Due to the flight restrictions, she had to fly for over 30 hours to get back to Armenia. It wasn't until nearly half a year had passed that she was allowed to return to China. "This is the first time in my life [since coming here] that I've left China for so long," said Astrid. "I don't want such an experience again."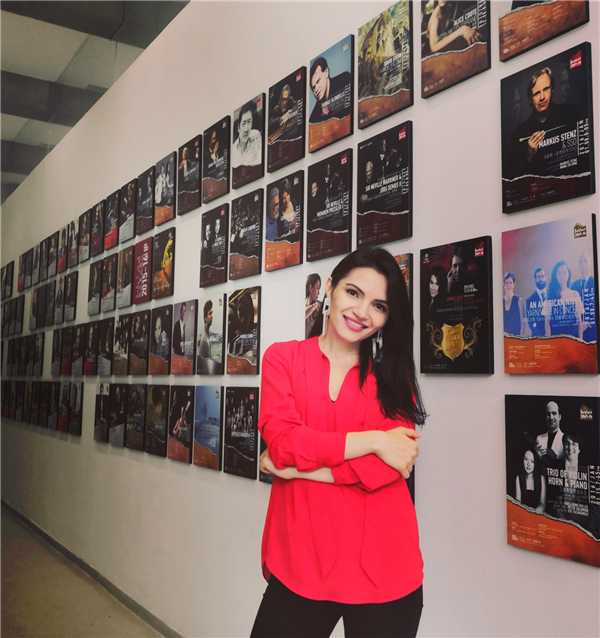 Astrid is now a staff member at the Shanghai Symphony Orchestra (SSO), the first Armenian employee in the SSO's history over the past 140 years and more. Not far from the SSO is her alma mater, the Shanghai Conservatory of Music. The school is the reason why she came to China 12 years ago.
Starting to learn violin at the age of five, Astrid planned to go to Europe to study music after graduation from high school. But at that time, China was the only country that accepted music students through a scholarship program. For 16-year-old Astrid, China was a far-away country she knew little about, beyond some basic knowledge about Beijing or Shanghai. A week before her departure, she was told that she would go to Shanghai.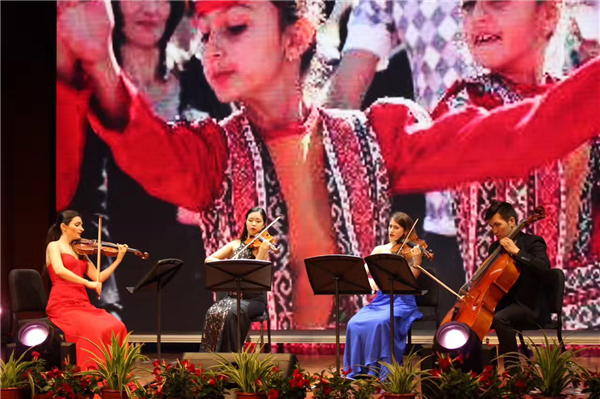 (Astrid Poghosyan [first from left] plays the violin in her graduation performance)
In 2010, Astrid was officially admitted to the Shanghai Conservatory of Music. She then continued her master's degree in the school, and in 2016, she began to work for the SSO. Over the period, she spent eight months learning Chinese and passed HSK Level 4. She also stepped on various stages to show Armenia to the Chinese audience through music. In addition, she used her spare time after class to participate in various practical activities. Now the young lady is used to her life in Shanghai, and furthermore, she is proud of being an expat in Shanghai. As she said, she is now learning Shanghai dialect from her colleagues, because in her eyes, "To be an authentic Shanghainese, one must speak Shanghai dialect."
"Looking back, I'm very grateful for the decision (to go study in Shanghai) at that time," said Astrid. If she went to Beijing, she would now lead a different life. "Shanghai is where I should be," she added.
"China and Shanghai have partially raised me"
Like most artists, who are often sensitive, Astrid has emotional sympathy about little things in her life, even when she sees a mother taking the hand of a son on the street.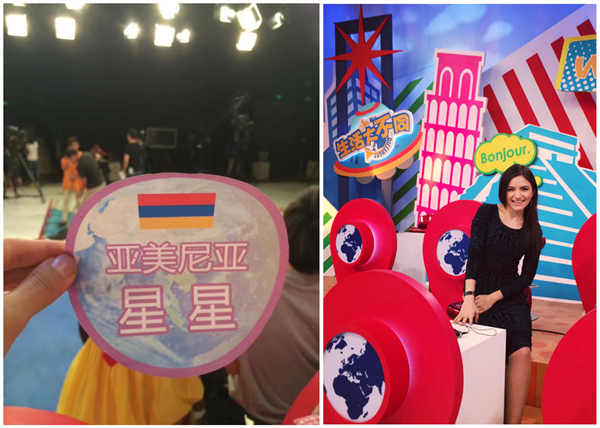 (Astrid Poghosyan takes part in a TV variety show)
Since coming to Shanghai, Astrid has made acquaintances with many foreign students. Few of them stay in Shanghai for so long as Astrid. She confided that there have been many times she has met difficulties while living in the country alone, but she has never given up. While studying in the Shanghai Conservatory of Music, she studied hard and earned her first job.
In August 2016, the SSO hosted the first Shanghai Isaac Stern International Violin Competition, for which Astrid volunteered as a receptionist of visiting foreigners. Due to her excellent work, she was offered a job at the SSO. The next year, the Chinese government used a new policy regarding international students' work permits. Qualified foreign students can work in Shanghai directly, without going back to their home country. With the help of SSO's HR department, Astrid became the first qualified applicant and obtained the permit.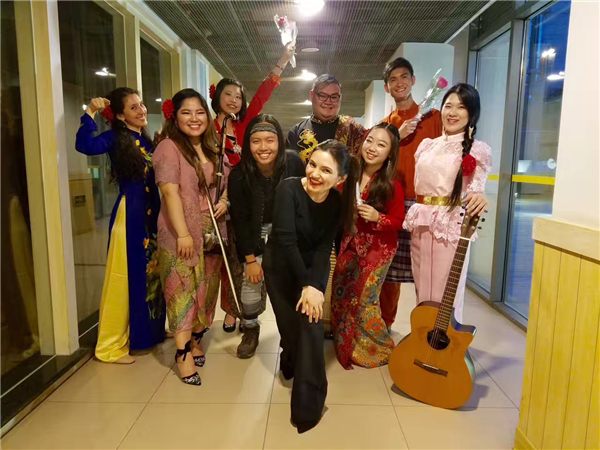 "Having been here for so many years, I can say that China and Shanghai have partially raised me," Astrid said, adding that, as a foreigner she wishes to thank Shanghai for this. She will also stick to her goal in life, which is to make some contributions to China and be a bridge between China and Armenia.
Astrid's story in China has made her widely-known in her hometown. She joked that she has become a hotline for many young students who plan to go to China. Each time she gets inquiries from them, she will think of the time when she first came to Shanghai in 2009. "I really understand their feelings, so I will try my best to help them. Of course, I'll tell me in the end: 'Don't be afraid. You should come here because here is the best!'"
An artist in the cultural center
Astrid's responsibility at the SSO is to coordinate various international projects and administrative affairs. Nevertheless, the violin is still a part of her daily life. She joined a band called Polymorph Extra a few years ago as the lead violinist. Different from the jazz musicians in the band, she is the only artist with an educational background in classical music. She believes it is very special and fun to work with several people from different backgrounds. The band combines classical and jazz with creative visual and dance elements, so as to create a fantastic immersive musical experience for the audience.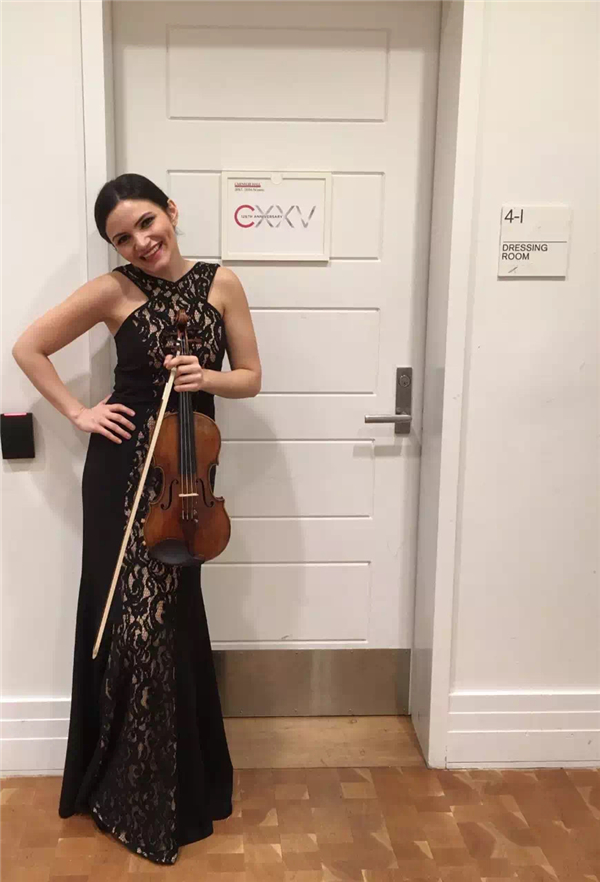 Music is part of Astrid's life and it is also part of Shanghai. During the Shanghai Music in the Summer Air (MISA) Festival which concluded in July, Astrid showed some teenagers around the Shanghai Symphony Museum. Some of the six and seven graders among the visitors left a deep impression on her. She recalled, "I asked one of them if he likes classical music. He said, 'Of course.' That surprised me. Then he started to explain to me what kind of experience it is to listen to music on vinyl." She discovered that many of the children develop the habit of listening to classical music under the influence of their family. That motivated her to share classical music with more young people.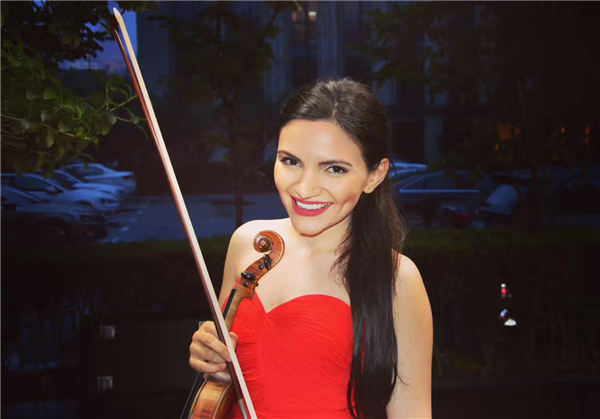 As Astrid said, Shanghai is a city that can represent the future of art, and it is a must-go city for many world-renowned orchestras and musicians who want to perform in Asia. "It proves that Shanghai is not only an international science, technology and economic center, but also a global cultural center," she added.
Story by Wu Qiong
Video by Jiang Meiqing
(Photos provided by Astrid Poghosyan)