A contingent of the Shanghai athletes' team set off for Shaanxi on Monday September 13 for the fourteenth National Games of China.
Among the 130 people, 46 had just returned from the Tokyo Olympic Games, including table tennis player Xu Xin, track cycling star Zhong Tianshi, synchronized swimmer Huang Xuechen, 15-year-old diving star Chen Yuxi, and air pistol markswoman Jiang Ranxin.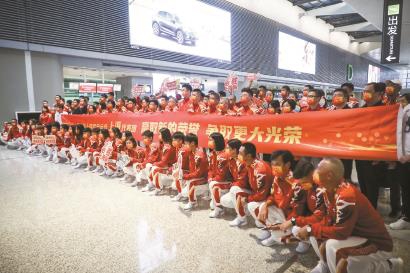 (A group photo of the Shanghai team at Hongqiao Airport before departure. Photo by Sha Haier)
The China National Games will be held from September 15 to 27. It will be the first time for the event to be held in the same year as the Olympic Games.
The Shanghai team was established on July 7. In terms of competitive sports events, there are 703 qualifying team members as of September 13. In terms of mass sports, 40 amateur athletes will also go to Shaanxi for the finals.
In the finals held in advance, Shanghai athletes have already bagged eight gold medals in men's volleyball, synchronized swimming, diving, sailing, women's football, and cycling, as of September 12.
World chess champion Ju Wenjun was among the first batch of athletes to go to Shaanxi. "I am very excited to be able to witness the opening of the National Games. Especially because chess has been selected as the mass event of the National Games for two consecutive years, which makes me even more excited." She hopes to win her matches and looks forward to attracting more citizens to take part in sports like chess and card sports.