Wearing makeup, costumes and headwear, Canadian Shawn Patrick Tilling acted as a general in ancient China. That was his first experience of Kunqu opera performance, after nearly an hour of makeup preparation. But, as he said, it was a wonderful experience. Shawn Patrick Tilling was among the many expats who participated in the Mid-Autumn Festival gathering held in Shanghai on September 21.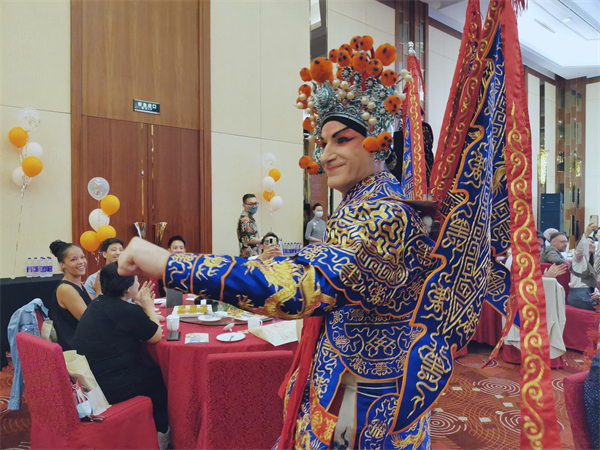 (Shawn Patrick Tilling acts as a wusheng [male martial arts role].)
Armenian young lady Astrid Poghosyan brought her violin to the event. The day was of unusual significance to her, as it was also the National Day of Armenia. On the stage, she played classic Chinese folk music, and sang a Chinese song with her Chinese friends.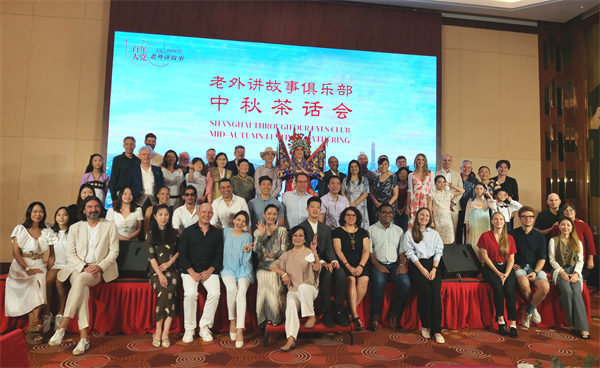 (A group photo of the participating expats)
After some music appreciation, expats gained a basic understanding of Kunqu opera from Zhao Jinyu, a professional promoter of the art. With a history of 600 years, Kunqu opera amazed many of the foreigners, who tried to put on the costumes and learn some movements from Zhao. Wonsook Hong, a TCM physician from South Korea, tried shuixiu (literally 'water sleeves', one of the most skillful stunts in the ancient opera). Surprisingly for her, it was difficult to even do a little gesture well, though it looked very easily done. "I gained a deeper understanding of the Chinese culture," said Wonsook Hong.
For Anastasiia, who comes from Russia, the gathering was her first formal experience of the Mid-Autumn Festival in China. "Before, our Chinese teacher only gave out some moon cakes to us." Anastasiia likes Kunqu, and she had listened to Peking opera before. As she said, such traditional Chinese music makes her feel relaxed.
There were also folk art performances, like paper cutting, sugar painting and sugar-figure blowing. Pilar Mejía Buenfil from Mexico is an international student at Shanghai University. She came to the gathering with her classmate and was attracted by the lovely paper cuttings. The Mid-Autumn Festival is no stranger to her. The first thing that came to her mind was moon cakes. She also said, "I know the story of Chang'e flying to the moon. In Mexico, we also have a similar legend about the moon."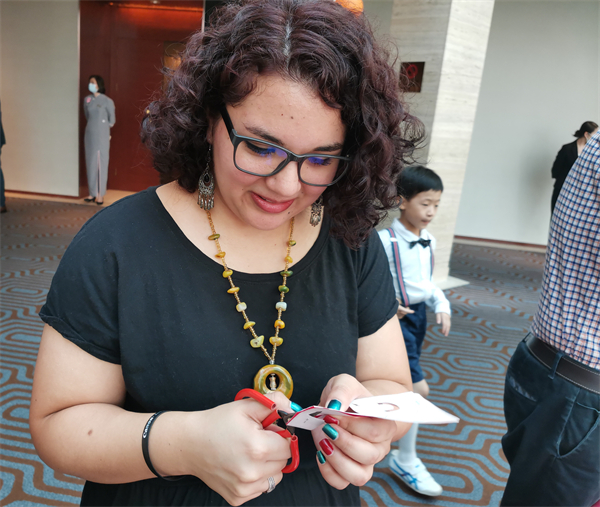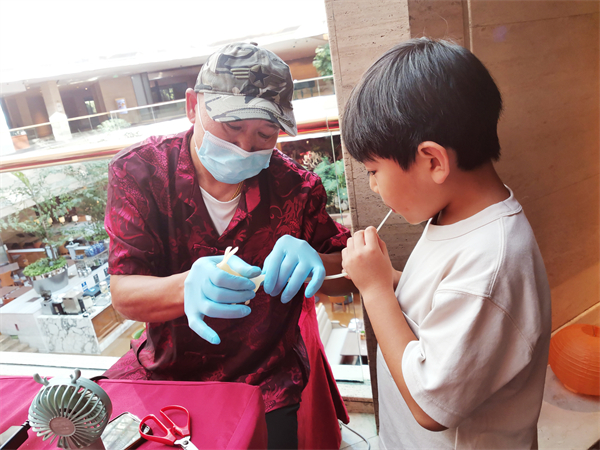 (Expats experience paper cutting and sugar-figure blowing.)
Ali, a Bangladeshi who came to Shanghai in 1992, still remembers the first Mid-Autumn Festival with his wife in Shanghai. "At that time, money was tight for us. We bought some egg yolk moon cakes on the street." Now, he has established a stable career here, and the couple's two children were born in Shanghai and grew up in the city. In his opinion, Shanghai is one of the safest cities in the world, and because of the sense of security, he has been here for 29 years.