On the evening of September 17, Chen Yixin, honorary president of the Shanghai International Friends Research Association, was listening to the radio as usual. After learning the news that Xi Jinping had written a reply letter to the families of some International Friends (including Edgar and Helen Snow, George Hatem, Rewi Alley and Israel Epstein), some familiar faces surfaced in his eyes. "The reply letter means a lot," said Chen, who is 90 years old."The Chinese president's high tribute to the international friends' families is stressing that 'History keeps surging on, and the great spirit is passed down from generation to generation.'"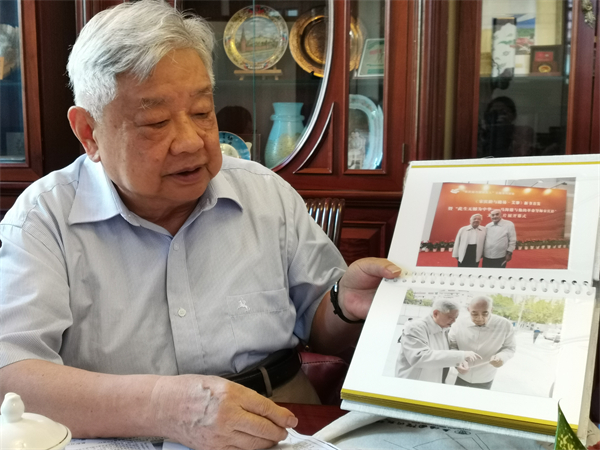 (Chen Yixin shows old photos of him and Zhou Youma, the son of George Hatem)
How will the internationalist spirit in the new era be carried forward? Some foreign affairs workers and expats shared their feelings.
Continuous friendship with International Friends' offspring
President Xi paid high tribute to International Friends who made invaluable contributions to China's revolution, construction and reform. Having been doing International Friends research for over four decades, Chen Yixin is no stranger to many of them and their relatives. Those old friends are cordial and respectful, said Chen.
"At that time, Shanghai was one of the largest cities in the world, the birthplace of the Communist Party of China, and a centerof Chinese revolutionary activities. Shanghai was many of the international friends' first stop in China before they went to Yan'an and to the liberated areas." As Chen said, it was in Shanghai that they received Marxist enlightenment and embarked on the road of revolution. Among them were New Zealander Rewi Alley who fought for 11 years for the CPC in Shanghai, American doctor George Hatemwho opened a private clinic as a secret CPC liaison station, American Edgar Snow who started his career as a journalist in Shanghai, and Zheng Lvcheng, a Korean musician who studied at the Shanghai Music College.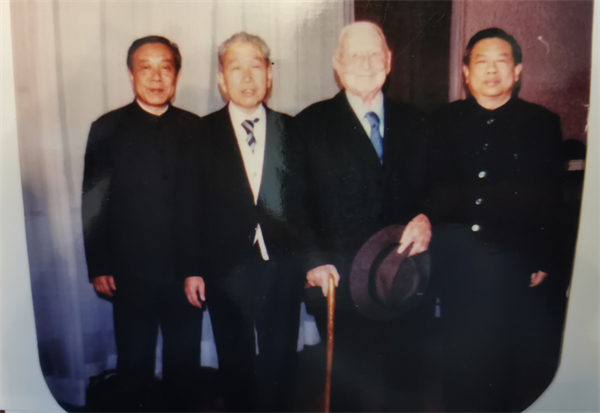 (Rewi Alley [2nd from right] came to Shanghai from Beijing to attend the "Smedley-Strong-Snow& Other International Friends in Shanghai" seminar held by the SPAFFC in March 1987.)
Back on March 6, 1987, the SPAFFC held a seminar titled "Smedley-Strong-Snow & Other International Friends in Shanghai". Chen Yixin, who was the secretary-general of the SPAFFC, was responsible for receiving the foreign guests. That was the first time he met Rewi Alley. "Wearing a brown suit and a blue tie, he is very tall and his hands are strong when shaking hands. He spoke in Shanghai dialect which amused everyone present. 'Hello everyone, I used to live in Shanghai for 11 years!' he said. Then he was invited to give a lecture to the Shanghai youth," recalled Chen. Unfortunately, that was the last time he met Rewi Alley, who passed away on December 27 in Beijing at the age of 90.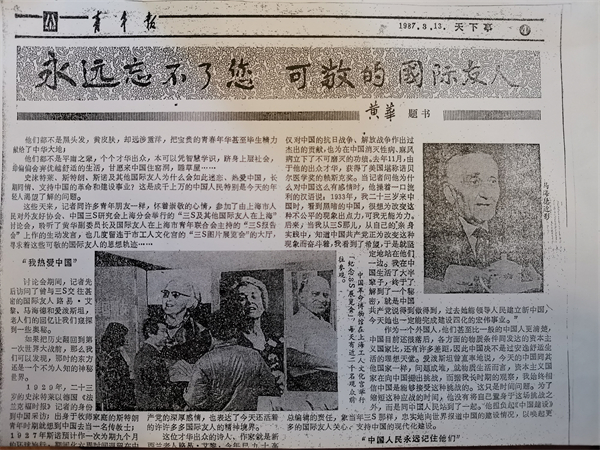 (A news report on the "Smedley-Strong-Snow & Other International Friends in Shanghai" seminar published in March 1987)
At the seminar, the speakers also included Israel Epstein, who used his pen as a sword to support the Chinese revolution. In the speech, he spoke of his love for China. As Chen Yixin recalled, after the PRC was founded, Israel Epstein paid visits to Shanghai many times. Once he had a chance, he would accompany Israel Epstein to the Jewish Refugees' Museum to study Jewish issues and review the friendship between the Chinese and Jewish people.
The International Friends, who were lovely, respectable and amiable, shared some similarities, in Chen's eyes. They had deep sympathy for the sufferings of the people in old China. They had a sense of justice in their hearts. They loved China, and were devoted to fighting for the Chinese revolution and the liberation of the people, for the Anti-Japanese Aggression War and the Anti-Fascist War, and for the construction of the new China; they were selfless, dedicated, willing to sacrifice and they shared the internationalist spirit.
What's more, the offspring of the International Friends also "have a natural affection for China", said Chen Yixin. Zhou Youma (son of George Hatem) and Zheng Xiaoti (daughter of Zheng lvcheng), for instance, came to Shanghai to give lectures and speeches. At the Shanghai Conservatory of Music, Zheng Xiaoti brought a tape of his fathering singing the "March of the Chinese People's Liberation Army" which moved a lot of young students.
As Chen Yixin suggests, we should pay a great deal of attention to the friendship with the offspring of International Friends. According to Jing Ying, vice president of the SPAFFC, they will sort out a list of the offspring and ensure to remain friends with them. While remembering the old friends, the SPAFFC will make new friends and take history as a mirror to inspire the present and the future.
Sharing a true picture of China with the world
"If they did not have a Chinese heart, they would not have done that," said Noyan Rona after learning the stories of the International Friends. "They believed in the strength and potential success of the Chinese Communist Party, and agreed with the CPC, so they stood firmly on the CPC's side and did their best to introduce it to the world." Noyan Rona, chief representative of the Turkish Garanti Bank in Shanghai, came to China in the 1980s. He is now an honorary citizen of Shanghai. As he said, the time he has spent in China is longer than that in Turkey and he cannot stand to leave China. "Despite the complicated international situations, the number of foreigners who have affection for China far exceeds those who have unfavorable opinions about China. China has many good friends all over the world," Noyan Rona added.
American architectural designer Marshall Strabala, who designed the Shanghai Tower, read Edgar Snow's book recently. He found that an important theme in the book is peace and cooperation. There can be competition but not animus. Overall the book is a kind signal, he believes. And he wants to continue to release the signal to the world after reflecting on the current Sino-US relations. He does not reject the term "competition", but in his opinion, how to make the current competitive relationship between China and the US friendlier is a question worth pondering and a goal that both sides should work on.
Marshall Strabala was honored with the 2021 Shanghai Magnolia Silver Award this September. He was very excited about that. "There were 50 people receiving the Awards. China and Shanghai now has 50 new envoys of friendship." He thinks America should have similar measures to recognize foreigners' contributions.
Avoiding rumors and telling the truth is the premise of mutual understanding. Marshall has 14 nephews and nieces, among whom 11 have been attracted to visit China. "We would stay in Shanghai for a while and then go to Beijing. The 11 kids' understanding of China turned out to be deeper than most Americans," he said. Another nephew of his, perhaps under the influence of Marshall, decided to come to China and study in Duke Kunshan University. "I am happy for him. I support him," said Marshall.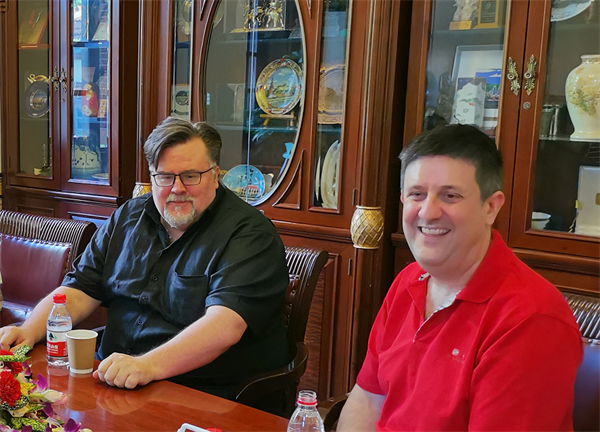 (Marshall Strabala [left] and Justin O'Jack)
"The West seems to look at China through a different lens," said Justin O'Jack, who feels the responsibility to tell the world about the true China. At the age of 16, this teenager from Michigan came to China for the first time with a romantic imagination. He confided that the China in his imagination was ancient, so he felt very different when seeing modern China. But he immediately found that he fell in love with contemporary China. In 2006, Justin moved to Shanghai to engage in Sino-US educational exchanges. His job is to introduce all aspects of China to American students who want to study in China. However, there are still some Westerners who are full of doubts and even fears about China, which makes him upset. Sometimes he could not help writing an article to refute those prejudiced voices against China.
While pursuing his postgraduate program in Chinese history, Justin read a book titled "Fanshen" which he still remembers today. It is a book of land reform in Zhangzhuang, Shanxi Province, by American journalist William H. Hinton. The Hinton family lived in Chinese rural areas and witnessed real life in rural China. "Hinton's younger sister, Joan Hinton, lived in rural China for 60 years. I remember that she was the first foreigner to receive a Chinese green card in 2004. I envied her at that time. I only got it in 2019," recalled Justin. He added that he would continue to do his bit in promoting the spread of authoritative voices about China, just like William Hinton and his sister did.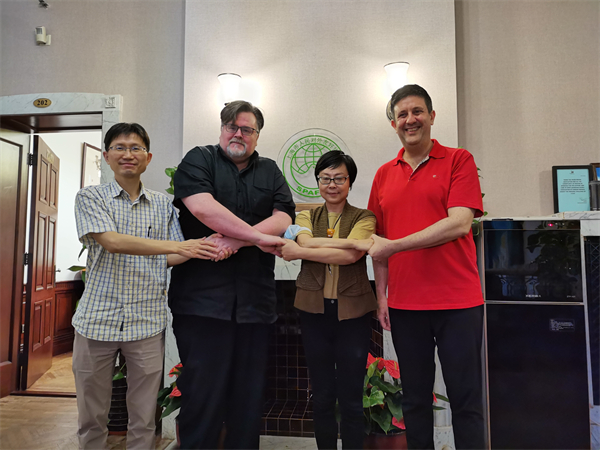 (Marshall Strabala and Justin O'Jack with the SPAFFC staff)
"During my years in China, I have often heard about the twentieth-century international friends who made important contributions to the development of Chinese society," said Jeffrey Lehman, vice chancellor of NYU Shanghai, who first came to China in the late 1990s. In Shanghai, he promoted and witnessed the highlight of China-US educational cooperation. He noted, "We can learn much from people who cross borders." He looks forward to continuing his work as an educator, helping to create opportunities for college students from China and other countries to move back and forth across China's borders, to live and learn together as members of integrated, cosmopolitan communities."I hope in that way to continue strengthening the bonds between China and all the other nations of the world," he added.