原文链接:https://www.jfdaily.com/news/detail?id=409108
The World Internet Development Report 2021 and China Internet Development Report 2021 were released at this year's World Internet Conference (WIC) in Wuzhen, Zhejiang Province.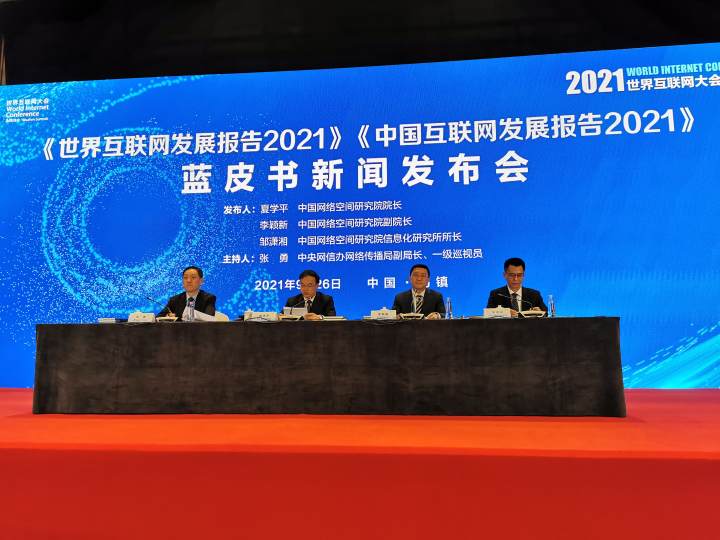 Since 2017, the Chinese Academy of Cyberspace Studies (CACS) has been publishing its Blue Books annually. This year, it has an objective overview of the Internet development in China and the world, covering major fields such as information infrastructure, information technology, digital economy, e-government, international cyberspace governance and global exchanges and cooperation, according to Xia Xueping from the CACS.
As the Reports show, the top 10 provinces (or municipalities) in terms of the overall ranking of Internet development indexes are Beijing, Guangdong, Shanghai, Shandong, Jiangsu, Zhejiang, Sichuan, Fujian, Tianjin and Hubei. Globally, the United States and China lead the world in terms of the level of Internet development, followed by the United Kingdom, Germany and Canada. The Internet strength of European countries is relatively balanced, and the scores of the indexes are overall among the top, while Latin America and Sub-Saharan Africa have made progress in Internet development.
Based on data analysis, the Blue Books also predict the trend of Internet development. As the international landscape will evolve at an accelerated pace, competition in digital infrastructure will become more fierce and countries will accelerate their digital transformation. The emerging challenges facing cross-cultural communication and the militarization of cyberspace will intensify cyberspace trust deficits. As the report says, the Internet should be seen as the common home of mankind, and all countries should work together for a peaceful, safe, open, cooperative and orderly cyberspace.