101 years ago, an advertisement seeking students for the Foreign Languages Society was published in "The Republic of China's Daily", announcing the establishment of the first cadre-training school founded by the Communist Party of China (CPC) sponsor group. Now the New Yuyangli Foreign Languages Society is once again recruiting. Students aged 8 to 18 are welcome to join.
In 1920, the Foreign Languages Society was set up by the CPC sponsor group at No. 6 Yuyangli Xiafei Road (or Avenue Joffre), today's Lane 567 Middle Huaihai Road. The school was founded to cultivate revolutionary leaders and send progressive young people to the Communist University for Laborers of the East (in Moscow). Yang Mingzhai was the headmaster and Yu Xiusong was the secretary.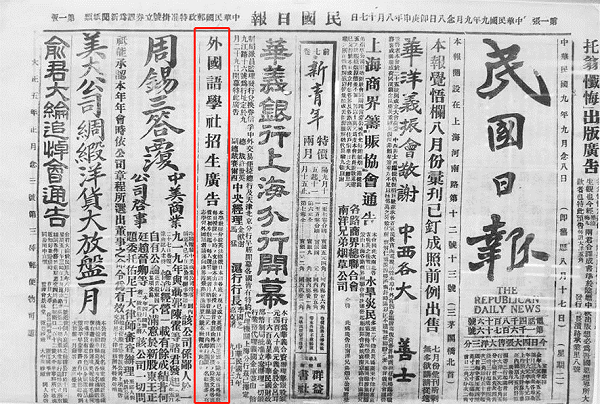 (The newspaper ad in 1920)
To popularize the history of Yuyangli to more teenagers today, the New Yuyangli Foreign Languages Society, jointly initiated by the Huangpu District Communist Youth League and the Shanghai International Studies University Communist Youth League, will begin the new semester in October 2, 2021. Classes will be open on Saturdays bi-weekly. Teachers will lead the students to recite "The Communist Manifesto" in German, while telling the stories behind it. Students will review the process of how Marxist beliefs were spread in China a hundred years ago.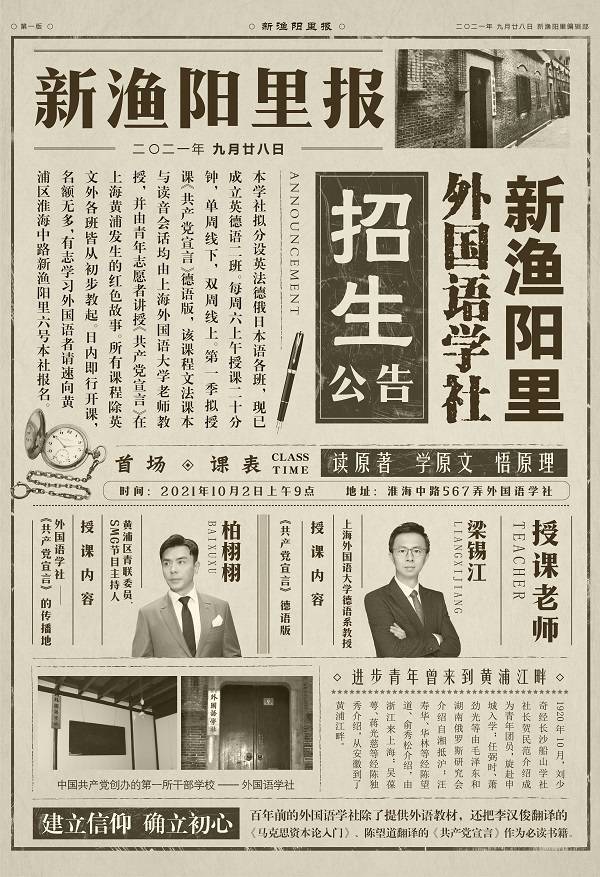 (The ad in 2021)
(Photos/Xinmin.cn)