Prof. Otto Heinrich Herzog: creating a better life for Chinese cities
"Shanghai has four brands: its services, its manufacturing, its shopping and its culture. I personally would like to add a fifth brand, namely the spirit of Shanghai," said Otto Heinrich Herzog, an honorary professor at Tongji University and an academician of the German National Academy of Science and Engineering. Each year, he spends a few months in Shanghai. Though his friend joke that he is an IT nerd, he has a sentimental side when it comes to his affection for the city of Shanghai.
"During all those years I met only friendly people [in Shanghai]. I think that's very remarkable and very nice for foreigners to be here," said Prof. Herzog with a smiling face. "I have also experienced the culture of China. I love Chinese food. You have so many different vegetables in China; we don't have them in Europe. So, I really love to be here in Shanghai."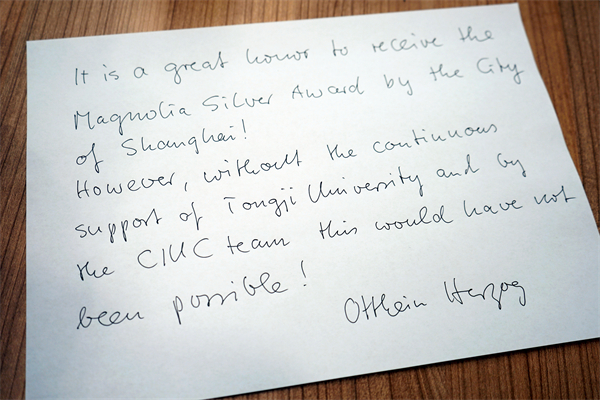 (Prof. Herzog's message after being honored with the 2021 Shanghai Magnolia Silver Award)
Prof. Herzog met Prof. Wu Zhiqiang from Tongji University a few years ago. At Wu's invitation, he came to work in Shanghai for two months. The university then asked him whether he would like to stay here for another two years. Now, it's been six years.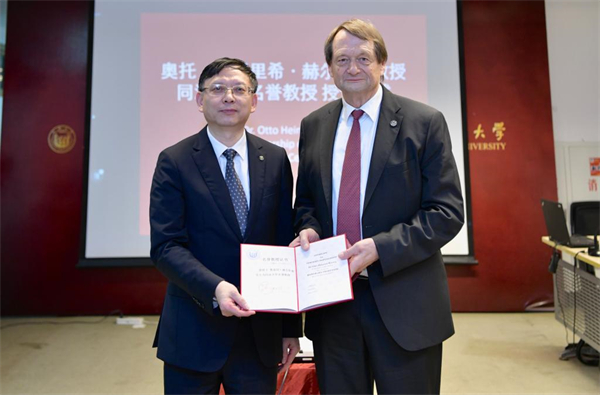 (Prof. Herzog [right] was recognized as honorary professor at Tongji University in July 2021.)
"Putting AI to real applications was always something I liked to do," said Prof. Herzog. Before he came, he had never applied AI methods to urban planning and urban operations and that appeared to him to be a very interesting field. A famous scientist in AI, Prof. Herzog has been engaged in research on natural language understanding, image & video analysis and video extraction. As he said, it is interesting to work in Shanghai and at Tongji University, to work in different areas, and to apply what he has scientifically worked on for almost 40 years, "for a better living for the people here in China".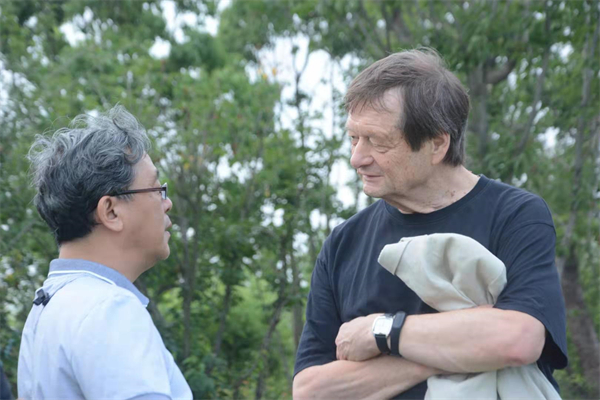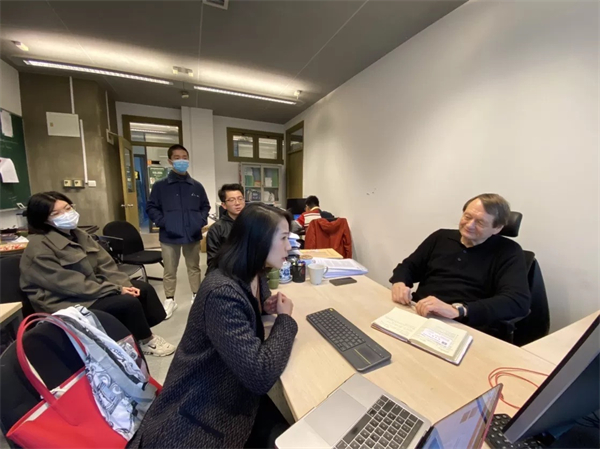 (Prof. Herzog with his Chinese colleagues at Tongji University)
As the chief scientist at the CIUC (China Intelligent Urbanization Co-creation Center for High Density Region) of Tongji University, Prof. Herzog has made prominent contributions to Shanghai in its efforts in building itself into a global AI science highland. A devoted scientist to the construction of the Shanghai Future Town of Artificial Intelligence in Maqiao, he has helped with the project site selection and simulation optimization of multiple AI application scenarios based on deep learning technology and a parallel computing framework. That has substantially sped up the steps of Maqiao becoming a global demonstration base for AI applications.
At the beginning of 2020, in spite of COVID-19, Prof. Herzog flew back to Shanghai to help with epidemic prevention and control. During the quarantine period, he began to use AI technology like machine learning algorithms to sort out big data and conducted labeling research on the all infection points in Shanghai, thus providing a strong scientific support for the Shanghai municipality to focus its epidemic prevention measures on residential communities.
The scientist has also promoted high-end cooperation in the AI field between China and Germany, and led Chinese and European scientists to participate in EU-funded research projects such as the "URBAN-EU-CHINA Innovation Platform on Sustainable Urbanisation". For instance, his team at Tongji University took part in compiling the "Performance Monitoring Report of Cities" which can provide references for fostering sisterhoods between Chinese and European cities.
"Shanghai people's openness to new technologies. That's also a very basic reason why Shanghai is going forward all the time," noted Prof. Herzog. In his opinion, one has to be very careful to apply technology not just because it exists, but it should only be applied if it really helps people to have a better life for instance. He is willing to stay in Shanghai, continuing his academic contributions to making the city better.
(Photos provided by Tongji University)