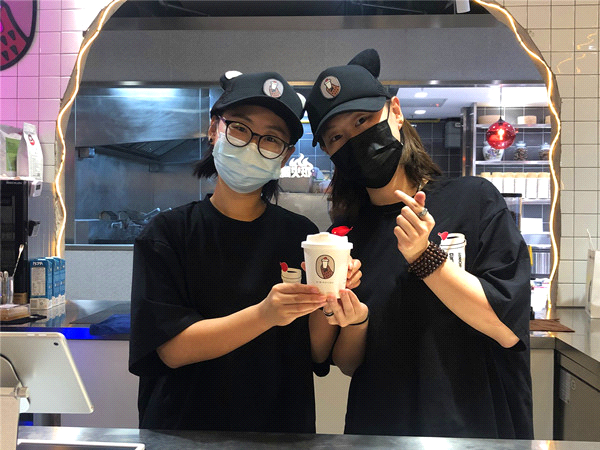 "You are responsible for greeting customers and I am responsible for making coffee." When you walk into HINICHIJOU coffee shop located on the B1 floor of Meilongzhen Isetan, West Nanjing Road, you can see Chen Yingying, a silent barista, and her manager Li Jia working together to make coffee for customers.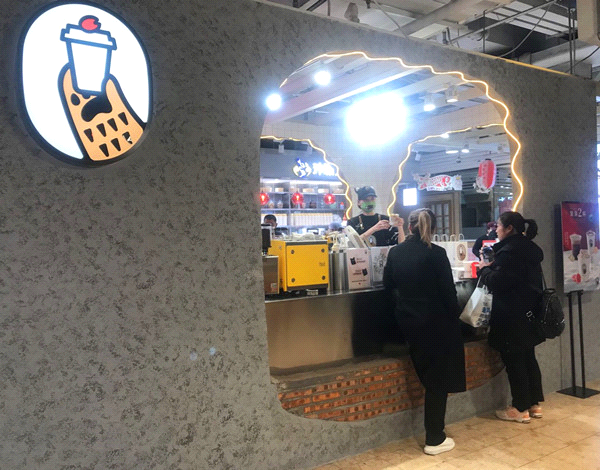 For people who are not familiar with the brand, they may not realize that one of them is a silent barista, and the identifying mark is the white ears on Chen Yingying's hat.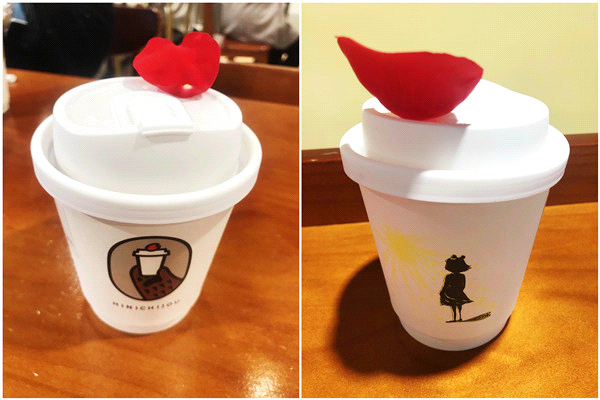 A fresh rose petal on the lid of each coffee cup
On December 3, 2020, the first HINICHIJOU coffee shop (also known as the Bear Paw Coffee) was opened at No. 68 Yongkang Road, Xuhui District, Shanghai. Through a hole in the wall, a cup of heart-warming coffee is delivered by a fluffy bear paw, which healed not only the customers, but also the silent baristas in the coffee shop. One year later, the first 360 degree open-faced coffee shop of HINICHIJOU opened at Meilongzhen Isetan in Shanghai on November 29, allowing some of the silent baristas to come out of the "bear cave" and face the customers directly, including Chen Yingying. Why did HINICHIJOU make this change? How have these silent baristas adapted to this change in the past twenty days since the coffee shop opened? Recently, a reporter from Eastday.com went into the first 360 degree open-faced coffee shop of HINICHIJOU to find answers.
"To get out of the "bear hole" is to meet your better self"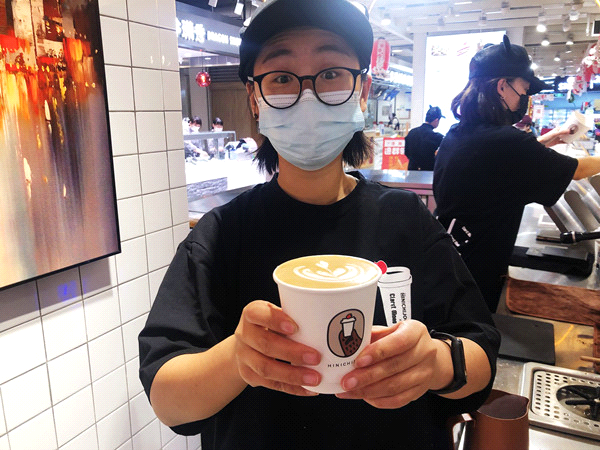 Double Champion Latte made by Chen Yingying
Chen Yingying, No.1 barista at HINICHIJOU, won first place in the coffee brewing program at the 6th China National Vocational Skill Competition for Persons with Disabilities in 2019. Before becoming a silent barista, Chen was a designer. Spending long hours on the computer, Chen did not have many opportunities to communicate with others. It was her interest and love for latte art that drove her to become a barista later. The reason why Chen chose to work at the 360 degree open-faced coffee shop of HINICHIJOU was her desire to feel more intuitively the customers' love for coffee and their recognition of her. There are also many other silent baristas who want to come out of the "bear cave" like her.
At first, she encountered some difficulties in communication, but she quickly got accustomed to the new working environment."Many customers would learn some simple sign language to greet us and such kind of communication gave me a lot of confidence at that time," said Chen. For her, to do a good job with every cup of coffee and to do what she can to help new silent baristas who join HINICHIJOU with their earnest love of coffee, give her great happiness.
To "meet another me in the world" at HINICHIJOU
"Chen Yingying and I are similar in temperament and ideas, just like twin sisters. In fact, it's not easy for disabled baristas to come to work in coffee shops, and it's not easy for me to meet with them. I cherish such an opportunity," said Li Jia, the person in charge of the coffee shop. In Li's heart, HINICHIJOU is her second home, and the baristas in the coffee shop are like her family.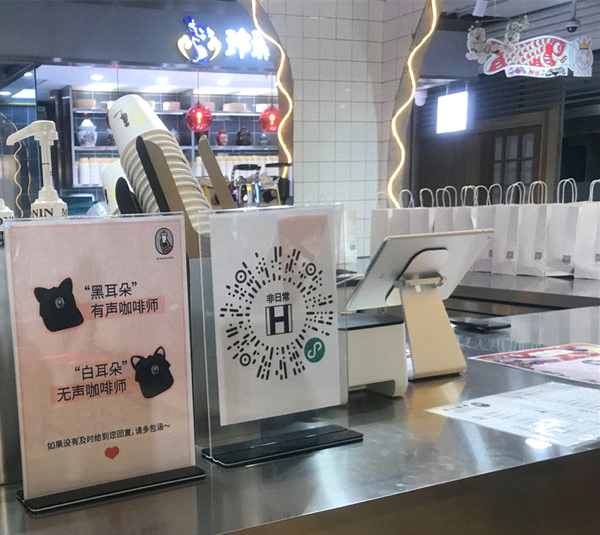 Taking details into consideration, Li Jia does her best to help these silent baristas to integrate into the new working environment as soon as possible."In the ordering area, we will use table signs to remind customers that 'white ears' are silent baristas and reduce customers' misunderstandings. In addition, we will also arrange an ordinary barista to work with silent baristas to give them more security at the beginning," said Li Jia. To her relief, the adaptation process of these silent baristas has been much smoother than she expected. In Li's opinion, instead of helping these silent baristas to adapt to the changes, they are growing together. From learning sign language to making coffee, such things make her feel a sense of happiness through working at HINICHIJOU. When Li Jia's 5-year-old daughter proudly told others that her mother worked at HINICHIJOU and was able to help many people, Li Jia felt that this was a career worth pursuing for the rest of her life."To make others better is to make yourself better. I will continue with such an idea," Li Jia said with determination.
Breaking the coffee shop's wall is opening a wall for special baristas communication with the outside world
"The wall was initially set up with two meanings: first, it was a protective wall to safeguard the disadvantaged groups, so that these shy employees could eliminate their 'social fears' and work in peace. On the other hand, we also hoped these employees to develop and accumulate self-confidence in such an environment. After a year, many of them are psychologically prepared to face customers directly," said Chen Dake, CEO of HINICHIJOU when talking about the original intention of opening the 360 degree open-faced coffee shop of HINICHIJOU."We hope these employees to find their own sense of value and confidence in becoming a barista and feel the encouragement and recognition from the outside world."
Of course,"breaking the wall" also inevitably encountered challenges and difficulties."Some customers who did not know much about the brand did not realize that some of the staff were silent baristas when they first visited the store, so there were some misunderstandings between customers and silent baristas. However, on knowing the actual situation, customers have expressed their understanding and support.
When interacting with customers, the disabled baristas also expressed their appreciation by using sign language and writing blessing words on the coffee cups. Customers will mail cards and gifts to the baristas in turn. Such touching moments are always on display in the coffee shop.
According to the person in charge of the brand, HINICHIJOU has 9 stores in Shanghai at present, and so far there are more than 20 disabled employees, with the percentage of people with disabilities reaching more than 55%. In the future, the brand plans to open 100 stores in China and help 300 baristas with disabilities to achieve employment. Expanding Internet sales channels and exploring overseas markets in Europe and the United States are also included in HINICHIJOU's plans for the coming year. The brand hopes that more overseas expatriates and friends can better understand the commitment to public welfare made by Chinese brands.
(Photos/Cao Jun)