Japanese illustrator Uyama Tsumugi: introducing modern China to Japanese people is perhaps my mission in Shanghai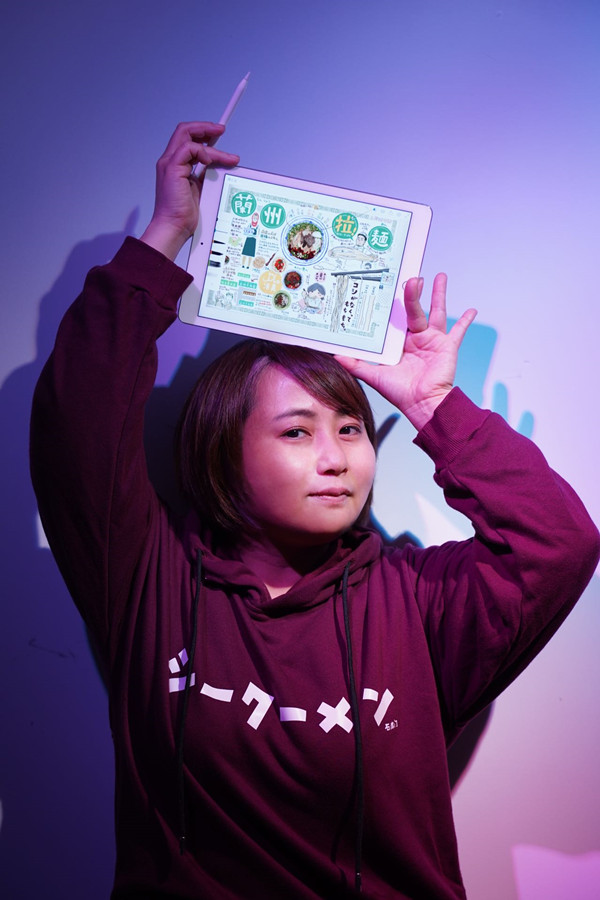 It seems to be uncommon in Shanghai nowadays to find someone living in an old house, wearing a big flowered cotton jacket, using hot water bottles and enamel washbasins, etc. However, there is a Japanese girl named Uyama Tsumugi in Shanghai, using a variety of such items with typical Chinese elements in her daily life. Her illustrations, exemplifying those Chinese style elements, have attracted wide attention recently. Since she looks somewhat similar to a well-known Chinese comedian Jia Ling, some people jokingly call her "the Japanese Jia Ling", which was the first impression people knew about her. A reporter from Eastday.com interviewed her recently and thus got a further understanding of her life and her dreams – to give a better and more vivid picture of modern China to the Japanese people.
The biggest personal improvement under lockdown: cooking creativity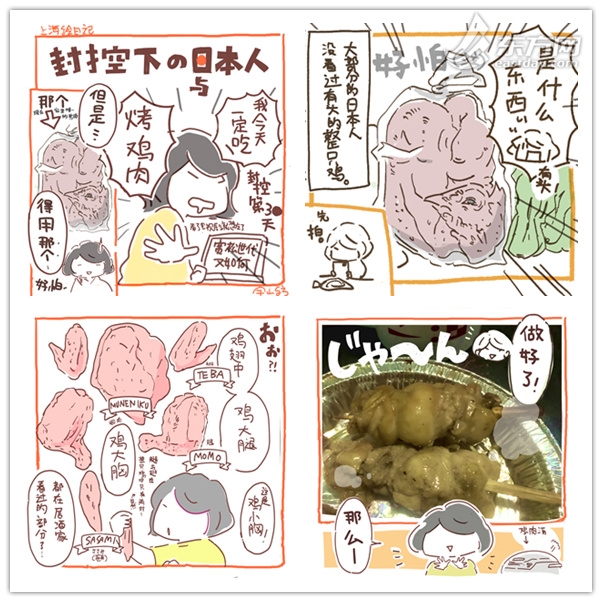 The reporter learned the name Uyama Tsumugi from a news article during the lockdown period in Shanghai and was fascinated by her illustrations. Ms Uyama said that she drew more than 10 illustrations during the closed-loop management, recording her life during this special period."Before the lockdown, I mostly fed on take-outs, but take-outs were almost all stopped during the lockdown. Therefore, I started cooking by myself, and the biggest harvest was that I had made great progress in cooking and had created many new dishes. When I first made shredded pork with green pepper, the green pepper was so spicy that my eyes became watery," Ms Uyama said.
When she was short of food, she also received help from a delivery boy and felt the warmth of neighbors helping each other."I knew a delivery boy surnamed Wang. At the beginning of the lockdown, my supplies at home gradually decreased. After learning that I was running low on food, the delivery boy went home and brought me eggs and vegetables, etc. Mr Wang said that it was"destiny"that we had met each other, and he couldn't just sit by while I was "going hungry". I am particularly grateful to him," Ms Uyama said.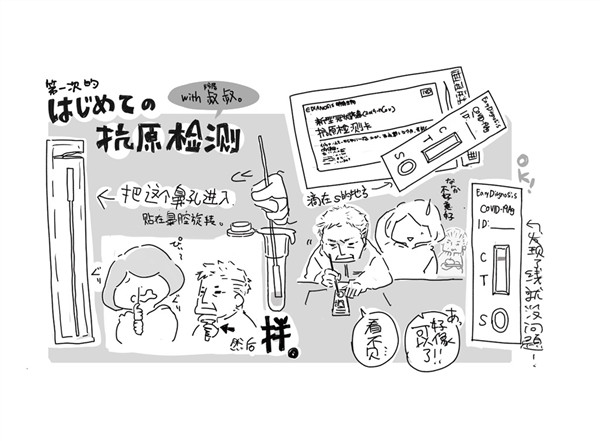 Ms Uyama lives in an old house in Xuhui District. Her neighbors are elderly aunts and uncles, who also tried their best to help Ms Uyama."During the lockdown, when for the first time I needed to perform an at-home COVID-19 rapid antigen test, it was already 8 p.m. I didn't understand how to deal with it, so I knocked on the door of my next-door neighbor. He showed me the procedure of an at-home COVID-19 rapid antigen test. Luckily, there were such kind neighbors around," she said.
My mission to stay in Shanghai: to tell the Japanese about modern China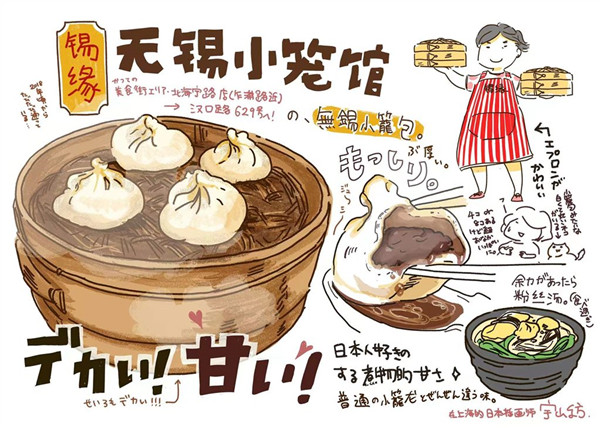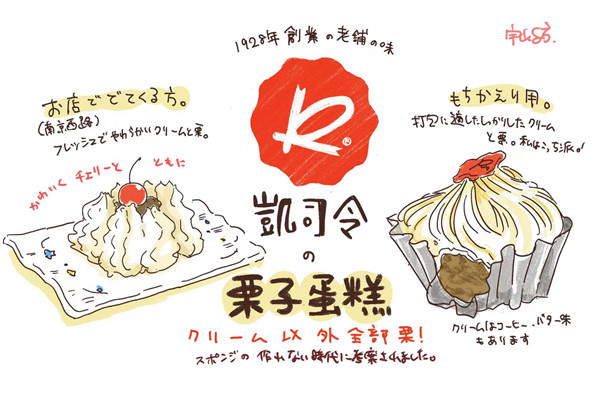 Ms Uyama never tires of talking about food. When she first came to Shanghai, she liked spicy hot pot, Lanzhou Lamian, Wuxi Baozi (filled steamed buns), and Kaisiling's chestnut cake. She seemed to be interested in the traditional Shanghai old brands and decided to do some research before putting them into her own paintings.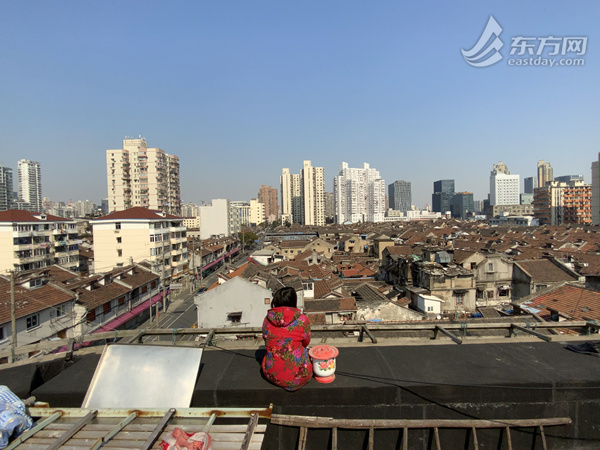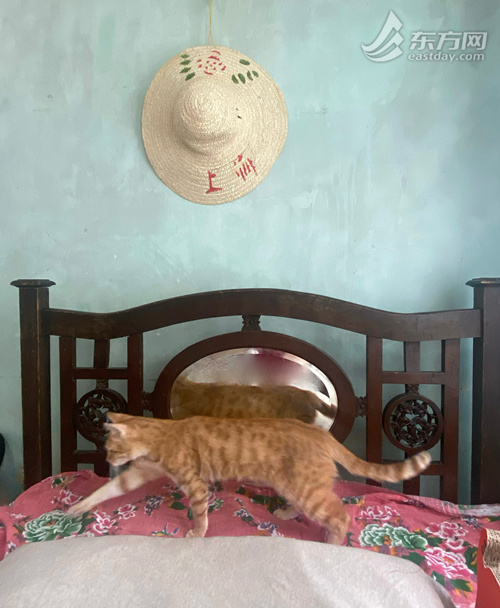 She is so deeply seduced by so many things in the life of Chinese people that she loves almost everything related to modern China even some things that don't seem to be popular any more among native people. For example, the spittoon, the big red cotton jacket, and the old bed she sleeps in."When I was looking for a house to move in last year, I found a flat with a bed boasting a history of nearly 100 years, and I immediately decided to rent it though the kitchen and bathroom of it are shared by many tenants. Sleeping in a bed with history is also a unique experience, right," she said.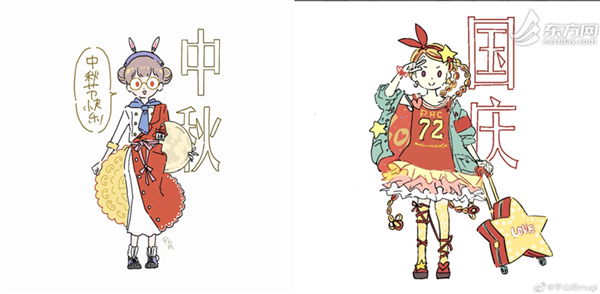 She embodies her love for Chinese culture in her paintings. On her Weibo page, the reporter found her anthropomorphic paintings of Chinese festivals. She said that her original intention is to introduce these festivals to the Japanese in a down-to-earth way of expression. In one of her illustrations showing the National Day of China, a girl is hurrying on with her journey dragging her luggage, showing the annual National Day holiday trips that many Chinese people take. In addition, Ms Uyama also painted a series of works such as "Shanghai Painting Diary","Japanese Living In An Old House", and "Japanese Under Lockdown", recording the details of her life.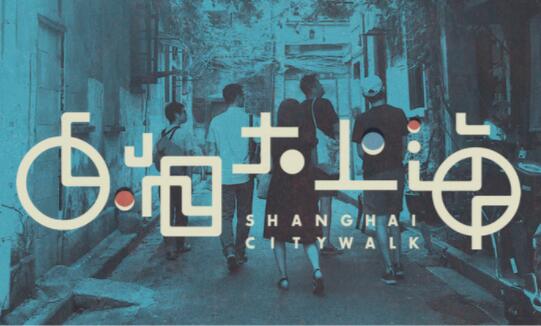 In addition, she also takes Japanese people in Shanghai to participate in an activity called "Shanghai Citywalk" when conditions permit."It's a joint effort between me and Geli Dong, a Shanghai-based historical researcher, who is in charge of the presentation and I am in charge of the operation. There are now nearly 20 routes and more than 400 members, some of whom are Japanese people in Shanghai and some are Chinese people who want to learn Japanese. We want to take people to wander about every street and corner of the city so that they can learn about a different Shanghai. This is another way for me to introduce Shanghai to Japanese people," Ms Uyama said.
"I love Shanghai. I feel a special connection with Shanghai. Although some people left Shanghai when the lockdown ended, I choose to stay here. I like the way of life here, feeling free here. I hope to introduce the modern Shanghai, China, and the daily supplies that Chinese people use to Japanese people. Perhaps this is my mission in Shanghai," she said.
This year marks the 50th anniversary of the normalization of China-Japan diplomatic ties. She showed the logo she is designing for this purpose, hoping that it could be used in some Sino-Japanese products in the future, so as to make a small contribution to the friendship between China and Japan.
Resume:
Uyama Tsumugi is a Japanese illustrator. She graduated from Musashino Art University in Japan and now lives in Shanghai. She has been here for seven years.