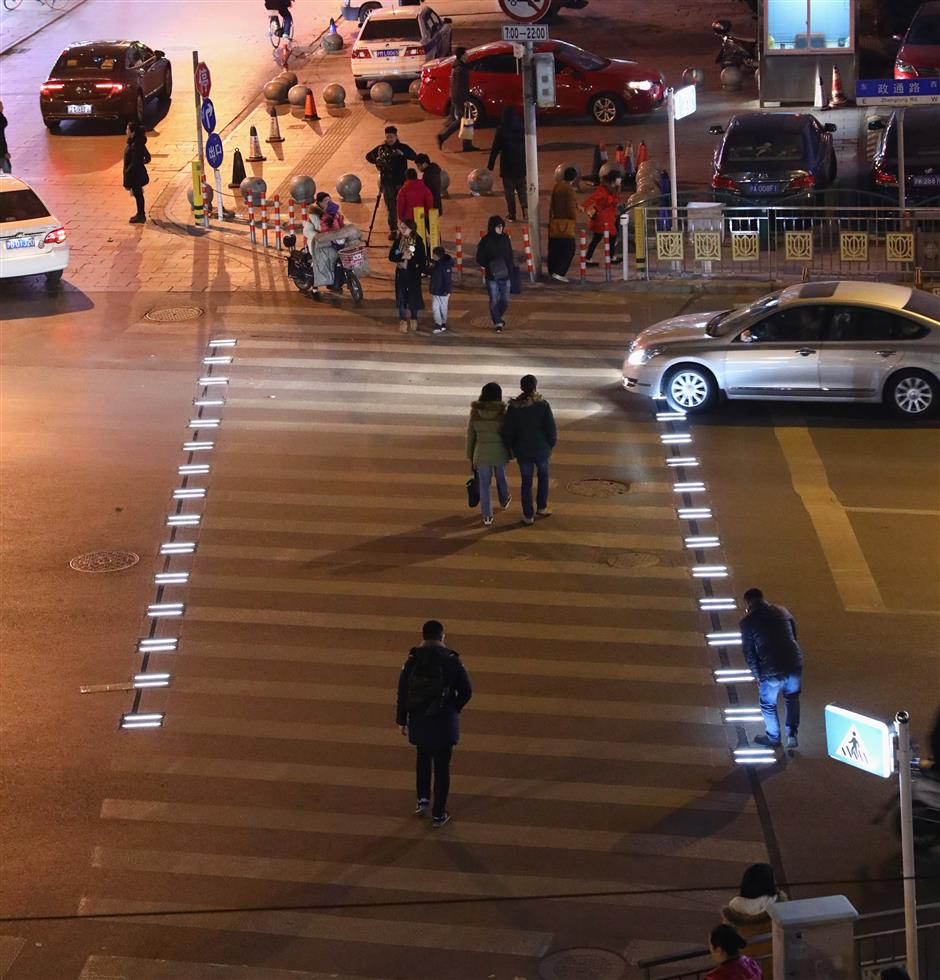 The zebra crossing at the intersection of Zhengtong and Guoji roads in Yangpu District is illuminated to warn motorists about pedestrians crossing the road.
An illuminated zebra crossing is being tested at a downtown crossroad in an effort to get drivers to slow down for pedestrians.
The innovative pedestrian crossing on the intersection of Zhengtong and Guoji roads in Yangpu District lightsup in white color when pedestrians walk on the crosswalk.
"The flickering lights can remind drivers to slow down and pedestrians to watch out when crossing the road," an official with the district's construction management authority said.
Zhengtong Road near the Wujiaochang area suffers from traffic congestion and drivers are more likely to become anxious, the official said.
If the illuminated crossing prove effective they will be rolled out elsewhere.
The crossing is equipped with an infrared plus radar system that can detect if there is pedestrian at the zebra crossing. The lights turn off when there are no pedestrians.
The lamps can either flicker together or alternatively to create the illusion that drivers might hit the lamps if they did not slow down. They can also adjust the level of brightness in daytime and night.
Chinese motorists are notorious for speeding, instead of slowing down, at crosswalks. It is also very common for pedestrians to run at red lights.
The Ministry of Public Security said 3,898 people had died in 14,000 accidents at zebra crossings nationwide between 2014 and 2017.
The district's construction management authority has analyzed the accidents before deploying the new facility.
"Most of the accidents at zebra crossings happened in either less populated region with dim lights or busy crossroads with various bright lights," the officials said.
Another dangerous phenomenon in the cities is pedestrians hooked on to their mobile phones while crossing roads.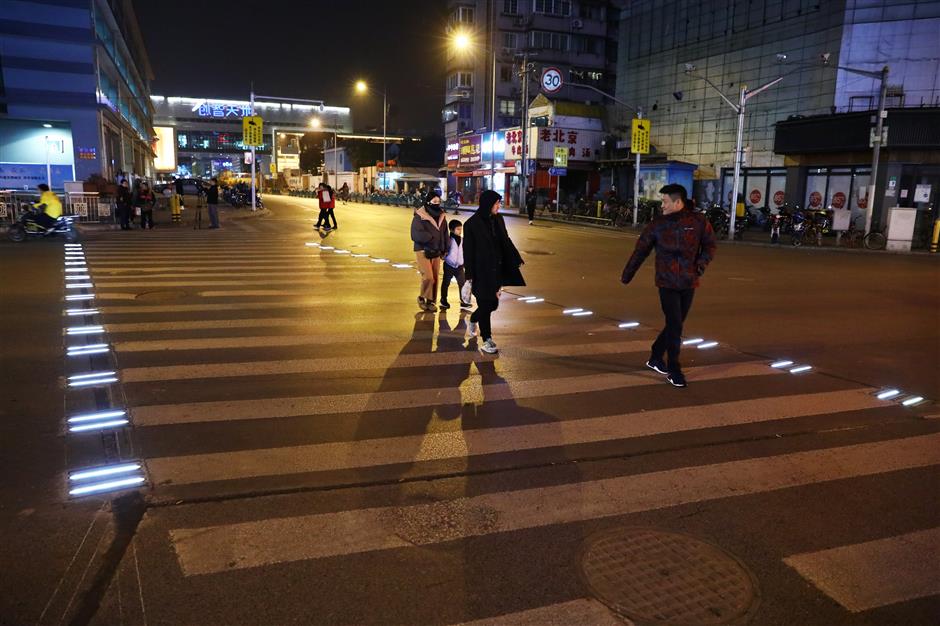 Jiang Xiaowei / SHINE
The lighted crossing was first tried out in a Dutch city around 2015. In China, Xi'an in northwest Shaanxi Province and Wuhan in central Hubei Province have also installed similar equipment on zebra crossings.
At two busy intersections in the southwest city of Chengdu, police have shaded the usually flat zebra strips to make them appear to be rising from the road. The 3D stripes are also painted in blue, yellow and white, instead of the traditional white.
In Shanghai,surveillance cameras will be installed at the crossroads who drive pastpedestrians at the crossing.
"I feel safer walking on the lighted crossing. Most drivers would slow down or even stop in front of the twinkling line," said Sherry Zhou, a postgraduate student fromFudan University.
However, some drivers expressed concerns.
"The twinkling lamps could create an illusion for drivers," said Wu Kai, a motorist who often drives through the intersection. "There already have many traffic lamps and drivers are likely to be confused."