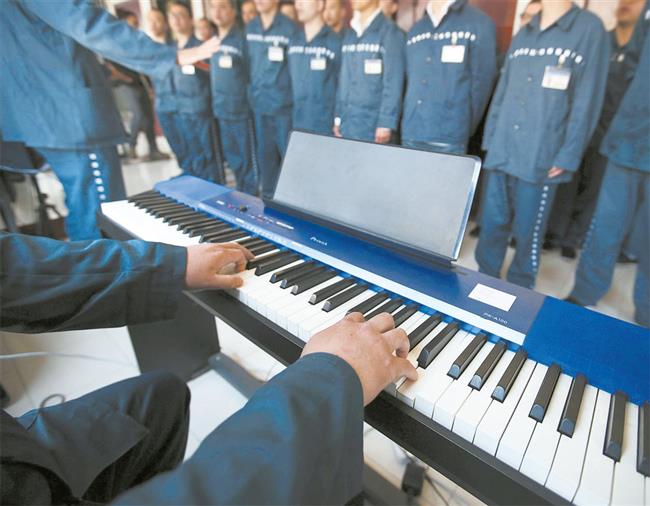 Chorus singers, all inmates of Tilanqiao Prison, practice a popular Chinese song about friendship, but the lyrics have been rewritten to reflect life as a prisoner — separated from loved ones, ostracized by the public and suffering from the slow passage of time.
AN art troupe of inmates at Shanghai's Tilanqiao Prison evoked online interest after an arrested thief said he wanted to go to jail so he could become a singer with the group and become famous.
Shanghai Daily visited the prison last week to get a closer look at this curious group of performers.
We found a chorus of 22 members practicing a popular Chinese song about friendship, but the lyrics had been rewritten to reflect life as a prisoner — separated from loved ones, ostracized by the public, suffering from the slow passage of time and building hopes for a new future.
The singers were in prison garb and their practice room had steel bars. The scene hardly looked like the stepping-stone to fame that the thief sought.
Ding Jun, director of the third ward in the prison, which houses the troupe, said the chorus was created to rehabilitate prisoners, not nurture celebrities.
"Everything we do here aims to spur repentance and turn prisoners into law-abiding citizens," Ding said.
The troupe calls itself Xin'an, which translates as "new shores."
It was established in 1985 to provide inmates a bit of cultural enrichment. Since then, the troupe has performed more than 5,700 times, entertaining fellow prisoners and sometimes families with song, instrumental music, cross-talk and short sketches.
The performances generally draw their material from life on the inside. They tend to resonate with other prisoners for that reason.
The troupe typically has about 40 members, who are carefully selected. Convicted people who show some talent are often channeled to Tilanqiao Prison, though most members of the troupe have no artistic background and maybe no interest in the performing arts in the first place.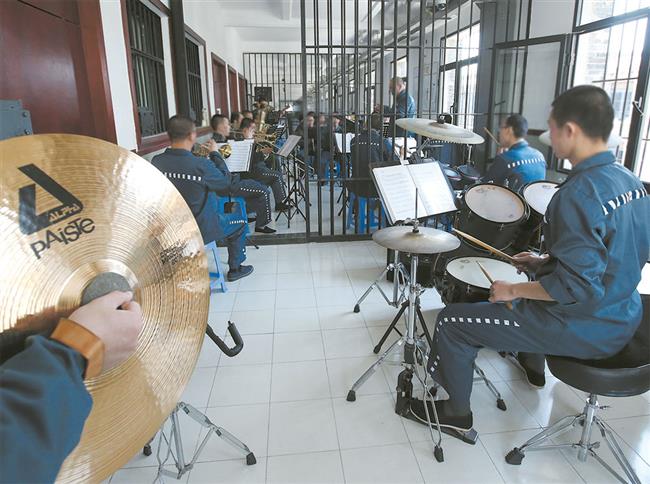 Wang Rongjiang / SHINE
The orchestra rehearses an episode from the musical "The Phantom of the Opera."
Selection criteria are pretty rigid.
"Troupe members have to show good behavior records in prison no matter how talented they are," said Ding.
Members of the troupe are reviewed periodically to assess their rehabilitation progress. Those who don't pass scrutiny are chucked out of the troupe.
Their daily routine is no different from other prisoners: Up at 5:30am, lights out at 20:30pm. Practice and training run from 7:30-10:30am and 1:30-3:30pm.
Inmate Wang Hui, 62, serves a chorus director. He sang professionally before he went into business. He subsequently received a suspended death sentence for illegally raising more than 700 million yuan (US$111 million).
Wang was admitted to the prison troupe when his talent for singing became obvious.
Since the prison has no staff to hire professionals to train troupe members, Wang teaches members basic music knowledge, rewrites the lyrics of popular songs and even creates new tunes.
The troupe's "stage" is only behind bars.
A prison chorus is hard to manage because its members have such varying degrees of talent and capacity for learning. Wang needs endless patience.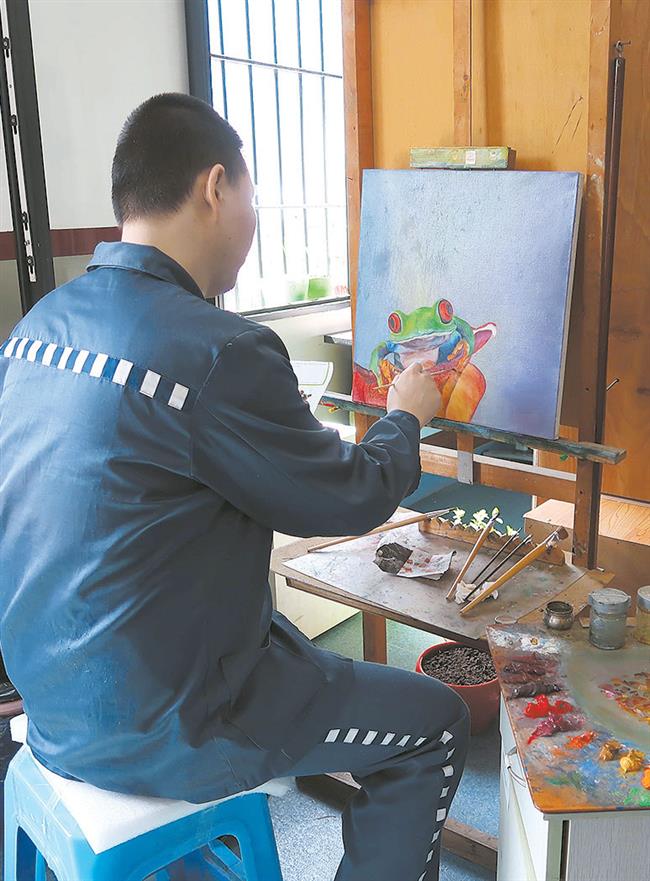 Wang Rongjiang / SHINE
A prisoner paints during a rehabilitation program. Other programs include learning wood carving and writing poetry.
"Though I have the chance to perform, I never feel like a star," Wang said. "But it does make me reflect upon myself. I initially thought my financial dealings were perhaps in a gray zone but not illegal. My sentence seemed too severe to me. But now I see clearly that what I did was illegal and I deserve this punishment."
Wang said he plans to write a play about prison life as a deterrent to others who think they can get away with breaking the law.
Ding said artistic rehabilitation does seem to give the inmates a certain peace of mind.
"We want them to cultivate healthy interests and values, and dump bad habits," Ding said. "We want to reduce or eliminate the chances of recidivism once they are released."
The art troupe, he added, is just one of the prison's rehabilitation projects. Other activities include painting, wood carving and a poetry magazine.
Tilanqiao isn't the only penal facility in Shanghai where such rehabilitation efforts are under way. At the Women's Prison, for example, there's a song-and-dance troupe, and Nanhui Prison offers classes in cultural heritage.
"Some of these programs also help prisoners find jobs after they are released," said Ding. "Several furniture factories have expressed willingness to hire some of our inmates who have learned wood carving, when they are released from prison."