Shanghai Mayor Ying Yong met Carl Decaluwe, governor of West Flanders, Belgium and his delegation on May 11.
Ying said China and Belgium have always enjoyed a friendly relationship and served as an exemplary model for Sino-Europe cooperation. Shanghai and Belgium, and its city Antwerp have had extensive cooperation in trade, ports and cultural industries.
As a window for China's opening-up and reforms, the city will host the first China International Import Expo in November, which indicates the country's willingness to further open up to the outside world. China welcomes companies from Belgium and other countries to participate in the expo.
Decaluwe said China and Shanghai's changes and achievements have been impressive, and he would like to see Zeebrugge Port carrying out cooperation with Shanghai's major companies. As a window to European markets, West Flanders welcomes companies from Shanghai and other parts of China to make investments in the city.
After the meeting, Shanghai's Lingang Group and Zeebrugge Port Bureau signed a strategic cooperation agreement to advance Shanghai and West Flanders's cooperation.
Shi Guanghui, vice-mayor of Shanghai, and Paul Lambert, Belgium's general-consul in Shanghai, also attended the meeting and the signing ceremony.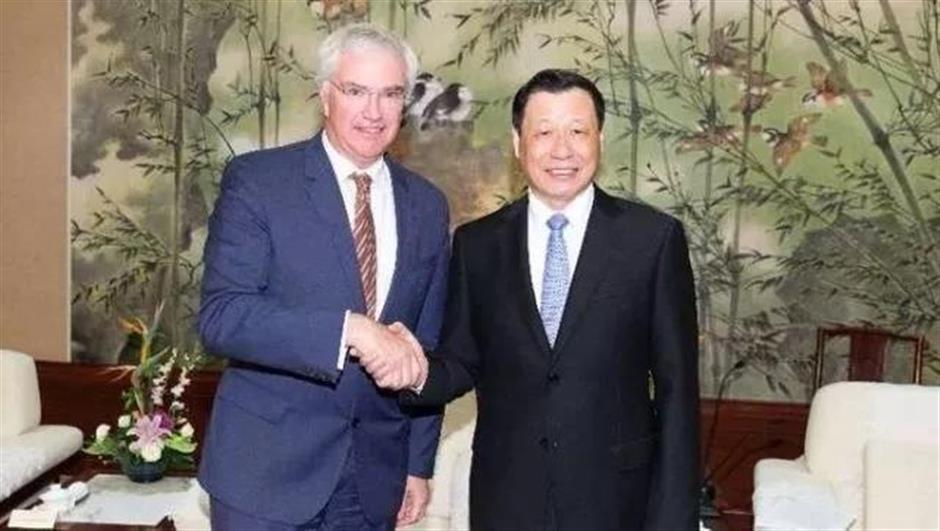 Shanghai Mayor Ying Yong meets Carl Decaluwe, governor of West Flanders, Belgium.