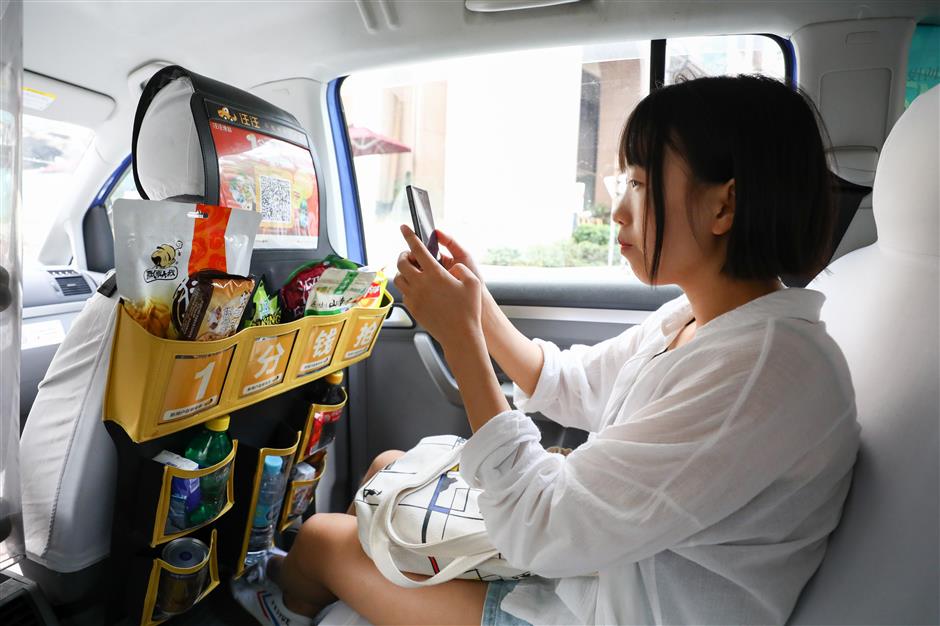 A passenger pays for the snacks or drinks she has chosen from the organizer on the back of the front passenger seat.
When Li Jiahe hailed a taxi for work on Monday, she found an organiser with several pockets hangingonthe back of the front passenger seat.
It was filled with snacks and drinks and the drivertold Li she could pay for them simply by scanning a QR code on his phone. The door compartment was also stuffed with snacks. Li bought a bottle of water for just one fen (a 100th of a yuan).
"The driver said it was a first order discount, but I had to follow an official WeChat account" said Li. "I won't buy things other than water for eating in the car is kind of messy."
There are around 200 taxis with such a service, according to Haibo, the taxi firm that launched the business with the Wangwangvehicle-mounted convenience storeapp.
"I made an extra 600 yuan (US$94) in March and 400 last month," said Yao Jianjun, a Haibo driver who among the first to try out the service. "For each product I sell at full price, I get 15 percent."
Yao goes to the company to replenish his stock from time to time and said he couldpick up anythingWangwang has to offer as long as it iswithin his 500 yuan budget.
"The best sellers are different kinds of drinks," said Yao. "I guess it's because the weather is getting warmer."
Yao didn't expect the snacks to bring him a fortune. "If anything, I wish passengers who wanted something to eat or kill time during the trip can have a better experience," Yao said.
Most of the snacks and drinks are atsupermarket prices, thoughdiscounts make some even cheaper.
Ruan Jianyun, another Haibo taxi driver, said many young people liked the service.
"Paying stuff with phone seems to be popular among them," said Ruan,"but the supports only WeChat now."
Transforming taxis into convenience stores is not new. Cargo in the US started providing snacks on Uber in 2016. In China, two companies — Mobile Go and GoGo+—are spreading the business across the country. In Shanghai only Wangwang and Haiboare in the business.
After scanning the Wangwang QR code, passengers are asked tofollow its official account but there's no content apart from apayment page.
Haibo said it is"merely testing the water." The business started in March, but both the taxi firm and Wangwangwanted to keep it in low profile for the present.
Zhang Liang, of theQiangsheng taxi firm, said so far it hadn't been approached about starting the business. "We considered it a while ago," said Zhang. "But decided not to go with it for we didn't see the profit of such business."
Opinions are divided on theservice. Some worry that since the organizer isat the back of the passenger seat, the driver won't be able to see if a passenger is stealing the goods or worse, swapping them for something that could put health at risk.
Wu Liang, who hailed a Haibo taxi several days ago at Pudong International Airport, said he haddifficulty fitting his luggage in the trunk because "there were already several baskets of snacks there."
Zheng Tianwei, owner of a small restaurant, said he noticed the snacks a while ago, but he wasn't buying.
"There were melon seeds, shrimp chips and others," said Zheng. "But they looked grimy, I wouldn't buy them."
"Is it legit or not," Zheng wondered. "I've seen similar cases in Hangzhou and Shenzhen."
Shanghai has no regulations coveringsuch a service, Shanghai Transportation Commission said.
"The bottom line is not to jeopardize the safety of passengers on board," itsZhou Yiqun said. "We will keep a close eye on it."
"It is a relatively new business in town," said Ge Zhihao, a lawyer from Guantao Law Firm. "But since inside of taxis is also public space and the app is technically a snack vendor, it is legal as no regulation prohibits it."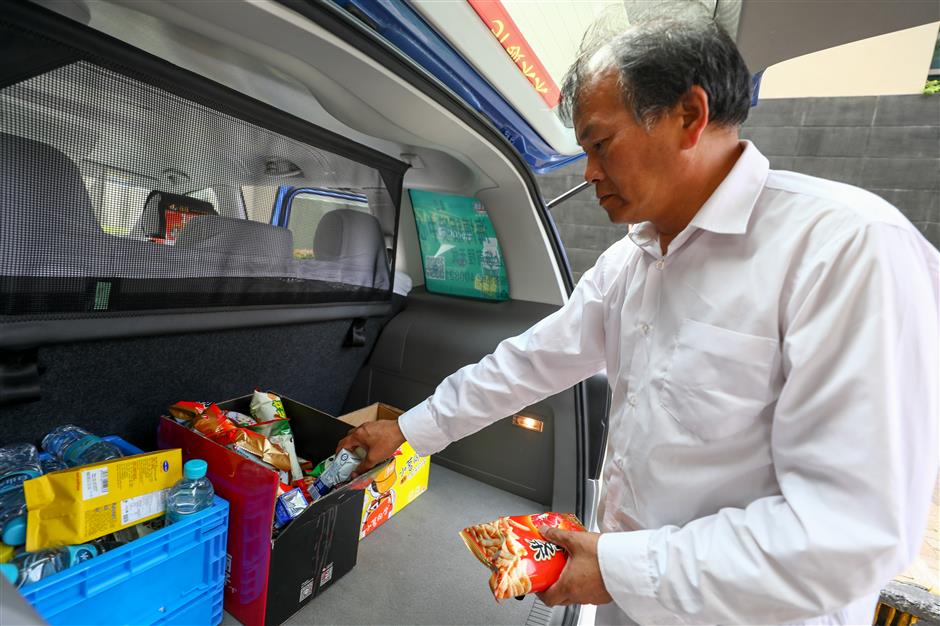 Jiang Xiaowei / SHINE
Taxi driver Ruan Jianyun fills up his stock of snacks in the trunk of his car.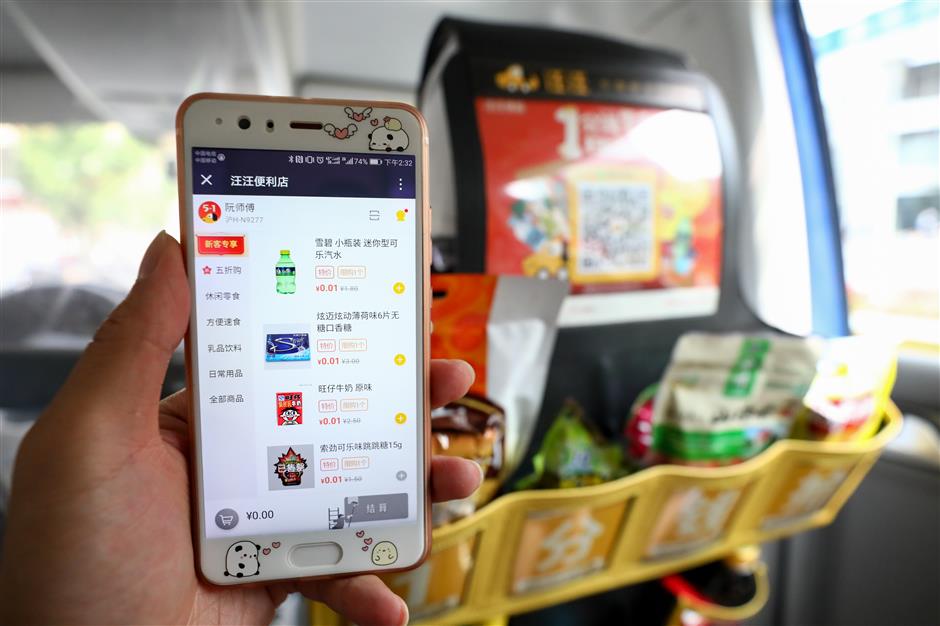 Jiang Xiaowei / SHINE
Wangwang's payment pageafter a passenger who wants to purchase snacks or drinks in the car followsits official WeChat account.