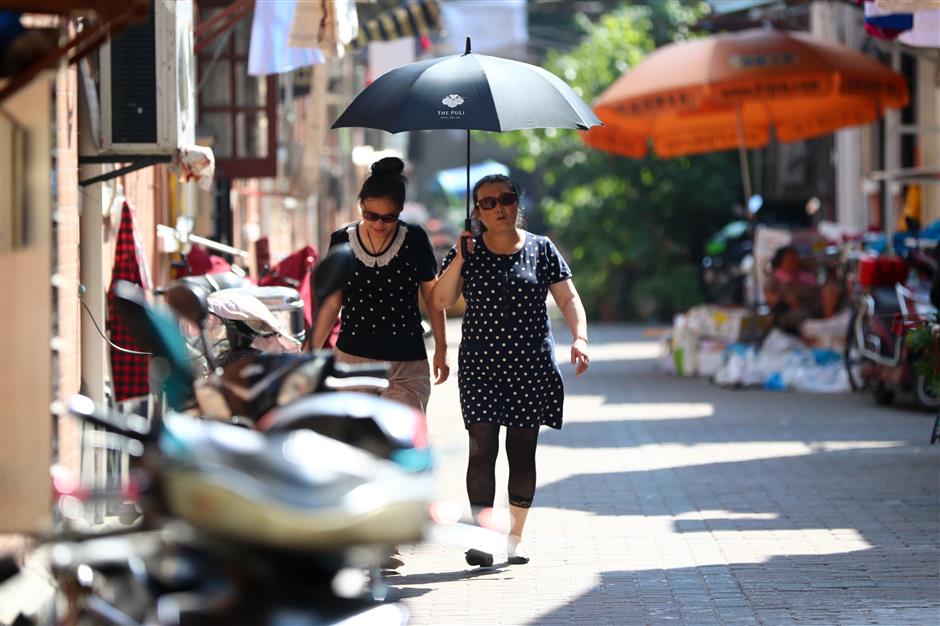 Women brave the scorching sunshine in Shanghai yesterday.
Shanghai is sizzling this week and yesterday the mercury hit 38 degrees Celsius in suburban Qingpu District. Furthermore yesterday officially marked only the 13th time since 1873 of a "high temperature day" — over 35 degrees — in May.
The year's second yellow high temperature alert was issued by Shanghai Meteorological Bureau at 11:04am yesterday, the lowest of a three-tier high temperature warning system that comes into effect when the mercury is forecast to surpass 35 degrees.
An orange alert, the second level when the forecast is for the mercury passing 37 degrees, was issued for the suburban districts of Qingpu, Songjiang and Jiading.
The highest red alert forecasts temperatures of over 40 degrees.
In downtown Xujiahui area, the high soared to 35.4 degrees, the first high temperature day recorded by the benchmark Xujiahui weather station this year.
Suburban Qingpu, Baoshan, Songjiang, Jiading, Minhang and Chongming districts also recorded 35 degrees and higher.
Minhang apart, the other five districts recorded their hottest day in May since 1961.
Of the six districts, Qingpu recorded a high of 38 degrees, making it the hottest day in May in Shanghai and the earliest day for the city to record 38 degrees since records began.
The previous hottest days in May recorded at Xujiahui observatory were 35.7 degrees in 1876, 1903 and 1915 since it began keeping records in 1873. The highest for the city's suburban areas in the month was 36.2 degrees in 1991 in what was then Jinshan County.
Records also show that scorching days of temperatures hitting 38 degrees usually occur in July.
The sizzling conditions began last weekend when the city was under the influence of a subtropical high along with warm and wet air from the southwest. So far, Shanghai has had five consecutive days with average temperatures above 22 degrees — so last Saturday marked the official start of this year's summer, 18 days earlier than usual, the weather authority said.
Today, cloudy with intermittent thunderstorms are forecast, with the mercury remaining stable, ranging from 26 to 35 degrees. But from tomorrow, the subtropical high will weaken and there will be some relief from the hot weather.
Tomorrow's high is forecast to fall to 31 degrees.
Over the weekend, it is expected to drop to 25 degrees.