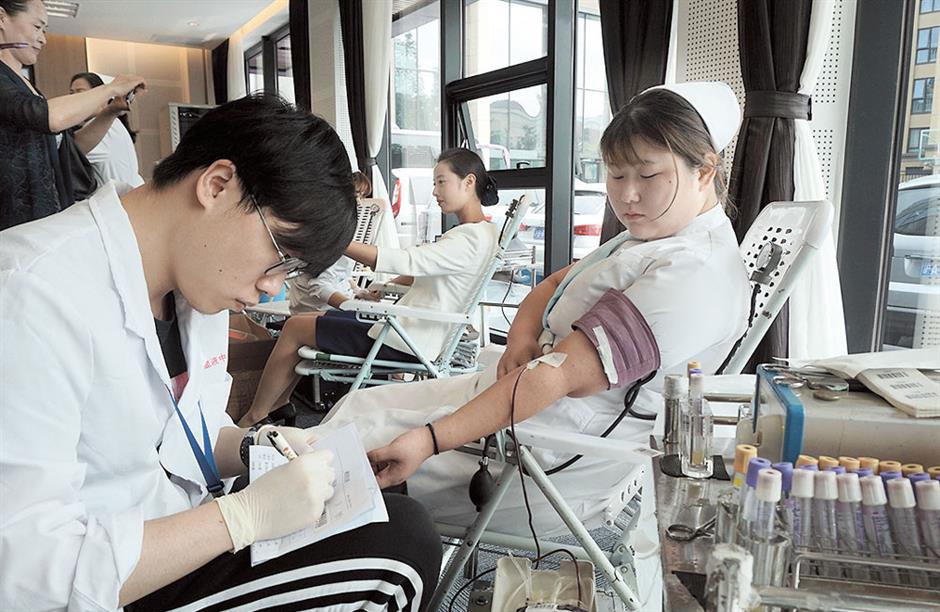 Over 170 medical professionals in Changning District donate 174 units of blood yesterday during a drive to mark tomorrow's World Blood Donor Day.
As blood donations in China increase, widespread shortages of the vital fluid have largely become a thing of the past.
World Blood Donor Day tomorrow is an annual tribute to those who donate and an annual reminder to those who don't that donations are the lifeblood of a caring society.
Shanghai has played a leading role in voluntary blood donations, which keep rising year on year. The city collected 505,000 units (200 milliliters of blood each unit) last year, higher than the 490,000 units in 2016.
"The demand for blood always exists," said Zhu Yongming, president of the Chinese Society of Blood Transfusions. "Blood is a scarce resource. The supply must meet urgent demand."
According to a report by the World Health Organization in 2017, the donation rate for every 1,000 people in China is 10.5 donations, compared with more than 20 in developed countries. The figure was 15.01 in Shanghai last year.
But figures can be deceiving, Zhu said. Conclusions vary because of different measurement and statistical methods.
"If a person donates blood twice a year, it's counted as a two person-time," he said. "Also, a donor can choose to donate one or two units of blood each time in China. But in foreign countries, the volume for each unit is different. That's why I think the comparison may be not very accurate because they are not clear if they calculate by person-time or volume. Only if a unified statistical method is applied can we make accurate comparisons."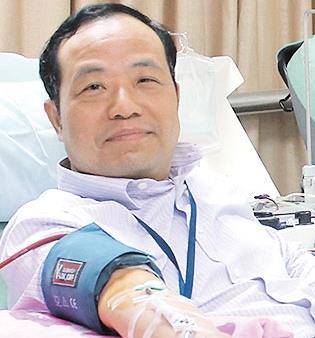 Zhu Yongming
Zhu, former director of the Shanghai Blood Center, said the center's major duties include public education about blood donation and promotion efforts to attract more donors.
"Different people have different reasons for donating blood," he said. "Some regard it as a charitable act, while others do it to feel good about themselves. Our job is to let all of them know that their contributions are needed and appreciated," he said.
More than 90 percent of donors at the center are 40 or younger.
"Younger people are usually more open-minded than the older generation toward blood donation," he said. "The reluctance of the elderly is not a matter of selfishness. Many of them grew up in an agrarian society where the concept of donating blood to strangers was unfamiliar. Younger people have a stronger sense of social responsibility, which is good."
Zhu said many believe that blood donors should be entitled to free blood use in hospital if they ever need them.
"It may sound reasonable on the face of it, but that would go against the spirit of voluntary donations, which means no compensation in any form," he said.
Currently in China, voluntary donors receive certificates that entitle them to some priority and discount if they ever require a transfusion in hospital. The policy varies in different cities and provinces.
"The certificate should be regarded as an incentive instead of a benefit," said Zhu. "Voluntary donors deserve public recognition and respect."