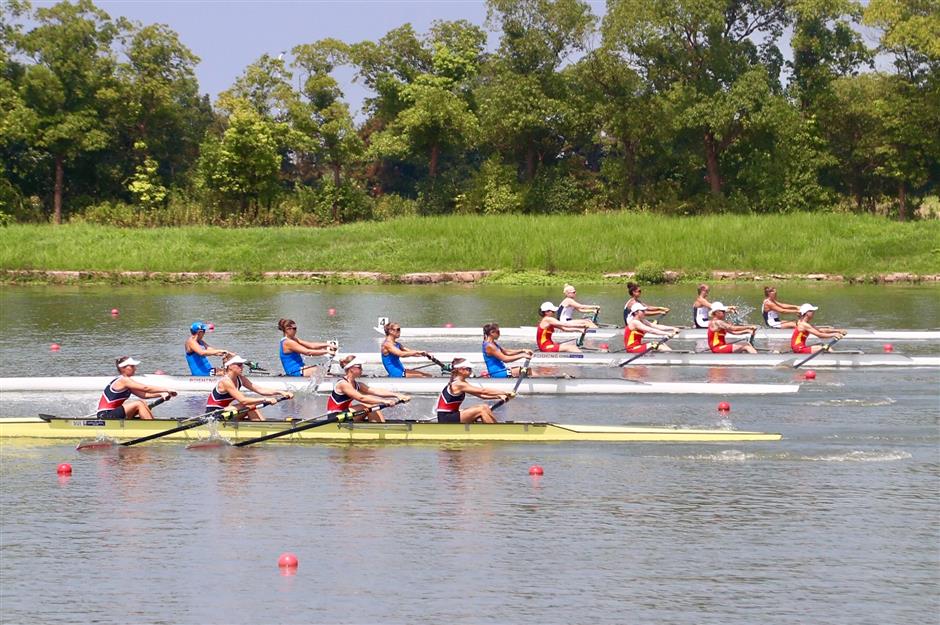 University students from 22 countries compete on Friday in the FISU World University Rowing Championship in Shanghai.
A total of 322 university students from 22 countries, including the United States, the United Kingdom, Germany and Australia, began paddling on Friday in the FISU World University Rowing Championship in Shanghai.
The students will compete in 16 categories of rowing games across three days.
The FISU World University Rowing Championship has been held in Europe 14 times since 1984 by the International University Sports Federation, and has attracted more than 5,000 students from all over the world.
It is the first time the biennial event is to be staged outside Europe. This year's event is organized by Shanghai Jiao Tong University and is being held at the Shanghai Water Sports Center in Qingpu District.
"I am really excited, I've never been to China before," James Stanhope from Oxford Brookes University said. "I studied Chinese, so I can speak a lot ... and I am happy it's being held in Shanghai."
"The weather is good and the rowing course is beautiful, so it's a good event we are having in China," said Arnaud Bertsch, coach of the Switzerland team.
"Rowing is a very difficult sport, you have to be very tough and it develops a lot of qualities in students as well," he added. "It is also very important that the young athletes are meeting with people from different cultures and different universities."
Zhang Ansheng, vice president of Shanghai Jiao Tong and president of the event organizing committee, said it is a good opportunity for Chinese students to learn from strong teams, such as the teams from America and the UK.
"Rowing is a popular game in international universities, including Yale, Harvard and Oxford, but it's still new in China," he said. "It's not just a way to develop physical health, but also a way to promote the spirit of striving for excellence, team work and other qualities. We hope Chinese students can enjoy it as much as their international peers."