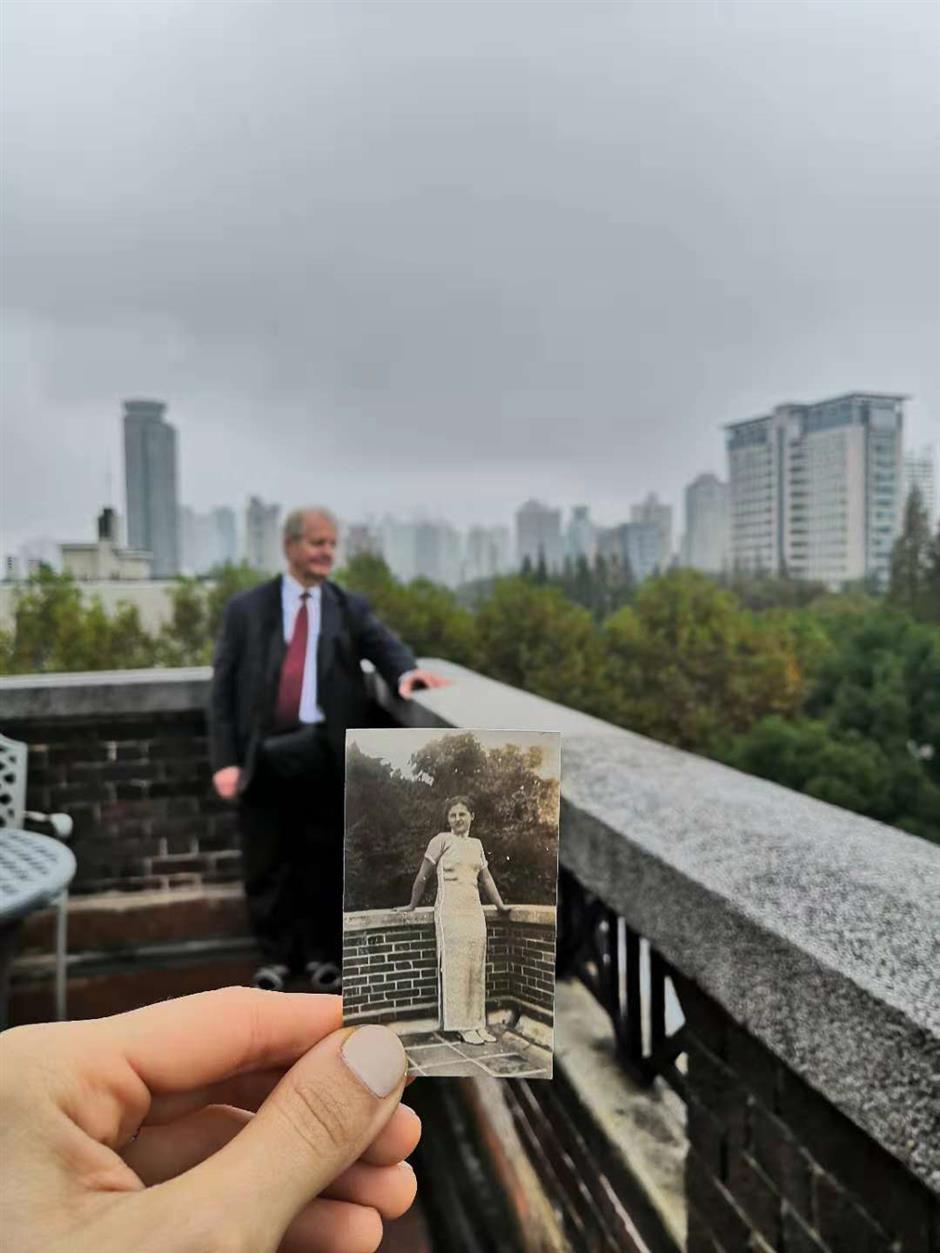 Paul Ungererstands on the same balcony where his mother had posed for the picture shown in the foreground.
With an old photograph in his hand, 75-year-old Paul Werner Ungerer from Germany tried to figure out which building on Anting Road it resembled. It had been his home some 71 years ago.
"I was only 4 when I left. There is not much memory about the city that I still possess," said Ungerer, a retired chemical scientist. "I needed the pictures to help me."
To his surprise, Ungerer did find the apartment atNo. 43 Anting Road where he used to live. Standing on the same balcony where his mother had posed for the picture,Ungerer felt the atmosphere was familiar.
"My Italian mother was actually Chinese inside. She loved collecting Chinese artworks. She often painted interesting Chinese people she saw on the street. And she kept lots of qipaowhich she never had the chance to wear after leaving China," he said.
It was his mother, who died in the1970s, whohelped him decide to return to Shanghai today after all those years.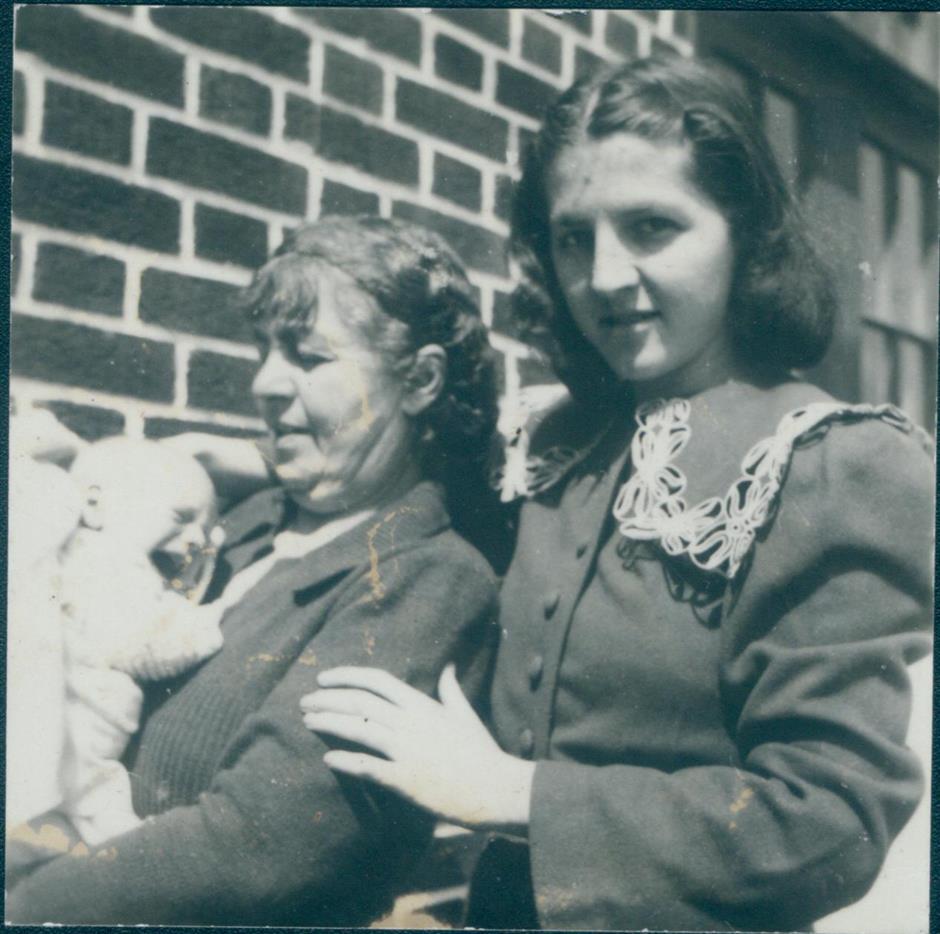 Ti Gong
Paul Ungerer as a baby withhis grandmother and his mother (right).
Leyda Pezzini was a student of Italian conductor Mario Paci who was in charge of the Shanghai Municipal Orchestra and Band (predecessor of Shanghai Symphony Orchestra) from 1919 to 1942. She often worked with the orchestra as a soloist in Shanghai, and kept a series of posters, program lists and pictures related to her time in China. Her husband, a German, was then in charge of the Shanghai office of Degussa, a German metallurgical company. The family leftShanghai shortly after World War II as many foreigners did at the time.
However, Ungereroften heard about Shanghai in the little stories told by his mother. For example, his mother often joked that when young Ungerer wentout on the street, there were Chinese calling with surprise: "Oh, a little old man," for his light-colored hair.
With no children of their own, Ungerer often discussed with his wife on what to do with his mother's collections, and came up with the idea of finding someone who might be interested. Last year, as they searched for details of the orchestra online, they found that the Shanghai Symphony Orchestra was actually touring in Europe with a stop in Hamburg, about 500 kilometers fromDusseldorf where they lived.
Ungerer and his wife finally connected with orchestra officials, who showed huge interest in what he had to offered. He had two large concert posters, program lists and old pictures of orchestra members.
"The nearly 100-year-old posters were very well-preserved on cardboard. We were so impressed thatUngerer should take the trouble bringing them to us," said Zhou Ping, the orchestra's president. "They were such precious gifts."
Some of the items went on display at the Shanghai Symphony Museum on Baoqing Road.
Though he had never thought about returning to China, that donation, to some extent, triggered Ungerer's curiosity about the city where he used to live.
"My wife says, you have to go back to your roots someday. Since we are no longer younger, we have to do it now," he said.
The couple spent 14 days visiting Chinese cities including Beijing, Qingdao, Nanjing andSuzhou. Shanghai was their last stop.
"When I first landed in Shanghai, I could not help asking myself is this real? It is so different from what it is like in my memory or what I read from the books," said Ungerer."The tour guide showed us all those skyscrapers standing on the Bund. And when we walked on the glass corridor on the 100th floor of the Shanghai World Financial Center, my wife said how could we explain all this to our friends back in Germany? It is not what you can explain, but what you really have to see yourself."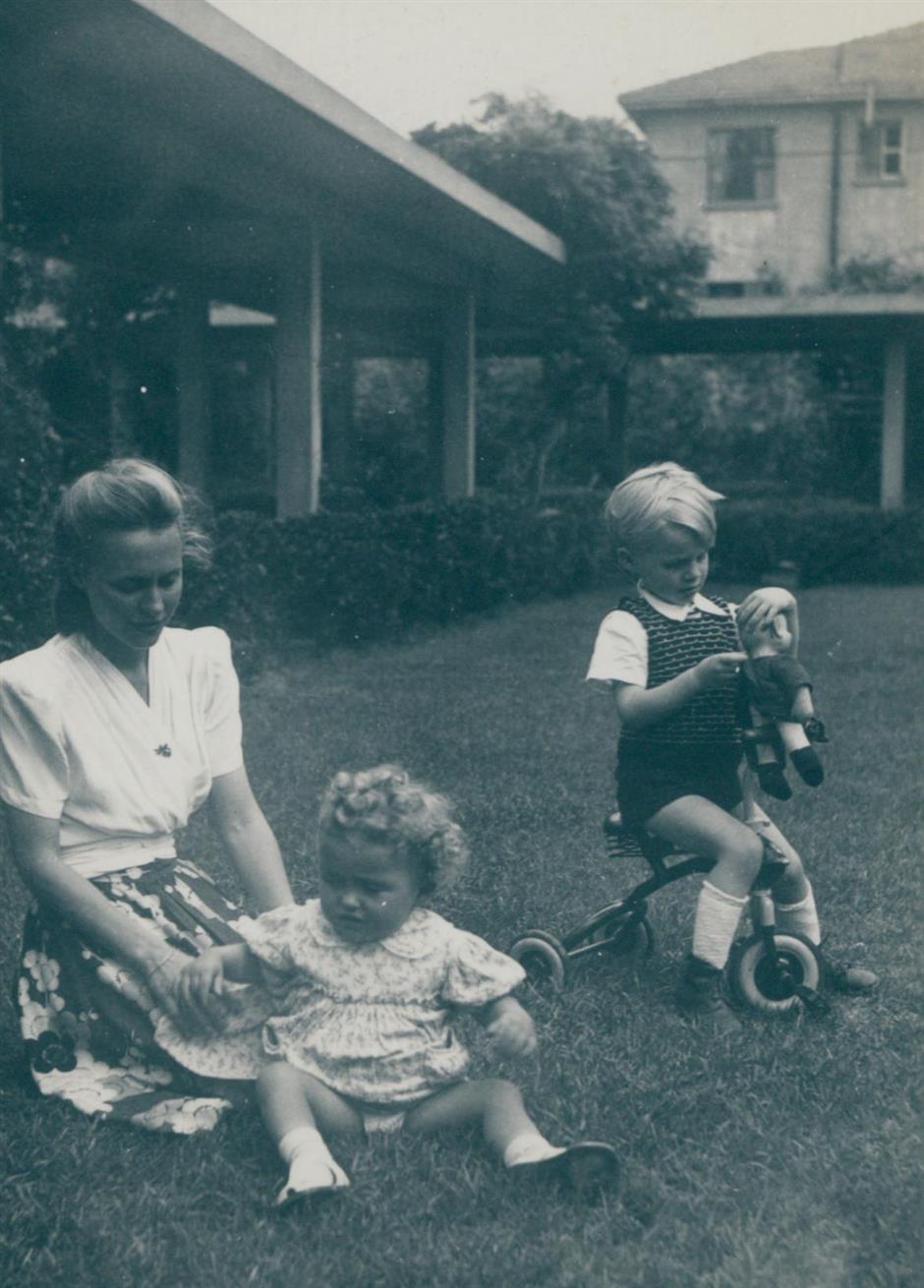 Ti Gong
Paul Ungerer (right) with his family.
Apart from the popular attractions such as the Chenghuang Temple, Jade Buddha Temple and Shanghai Circus World, the couple spent half a day visiting Shanghai Symphony Hall and the Shanghai Symphony Museum where he was excited go find an image of his mother in agroup photo of Paci's students from 1945.
And he was thrilled to receive adragon-shaped stamp with both his Chinese and English name on, as a gift from Shanghai Symphony Orchestra.
"Though it was not my plan at first, I am so grateful that my wife had pushed me to do the trip," said Ungerer, "We knew that it was impossible to see China within 14 days, maybe there will be a next time."
Ungerer is also thinking about finding museums to take his mother's other collections, which are mostly Asian artworks like metal pots, jade vases and carved ivory pieces.
"We really hope that they will be in the right hands," said Ungerer.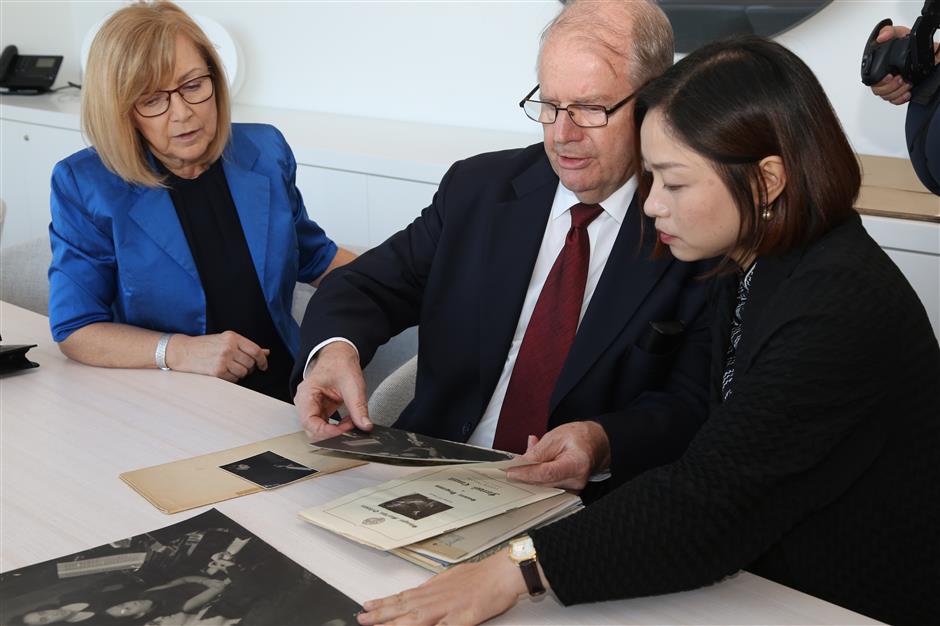 Ti Gong
Ungererdonated items his mother's collection to Shanghai Symphony Orchestra when it was touring Europe last year.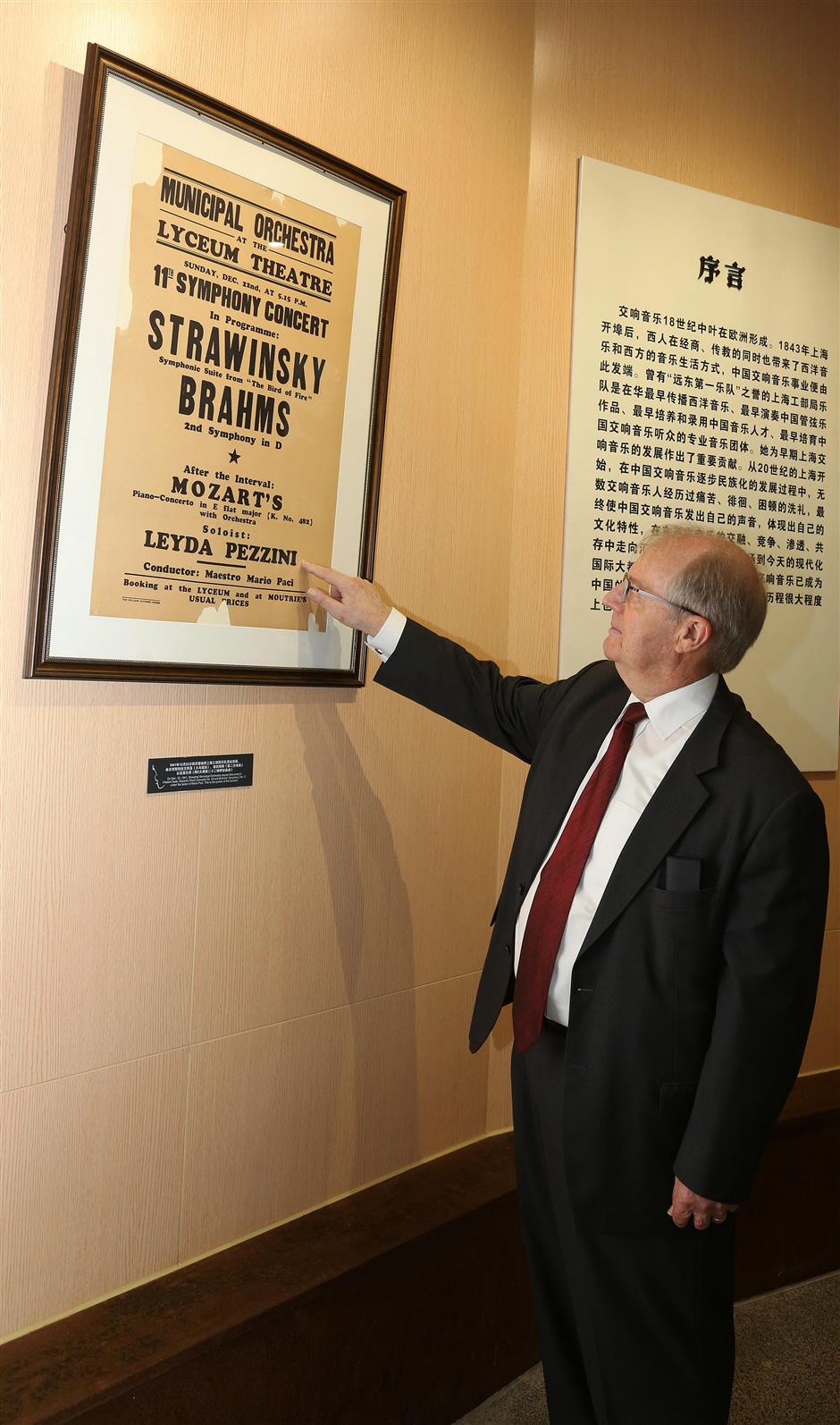 Ti Gong
Ungerer finds one of his donations at Shanghai Symphony Museum.
Ti Gong
Ungerer points out his mother in a group photo of students from 1945.