Shanghai signs a strategic cooperation agreement with the country's top shipbuilder
The Shanghai Municipal Government and China State Shipbuilding Corporation signed a strategic cooperation agreement on Wednesday.
Shanghai Party Secretary Li Qiang delivered a speech at the ceremony. Shanghai Mayor Ying Yong, and Lei Fanpei, chairman of CSSC, signed the agreement. Zhou Bo, executive vice-mayor of Shanghai, presided over the signing ceremony, which was also attended by Yang Jincheng, general manager of CSSC, and Zhuge Yujie, secretary-general of the CPC Shanghai Committee.
Li said Shanghai is implementing President Xi Jinping's remarks made at the opening ceremony of the recently concluded China International Import Expo, and the city is accelerating the process of building itself into an international center of economy, finance, trade, shipping, and a technology and innovation center to participate in the international competition on behalf of the country.
For a long time, CSSC has been supporting Shanghai's social and economic development and played an important role in the city's efforts of building the "Shanghai Manufacturing" brand. CSSC's strategic development goals highly dovetail with Shanghai's industrial development positioning, and the two have great cooperation potentials.
The city will deepen the cooperation with CSSC in various fields and support its development plans, industrial upgrade, smooth progress of its key projects and the integral advancement of high-end manufacturing such as shipbuilding and marine engineering industries. The two parties will jointly serve the national development strategy.
Lei thanked the Shanghai Municipal Government for supporting CSSC for so many years. He said Shanghai is China's biggest economic center and the industrial aggregation place for CSSC. The company will serve the national development strategies, support the national defense construction, lead the industry's development and accelerate its industrial restructuring in Shanghai according to the city's master development plan. It will also accelerate the construction of its high-end industrial chain and value chain, and build itself into a world-leading marine science and technology industry corporation.
According to the agreement, Shanghai and CSSC will implement the country's strategic deployment for marine industry and the civil-military integration. The two will exert their advantages in industries, technologies, talent, location, resources, and policies to promote related industries' production capacity restructuring and the industries' transformation and upgrade.
In addition, CSSC will help accelerate Shanghai's shipbuilding and marine industry's high quality development, build a world-leading ship and marine technological innovation center, support Shanghai's efforts in building itself into a globally-influential technology and innovation center, carry out large-scale cruise technological innovation projects, improve the cruise line industrial structure, support the Shanghai International Shipping Center, accelerate the construction of Lingang Ocean Power Dynamics Equipment Research and Development Base, and exert the demonstration effect of its advanced manufacturing capacity.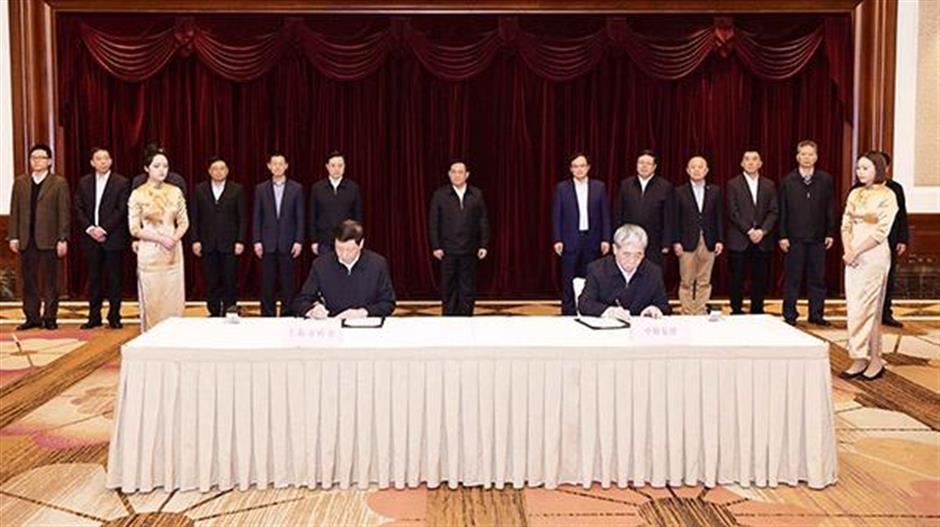 Shanghai Mayor Ying Yong(left), and Lei Fanpei, chairman of CSSC, sign the agreement.