The local domestic service industry, loosely managed and served by a varied collection of workers, is expected to see improvements soon.
It has been on the city agenda to regulate the industry for some time and plans for a new law will be released this year, according to Zhang Baoxia, vice chair of the Shanghai housekeepers' association.
The law is expected to set out the rights and duties of agencies, workers and employers.
There has been a steep rise in demand for domestic workers, especially skilled ones with good experience.
The demand is not just for cleaners, but has expanded to include nannies, elder caregivers and others, and there is a great shortage of such workers.
A reported released by China Labor and Social Security Science Academy in July 2018 said that around 90 percent of domestic workers come from rural areas and very few are educated beyond primary school or junior middle school. Most have never received any formal training and they change jobs frequently.
Since 2015, the city has been trying to regulate the chaotic market and over the years, a number of guidelines have been introduced, including a practical guide for domestic workers released in 2016.
Aimed at the workers themselves, the guide gives very basic advice, such as not to drink alcohol at work or to wear too much makeup or jewelry. It also gives advice on how to clean different rooms and how to behave toward employers. It is nothing more than very basic standards to help improve the performance of workers, with no legal standing. The guide has no detail on the responsibilities of employers or agencies.
"A law would help us avoid many disputes," said agency boss Cindy Xu.
Frequently clients complain that the domestic does not do a good job, but are unable to specify any particular wrongdoing or grievances. Standard practice is for an employer to attempt to dock the worker's wages, which inevitably inflames an already combustible relationship, Xu said.
"If there was a law, we could deal with the dispute based on that law," she added.
Many of the rules which already exist were made to manage the workers, but in fact, they need to have their rights protected.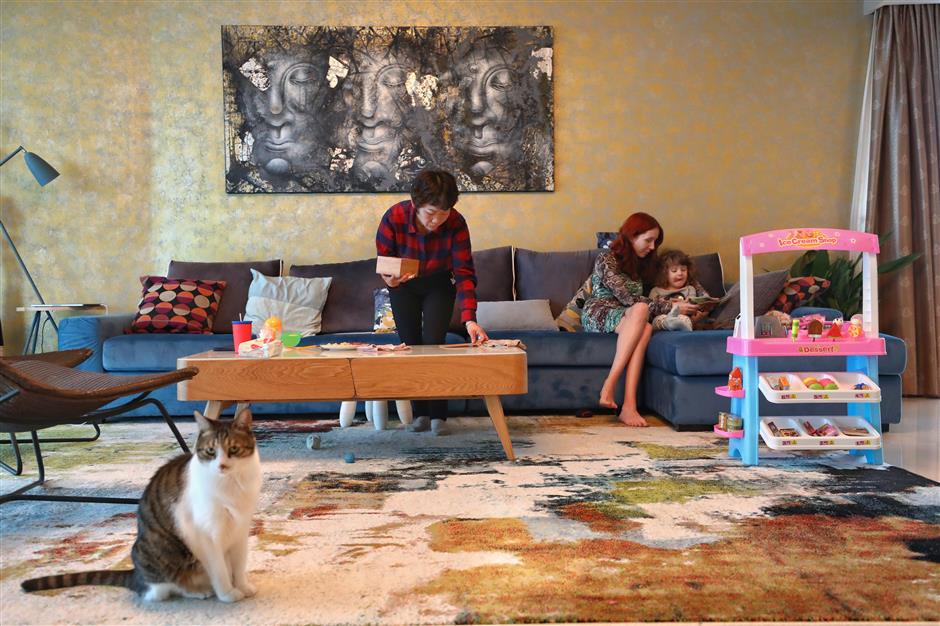 Jiang Xiaowei / SHINE
Jin Xianjucleans while her employer, Ekaterina Lambert, plays with her 3-year-old daughter.
Jin Xianju, 43, works six hours a day from Monday to Friday for Ekaterina Lambert's family, her seventh employer from overseas.
"It's a good idea for the law to protect our rights, but the question is whether the law can really be made to work," she said.
Last year, a man assaulted his maid. When the police eventually intervened it transpired that man had some long-term behavioral problems.
"As a person of good standing in the community, he did not disclose his violent tendencies," Zhang said.
"Though hirers are expected to give us all necessary information, they usually hide what they don't want others to know."
Over the years, health concerns have been one of the major issues.
Before the city ordinance appears, a standard on physical checkups for domestics is expected to be introduced, Zhang said.
Xu said domestic workers are usually required to check vitals, their liver function and whether they have tuberculosis.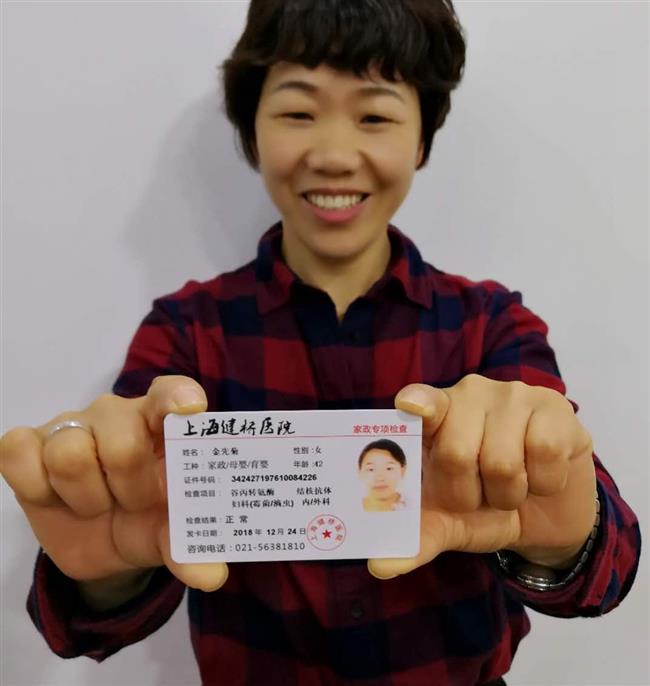 Ti Gong
Jin Xianju shows off her health certificate.
Jin renewed her health certificate in December. In addition to the three items mentioned, she also had pelvic exam.
"Actually, over years, my hirers had me to undergo a full series of physical checkups every year," she said. "After all, they are paying."
Zhang told of a family of three who were told that they had all contracted a bacteria linked to stomach cancer. Suspecting their maid, they asked her to take a test and the results showed that she too was infected.
"The two sides blamed each other because there was no evidence to show who contracted the bacteria first," she said. "The domestic worker had a valid health certificate but had not been tested for that particular bacteria."
It is an unwritten rule that maids should have health certificates, but there is no legal standard.
"Some have health certificates for food handlers or makeup artists. Some just spend 30 yuan (US$4.4) on a the simplest blood test," Zhang said. "Such certificates are usually meaningless. Workers can easily 'buy' health certificates from small clinics or private hospitals."
"Some clients ask workers to take further tests based on their own requirements and will cover the bills." Xu said. "Some foreigners like to have their domestic workers vaccinated."
Zhang said the industry association and Shanghai Public Health Clinical Center started to discuss standards in April 2017.
"The medical professionals have listed so many standards. It will cost far too much for one to undergo all these exams, so, we don't think it is workable," she said.
"We hope that the government will find a way to help us resolve the matter."