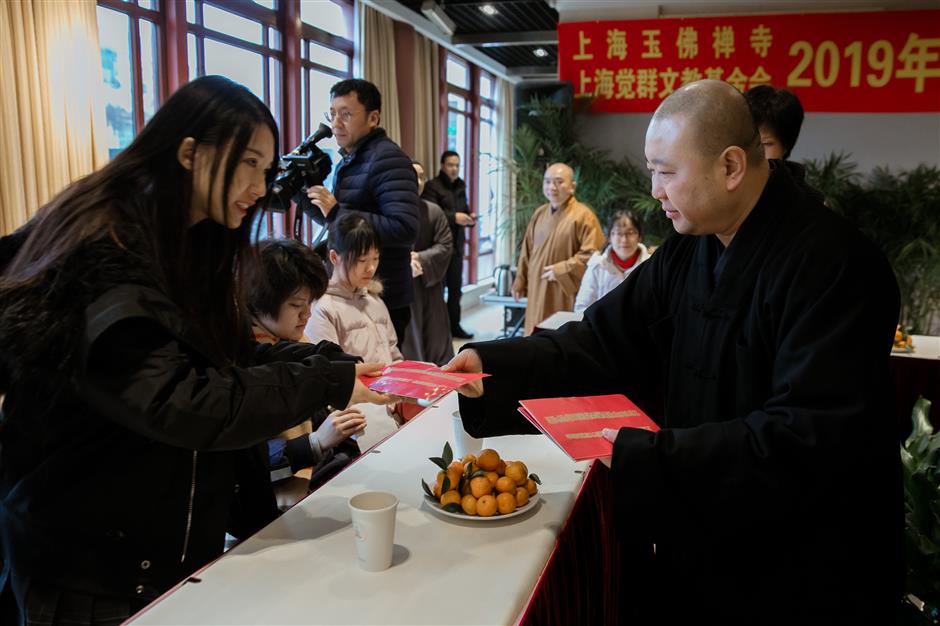 Juexing, the abbot of the city's Jade Buddha Temple, presents sponsorships to top students from impoverished families on Thursday.
The city's Jade Buddha Temple fulfilled one of its Chinese New Year traditions on Thursday by sponsoring 100 impoverished students to help them finish school.
The temple's Juequn culture and education foundation donated 250,000 yuan (US$37,077) to the Shanghai Charity Foundation to assist "excellent" middle school and university students from poor families.
It is an annual tradition of the temple to sponsor impoverished local students on the third day of the Chinese Lunar New Year, which falls on Thursday this year. Since 2001, the temple has helped 2,300 local students with total donations of some four million yuan.
The Buddhist temple has also become a major sponsor for young local entrepreneurs setting up startup firms. It donated 10 million yuan to set up the foundation in 2009 to support local graduates, especially those from poor families, to set up companies.
It has sponsored local university graduates to set up over 130 enterprises via an 11-million-yuan sponsorship drive since 2009.
Among those sponsored was local online food delivery firm Ele.me, which has since expanded its services to some 1,000 Chinese cities.