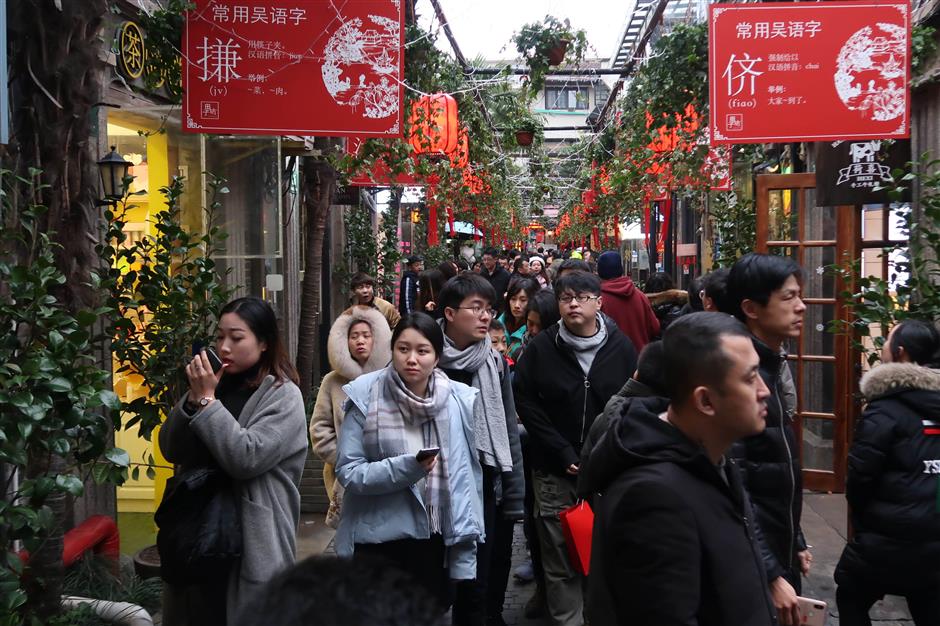 A large number of visitors at the Tianzifang, a shikumen(stone-gate) complex home to galleries, boutique shops, cafes, bars and restaurants, in Huangpu District on Thursday.
The city's major tourism spots have attracted some 30 percent more visitors for the Spring Festival so far than the same time last year.
A total of 2.87 million people from both home and abroad have visited local tourism attractions between Monday and Thursday, the first four days of the week-long holiday, the Shanghai Culture and Tourism Administration said.
That represents an increase of 32.4 percent year on year, mainly thanks to newly opened attractions and more locals having festive outings.
The Bund andYuyuan Garden remain the most popular attractions. The Bund received 1.26 million visitors, a 31.5 percent increase year on year, whileYuyuan Garden attracted 344,000 people, a 5.2 percent rise.
The 45-kilometer waterfront regions along the Huangpu River, which officially opened by the end of 2017 and are undergoing further improvements, have lured 2.4 million visitors during the holiday.
Other popular sites include the Shanghai International Tourism and Resorts Zone in Pudong, Sheshan Hill in Songjiang andChongming Island.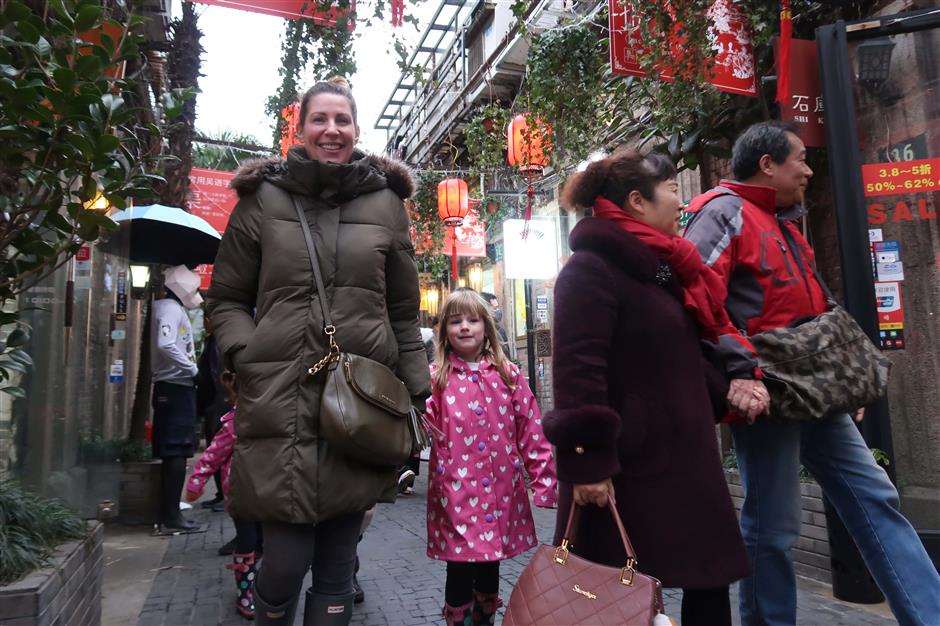 Wang Rongjiang / SHINE
Some 835,000 tourists from out of Shanghai travelled to the city between Monday and Wednesday, a 5.8 percent increase year on year. They helped to increase the room occupancy rate of local hotels and hostels to over 45 percent.
Shanghai citizens became the main group of visitors during the holiday this year after the opening of seven countryside forest parks in outlying districts. These forest parks have attracted 36,200 local visitors, while other parks across the city welcomed 1.9 million.
The city's historical water towns, such asZhujiajiao Town in Qingpu, Fengjing Town in Jinshan, Qibao in Minhang and Xinchang in Pudong, also became popular sites for nostalgic locals.
Zhujiajiao Town received a record 72,000 visitors on Wednesday, triggering an emergency plan to limit entry to the ancient town. The city police dispatched yachts and drones to ensure the safety of those attending.
Additional police forces have been assigned to the Bund, the Oriental Pearl Tower andYuyuan Garden to maintain orderand ensure safety during the holiday that will end on Sunday, the city's police said.