Knock. Knock. It's the urban management team at the door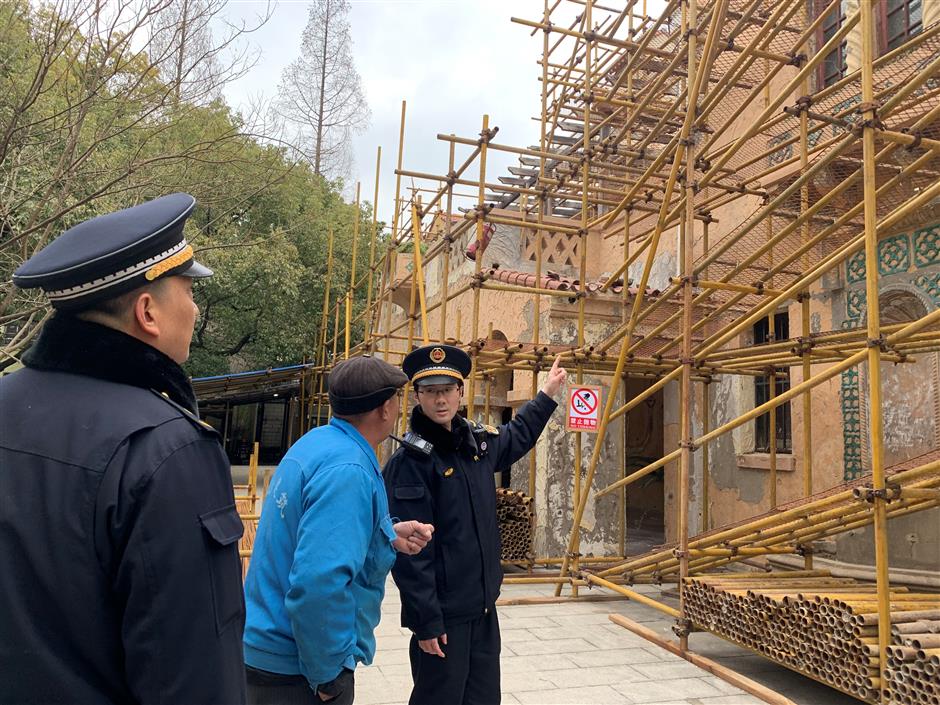 Xu Limin (right), an urban management and enforcement official in the Hunan Subdistrict in Xuhui District, makes an on-spot inspection of a historical building under construction in Xuhui and informs construction workers of regulations ahead of the Spring Festival.
Urban management and enforcement officials are pariahs in the eyes of many people.
They close down illegal street vendors, dismantle unauthorized structures in apartment blocks, appear on the scene if your neighbor complains you are making too much noise, prevent people from storing personal items in public spaces and confiscate illegal flyers, to name just a few of their duties.
So, who are these people?
Shanghai has more than 7,900 urban management and enforcement officials, and it may come as a surprise to many that just over four-fifths of them are college educated, including 388 postgraduates. About 10 percent of them were born after 1990.
The duty of urban management and enforcement authorities covers more than 400 affairs, and that will be expanded by another 100 this year. Their jobs are at the grassroots of Shanghai life.
Xu Limin, 30, was a postgraduate at Shanghai University of Political Science and Law, majoring in law. He has been an urban management and enforcement official in the Hunan Subdistrict in Xuhui District since 2012.
"Many don't understand why I chose this job because I had so many other options," he said. "But I find it interesting. The rapid change of cities has placed higher requirements on urban management, and I believe the job is full of potential."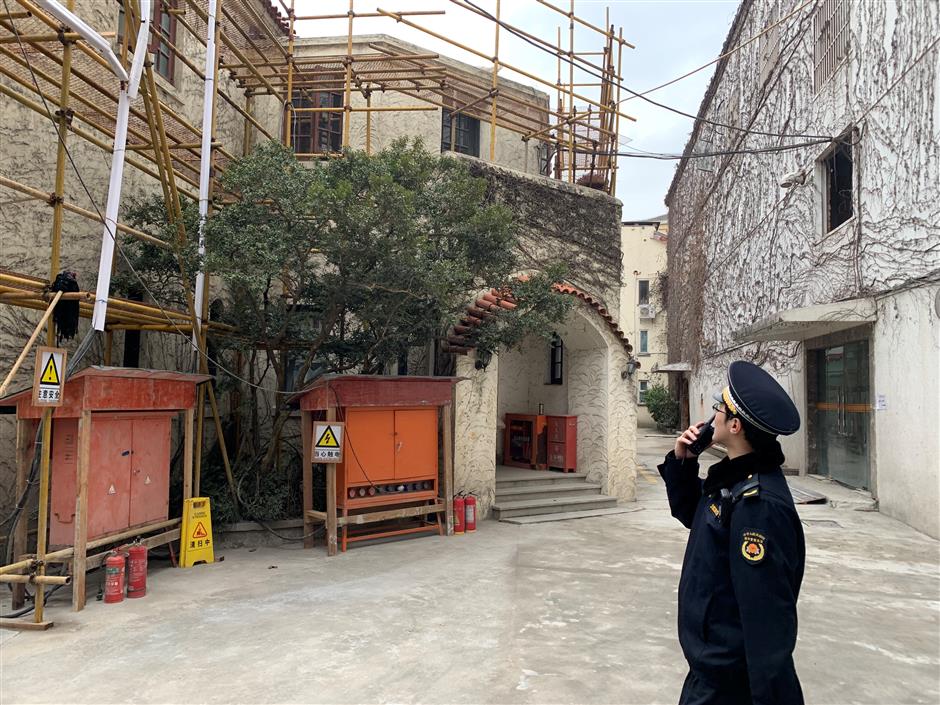 Ti Gong
Xu Liminmakes an on-spot inspection of a historical building under construction in Xuhui.
In the Hengfu historical protection zone around Hengshan and Fuxing roads, more than 100 historical buildings fall within the jurisdiction of Xu's team.
His major duties include handling complaints, doing on-the-scene investigations, and stopping illegal structures or damage from load-bearing structures.
He does patrols in rain and snow, sun and wind.
When a complaint is received about illegal structures or damaged to load-bearing structure, team members rush to the scene. They judge the situation or call in professional testing authorities if needed. Those responsible for an unauthorized structure are ordered to dismantle it and restore the original appearance of the building.
Xu said his team works outside almost all the time.
In one case, the landlord of an apartment inside a garden villa built in the 1930s on Huating Road severely damaged a load-bearing wall. However, the building plans of the villa went missing, making it difficult to ascertain the properties of the wall.
Xu visited many offices in the city to piece together the historical information.
Making it even hard was the stubborn resistance of the landlord toward the investigation. It took Xu several visits to convince him of the safety hazards. In the end, the landlord restored the original appearance of the building.
"The job not only requires physical strength, but it also tests our mentality and ability to coordinate," Xu said. "Comprehensive capability is important trait for a qualified urban management and enforcement official."
The job involves poking into households where more than 10 people often live under one roof in a historical building. Disputes among neighbors are common, Xu said.
"We need to consider the real living situation of residents, and we often have to resort to mediation," he said. "Every resident has different characteristics, and they differ in age. I have to use different communication skills on different persons. You need to know them and use language they can understand."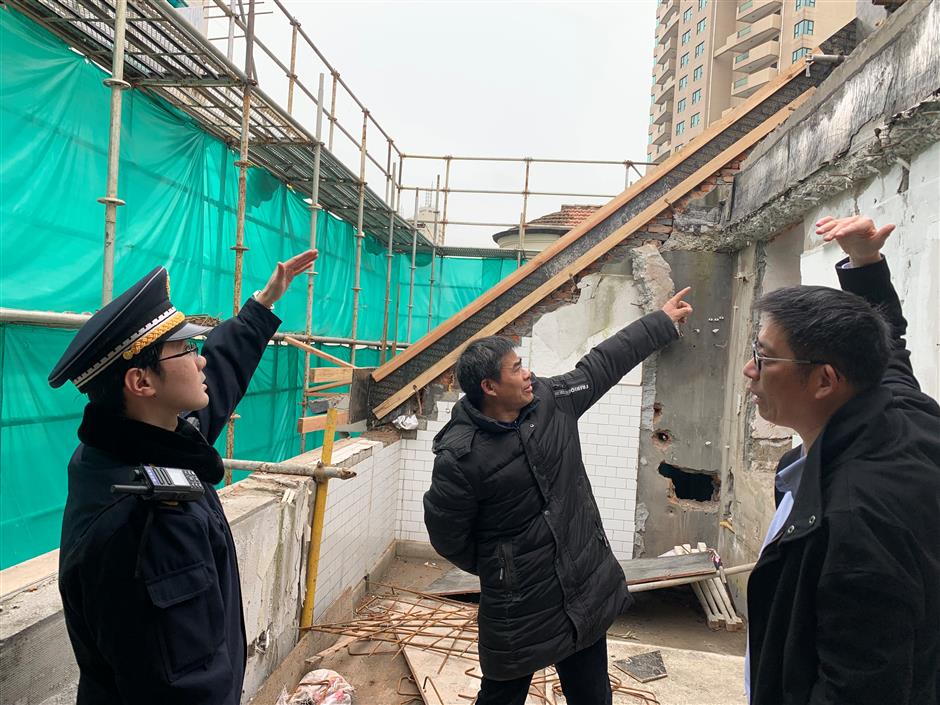 Ti Gong
Xu Limin (left), makes an on-spot inspection in the district.
Other instances of enforcement involve noise. For example, nighttime construction noise from a theater at the Shanghai Conservatory of Music drew complaints from nearby residents. Xu intervened and ordered it to halt night construction.
The team works under what is called "intelligent urban management." Each team member has a handheld law enforcement digital device where a whole law enforcement process can be captured.
Photo and video evidence is uploaded onto a platform where a scene can be seen in real time. Each historical building has its own electronic file, which is upgraded from time to time and provides reference to enforcement officials.
Unmanned aerial vehicles can be used over high buildings to take panoramic evidence of illegal structures, and also in cases when residents refuse to let officials in.
The team works every day of the year and is available 24 hours a day. On New Year's Eve, its members were on duty stopping illegal fireworks.
Xu is very responsible, conscientious, studious and diligent, said Zhang Ge, deputy leader of the 20-plus member team.
When Li Jiannan, 31, an economics law graduate, started working as an urban management and enforcement official at the Xinhua subdistrict in Changning District in 2012, his responsibility was public sanitation.
"It started out very difficult," said Li.
Two officials had to drive away 50 to 60 street vendors, and many residents were upset because it was only one wet market in the area and some of the vendors sold vegetables and fish.
Li's team had to call the police once when an illegal stall owner's barbecue threatened to ignite the fuel tank of the team's vehicle.
In 2016, the duties of urban management and enforcement officials changed and were expanded, making illegal structures and damage from hazardous load-bearing structures in old buildings a highlight.
"I didn't know at first how to identify a load-bearing structure and had to teach myself how to compare drawings," said Li.
The jurisdiction of his team covers 2.2 square kilometers with 125 historical buildings, or about 5 percent of the city's total historical buildings.
Many of these buildings were designed by foreign architects. In the past, there were no detailed building plans, and some of the buildings had already been renovated significantly before 1949, turning three-story steeples into flat roofs.
Residents, many of whom are now 70 or older, often constructed a small room to use as a kitchen or toilet. Tip-offs from neighbors often point urban officials to sources of problems.
The protection of historical buildings and safety concerns arising from illegal structures frequently clash with residents' desires to improve their lives.
"Law and sympathy often create a dilemma," said Li. "We need to strive for a balance, give consideration to the real situation and win the understanding of all sides," Li said. "It's not easy."
A joint working team involving neighborhood committees and property managers has been established to help deal with the situation.
Earlier last month, Li received a complaint about a man in his 80s opening a door on a load-bearing wall. When Li visited the scene, the man threatened him with a kitchen knife.
"The job requires wisdom and professional knowledge," he said. "I need to think about how to enter the homes to make an investigation of complaints and how to persuade people to cooperate."
Li's caseload has involved expats living in the area.
There was the case of a Japanese shopkeeper who dumped bags of construction waste out on the street, where he expected it to be picked up, as is the custom in Japan. The waste occupied about 15 square meters on Anshun Road.
After Li spoke with the man, the shopkeeper realized his mistake and cleared the waste away.
Li's team also has to stop storage of household items in public spaces like corridors and halt damage to local greenery. It has also tackled group-renting problems and party noise.
Li often patrols the streets at night, handling emergency complaints and checking for trucks carrying construction waste without a permit.
"The public impression of urban management has changed a lot as enforcement areas expand closer to residential communities," said Sun Qin, an official with the Xuhui District Urban Management and Law Enforcement Administration.
Every year, the administration recruits about 20 new members, many of them university graduates.
"They are quick to learn and are very professional," said Zhang. "It brings young blood to the team."
Public satisfaction with urban management and enforcement rose to 80.58 in the second half of last year, more than two points higher than the same period in 2017.