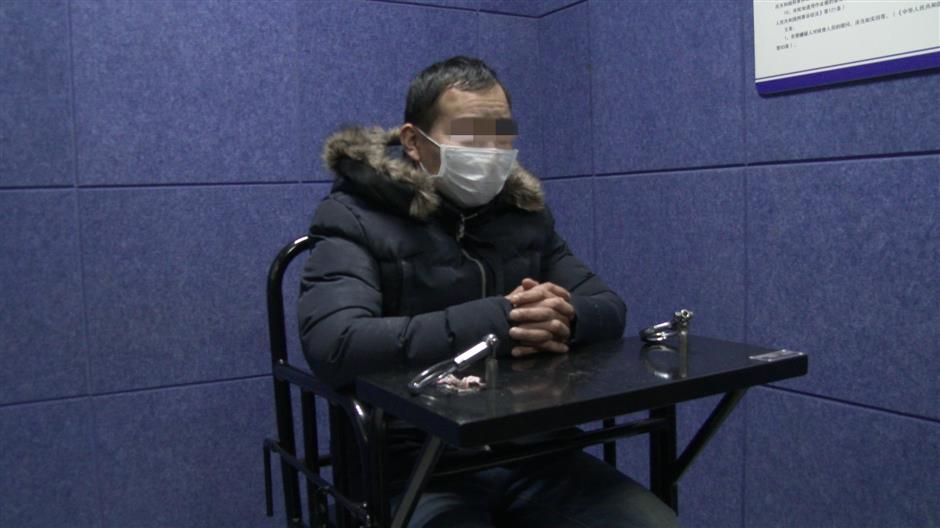 Zhang is questioned by the police.
A 29-year-old man has been detained for falsely claiming in public that he was infected with coronavirus, Shanghai police said on Tuesday.
The man, surnamed Zhang, who lives in a village in Huangdu Town, Jiading District, was under home quarantine since January 31 after returning to Shanghai from out of town.
Zhang went for a stroll to the entrance of the village at 7:20pm on Monday, where he met a volunteer who reminded him to stay at home as much as possible and protect himself, but Zhang took off his mask and spit on the volunteer, police said. Zhang was also said to have verbally abused the volunteer.
As a crowd gathered, Zhang allegedly claimed that he was infected with coronavirus.
After receiving a report about the incident, police soon arrived with health workers.
Zhang was taken to a hospital for a check and was ruled out infection, according to the police.
He will be detained for 10 days for disturbing public order and getting in the way of patients in need, police said.
Separately, in the Pudong New Area, a man surnamed Wu was admonishedby police after claiming on social media that he could be infected with coronavirus, but was unwilling to go to the hospital and be quarantined.
Although he later admitted on the Internet that he was lying, he was reported to the police.
Police said Wu returned from his hometown in Jiangsu Province to Shanghai on February 8, had no history of travel to key epidemic areas, and no signs of sickness.