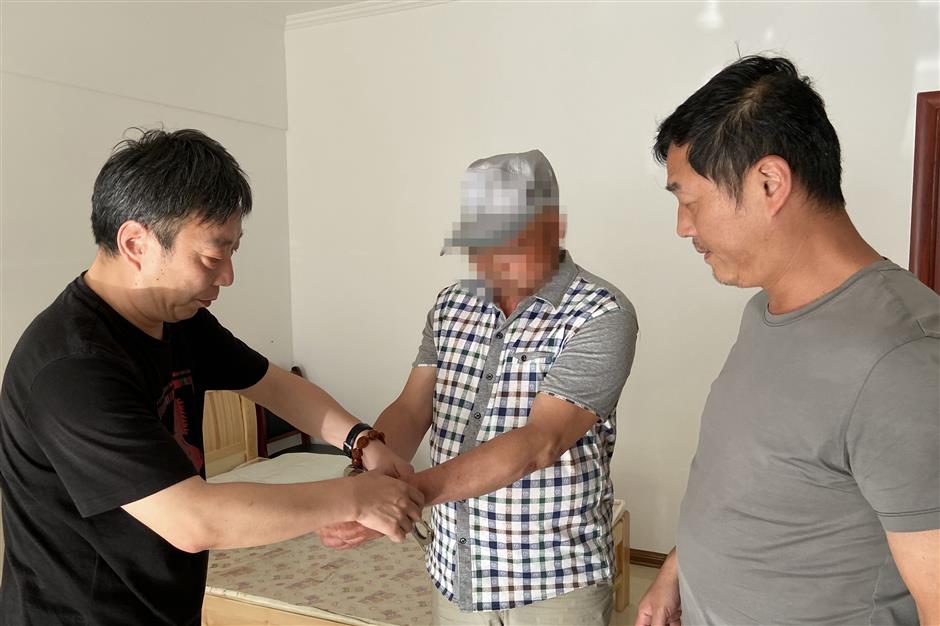 The suspect (center) is taken into custody by the police.
A suspect in a 20-year-old murder case has surrendered himself to police thanks to persuasion from his family, authorities said on Wednesday.
The suspect, a man surnamed Shi, allegedly participated in the murder of his business partner in Yangpu District on March 18, 2000.
All other suspects in the murder were apprehended, but Shanghai police lacked clues as to Shi's whereabouts. They stayed in touch with his family in the city and contacted them again earlier this year. This time, they managed to persuadeShi's family to help locate him, and got an important clue earlier this month that Shi was hiding in a mountainous area near LianyungangCity in Jiangsu Province.
After Shi was located, his family talked him into surrendering to the police, which he eventually did.
Shi has allegedly confessed to his crime and said he lived in fear every day over the past 20 years and never dared to contact his family.
Shi is now under detention.