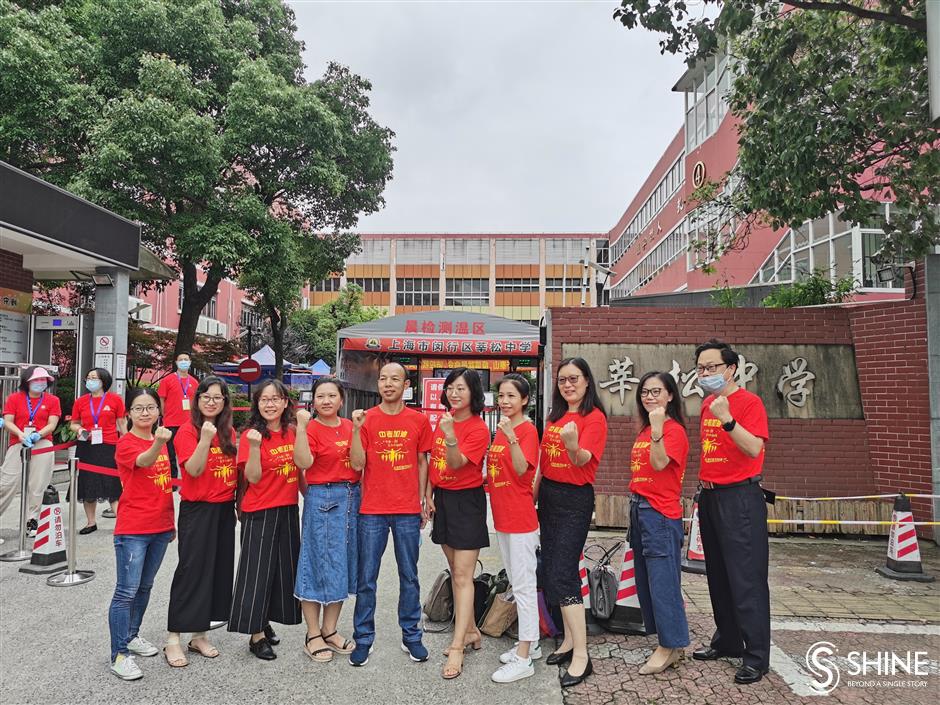 Xincheng School teachers cheer their students.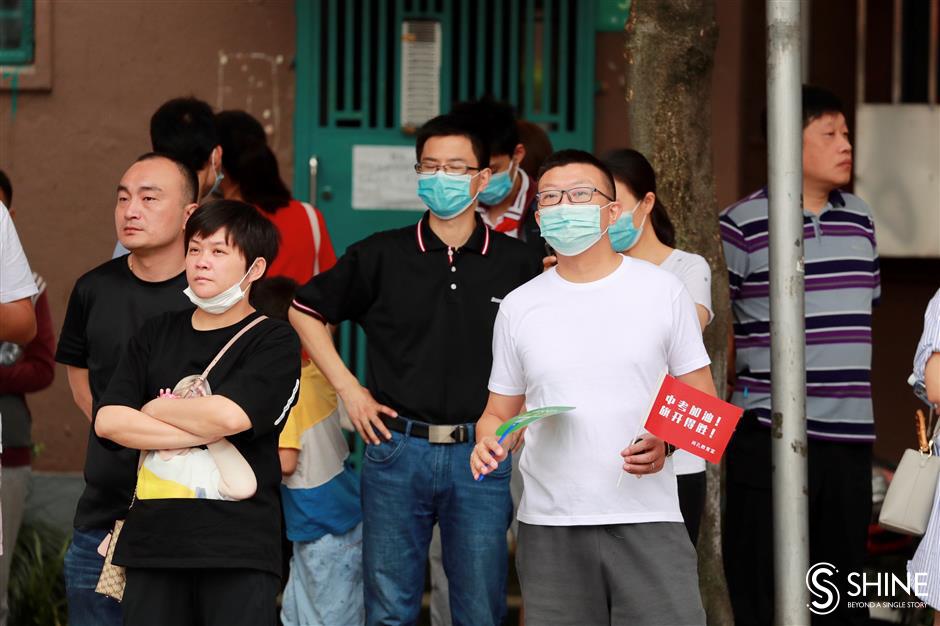 Dong Jun / SHINE
Parents extend their good wishes to children atXinsong Middle School.
More than 90,000 students in Shanghai began their two-day middle school graduation exams on Saturday, with strict COVID-19 prevention measures in place.
Students were asked to arrive at their exam sites 45 minutes before the first test, which was for Chinese, began at 9am. They hadto go through temperature screenings and ID checks. However, duringthe tests, they didn't have to wear masks.
At Xinsong Middle School in Minhang District, one of the 164 exam sites around the city, many students arrived before 8am.
Teachers gave out exam attendance tickets and cheered them at the gate of the school. Some wore red clothes or qipao to express their good wishes for their students, as red is believed a lucky color in China. Theqipaoimplies the Chinese idiom "qi kai de sheng," or win victory in the first battle.
Most parents left after dropping their children at the gate as teachers and security guards reminded them not to gather to prevent cross infection. Only a few remained nearby, waiting to pick up the children for lunch.
"We got up at 6:30am as usual and arrived at 8am as that is my daughter's schedule for school," a father surnamed Lu told Shanghai Daily. "She has been sticking to the time arrangement for a long time so as to keep in a stable state in the test."
The father, whose daughter is a graduating student of Xincheng School, said the pandemic had kept students at home with classes delivered online, but that teachers had been working hard to ensure quality remained high.
"I had been worried whether the exam would be held when the pandemic was serious in China, but things have been getting better and better," said Lu. "She has been following the instructions of the teachers and I believe she can achieve good results in the exam."
Another father surnamed Liu was worried.
"I'm more nervous than my daughter," he said.
He said her daughter, also from Xincheng, was not that self-disciplined, making online classes unsuited.
"My wife and I had to take turns to monitor her study when she was taking classes via the internet at home," said Liu.
"When the school re-opened we felt better, as teachers can have closer and more intensive monitoring and instruction. Now I'm not worried about the influence of the pandemic, but just about whether she would perform well in the exam."
Qi Jianmin, principal of Xincheng School, told Shanghai Daily that the school had spent time on psychological counselling for both students and parents.
"Families differ from each other, so students had different performances when taking online classes at home," said Qi.
"We've been telling them everybody still has the chance to succeed, and guiding parents not to put too heavy a pressure on their children. I think the pandemic and taking the exam at an unfamiliar environment at another school is an extra test for them but it will push them to grow more mature."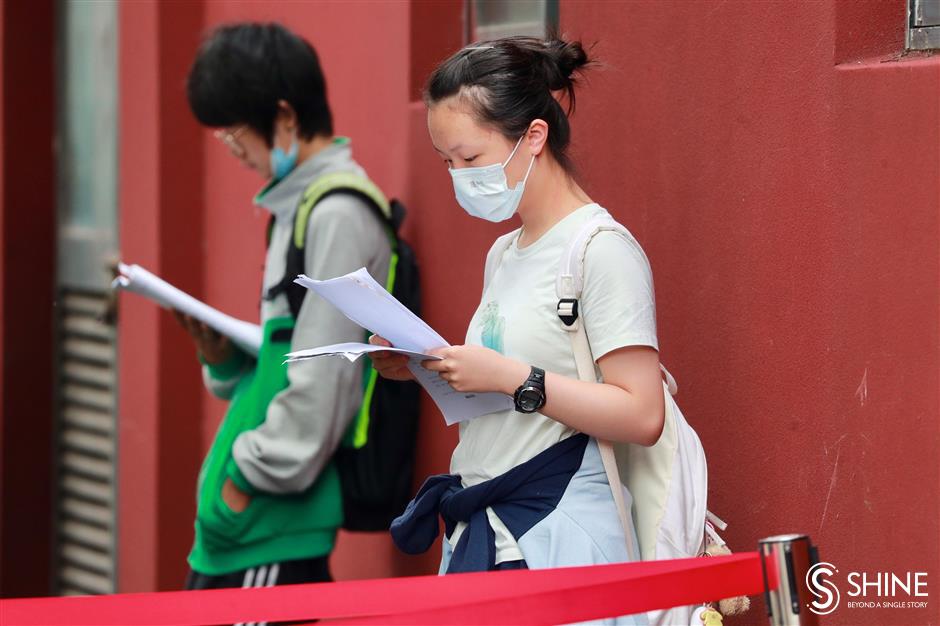 Dong Jun / SHINE
Students have a final review before sitting for the middle school graduation exam.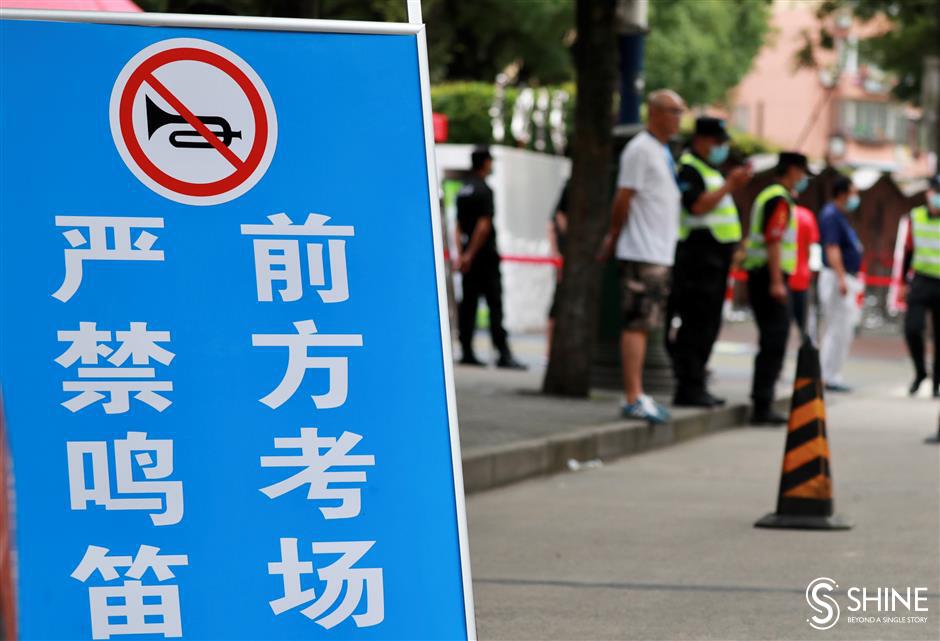 Dong Jun / SHINE
Drivers are requested not to sound car horns.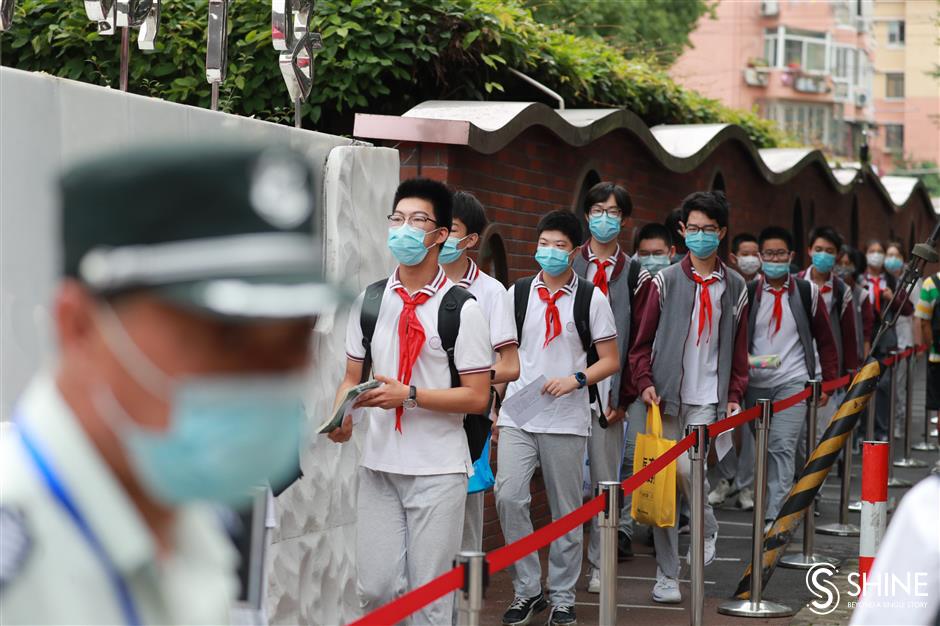 Dong Jun / SHINE
Students walk into Xinsong Middle School.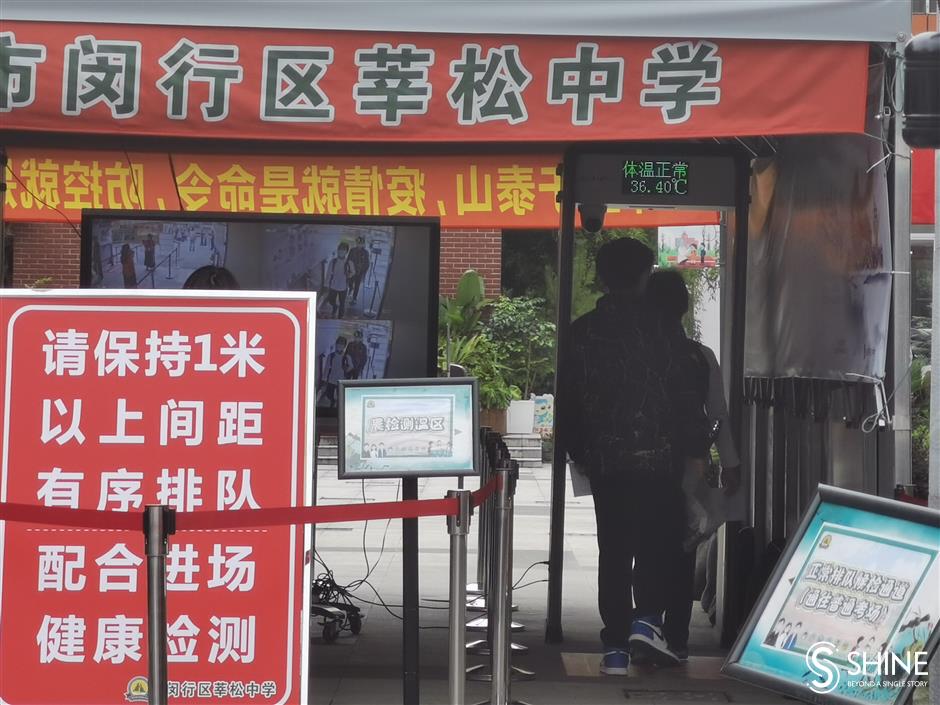 Yang Meiping / SHINE
Students walk through a temperature scanner.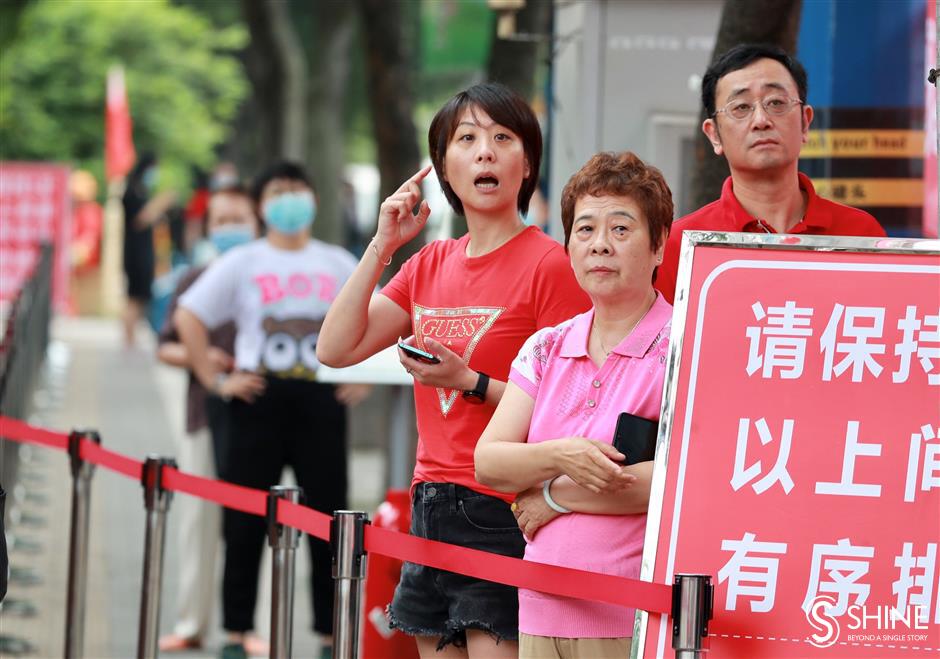 Dong Jun / SHINE
Parents wear red T-shirts to symbolize good luck.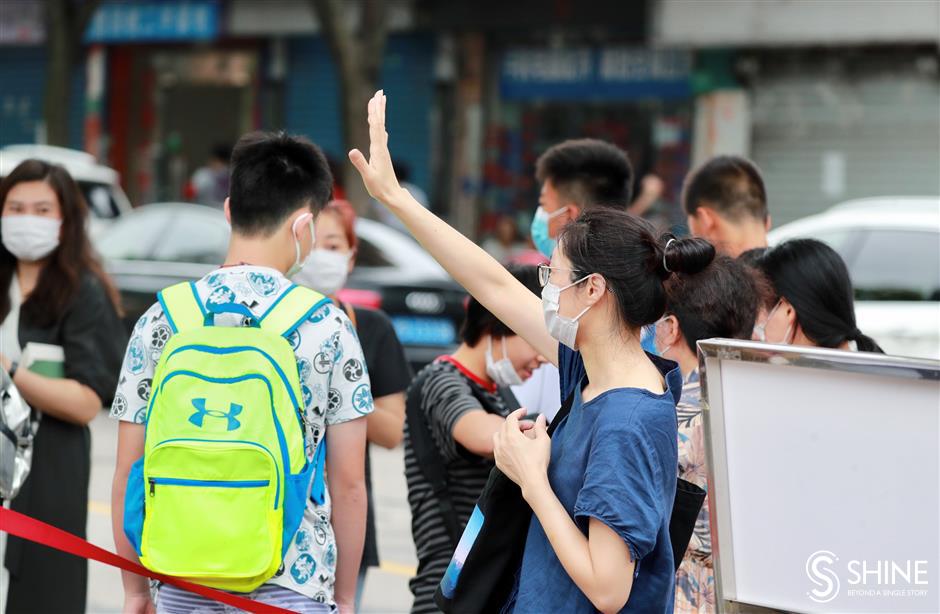 Dong Jun / SHINE
Parents say goodbye to their children.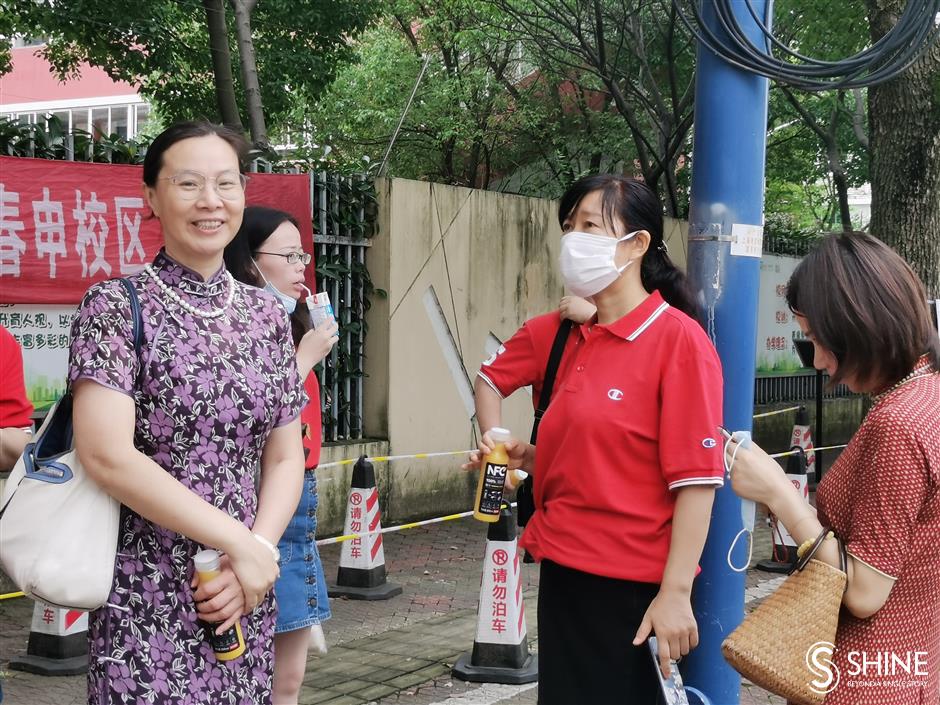 Yang Meiping / SHINE
A teacher wears a qipao, which implies the Chinese idiom "qi kai de sheng," or win victory in the first battle.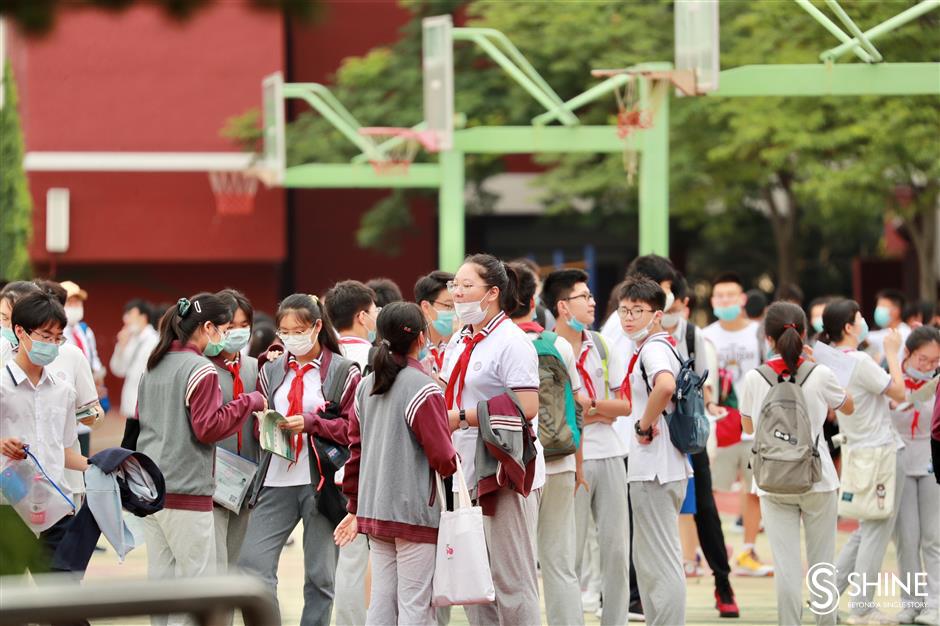 Dong Jun / SHINE
Students gather before entering examination rooms.