A train runs on the Shanghai-Suzhou-Nantong rail line.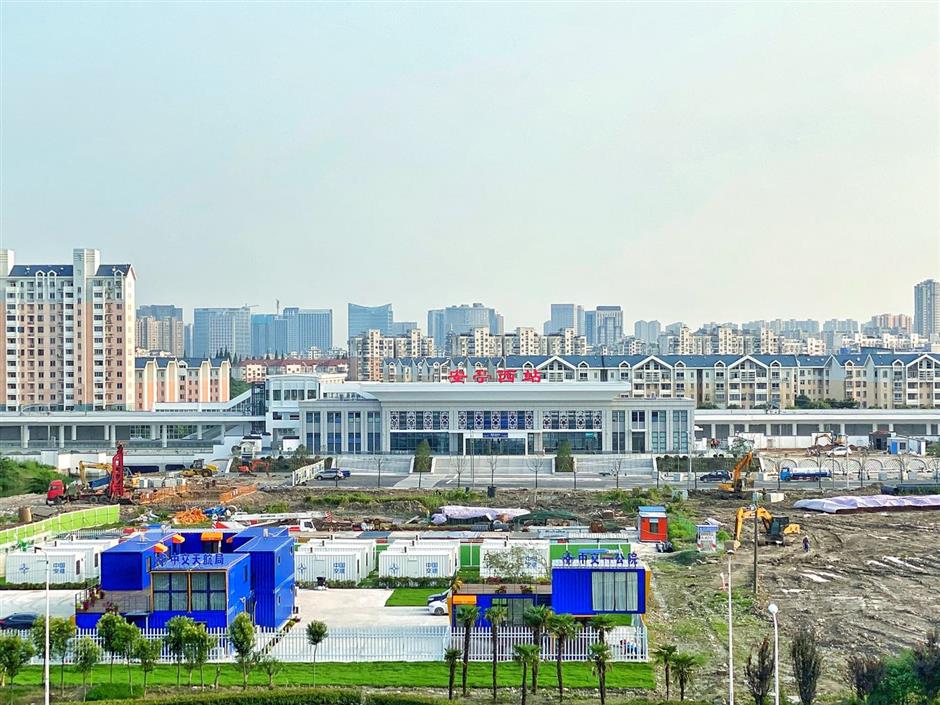 Ti Gong
Anting West Station will go into operation from Wednesday.
Business and economy tickets on several trains from Shanghai to Nantong on Wednesday had sold out by 4pm on Tuesday after being on sale at 11am.
The first phase of the Shanghai-Suzhou-Nantongrailway will cut the travel time between Shanghai andNantongin neighboringJiangsuProvince to around an hour and six minutes from the current three and a half hours, China Railway Shanghai Group announced.
There will be up to 44 round trips a day, the group said.
Business and economy tickets for trains to Nantong leaving Shanghai Railway Station at 11:28am and 1:37pm; 1:03pm, 2:35pm and 9:54pm from ShanghaiHongqiaoRailway Station, sold out on 12306, the country's online railway ticket-booking platform.
The first phase of the project is theZhaodian-Huangdusection, stretching 143 kilometers. It starts inNantongand ends in Shanghai'sJiadingDistrict.
It crosses the Yangtze River, and has nine stations — Zhaodian, Nantong West, Zhangjiagang North,Zhangjiagang, Changshu,TaicangPort, Taicang, TaicangSouth andAntingWest.
It has a designed speed of 200 kilometers per hour and will improve the rail network of the Yangtze River Delta region and regional transport system, and be of major significance in promoting regional integration.
Online travel operator Trip.com said searches for hotels inNantong, Taizhou andYangzhouhad soared 28 percent, 15 percent and 29 percent on Tuesday after tickets sales began compared with Monday figures.
AntingWest Station covering nearly 2,000 square meters has threeticket vending machines and 640 seats.