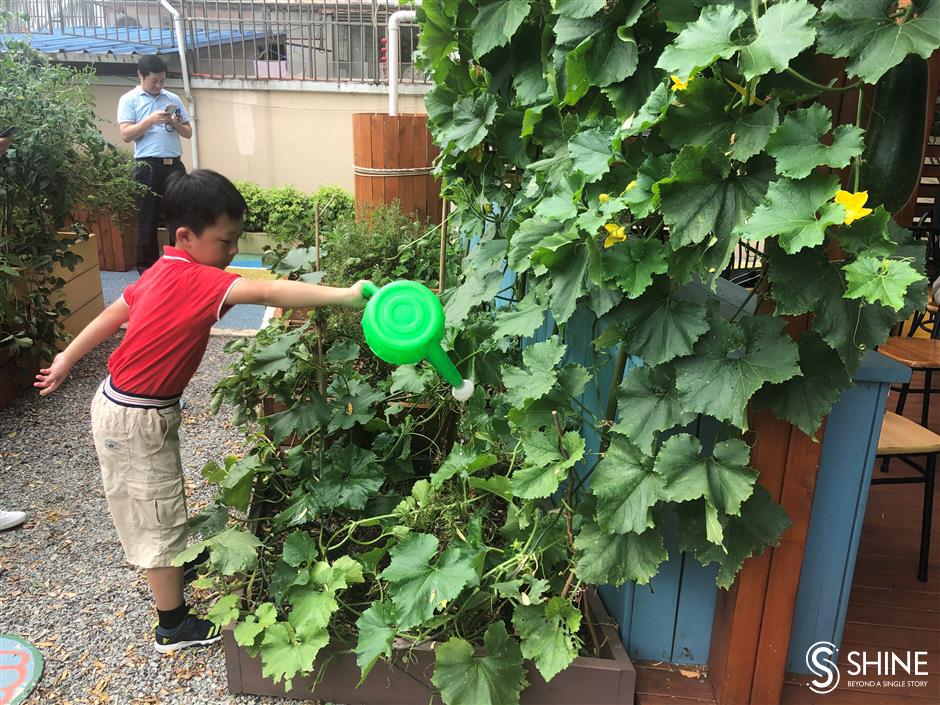 A boy waters plants in an ecological garden at the Hongxu Community in Changning District.
The average life expectancy of ChangningDistrict residents has reached 85.32 thanks to its services, living conditions and environment, a district official said on Wednesday.
WangWeiren, the district's Party secretary, said its average life expectancy had been leading the city and the nation for over a decade. It is also higher than Japan (83.7), Switzerland (83.4) and Singapore (83.1).
"The high economic standard of the district is among the major factors influencing life expectancy," Wang told a press conference on Wednesday. He said the district's GDP per capitahad increased to 238,000 yuan (US$34,000) in 2019 from 150,000 in 2015 compared with the city's average of 157,000 yuan.
"Stable and healthy economic development makes the foundation for a high-quality life forChangningcitizens," he said.
The press conference was the third of a series being held through the end of September featuring officials from the city's 16 districts introducing their developments.
The average life expectancy of Shanghai citizens reached 83.66 years last year, compared with 83.63 in 2018. It was 81.27 for males and 86.14 for females.
Changningaims to create a "clean, order, safe and civilized" community for residents, Wang said.
The number of community health centers in the district will be increased to 52 from the current 40 by the end of 2025. Service centers for the elderly will cover all 10subdistrictsand towns, and they will include daycare, senior care, canteen and medical services.
Shanghai's first community-level caring standard for seniors with cognitive disorders was released in theJiangsuRoadsubdistrict, covering community and home care, assessment, entertainment activity, dietary services and caregiver support. It is expected to help establish a standard that can be promoted nationwide.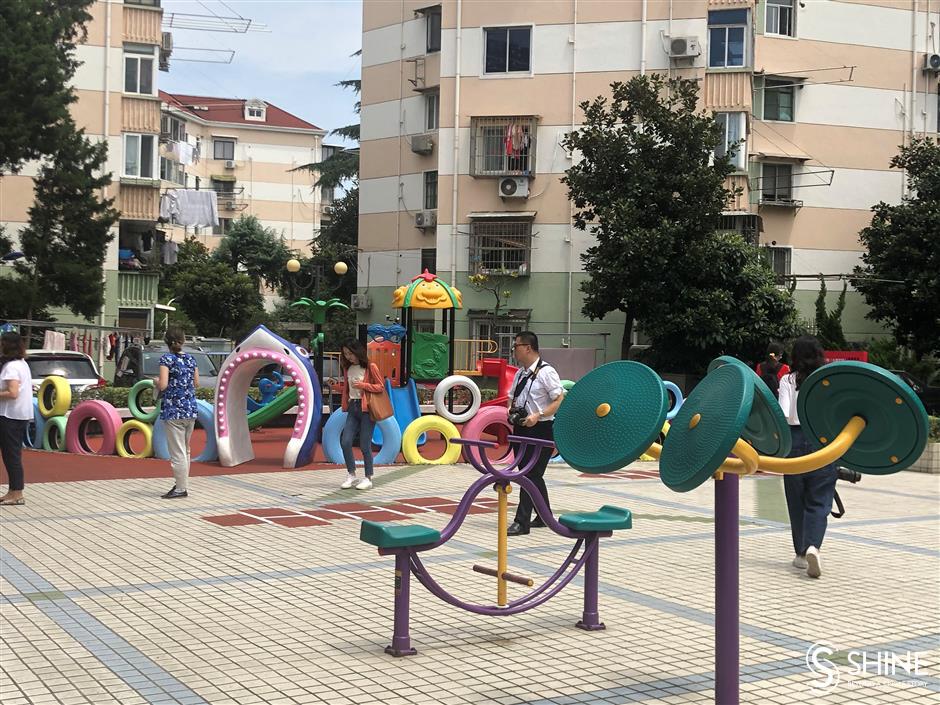 Song Yiyang / SHINE
Residents in a community garden at the Hongxu Community.
Homelike center
Offering nutritious food, health services, haircuts and a bakery, the Elderly Care Center inXinhuaSubdistrict provides a homely atmosphere for visitors.
The center named every room with the names of old lanes, and collected some ancient artefacts. Some visitors said it was the only elderly care center to remind them of familiar memories and culture.
The people here have been invited to have taste new desserts, preparing for the opening of dessert workshop next month.
An old mansurnamedTang, a former sailor, was exercising with a paramedic. To practice controlling his hands, he learned to write calligraphy in oracle bone inscriptions, and finished the book of three hundred Tang poems in this form in several years.
The old people join various activities in the center that enrich their lives. One group looks after the garden while another bake delicious cookies.
A door at the end of a corridor is painted to resemble a cabinet. Some old people with cognitive disorders want to go outside from every door they find. To ensure their safety, the center painted the door, leading them to think it is a cabinet.
To develop quality public space,Changningplans to develop another 11.2 kilometers of uninterrupted paths alongSuzhouCreek this year. By the end of 2019, 6.25 kilometers of exercise paths had been developed along the city's Outer Ring Road greenbelt.
The district also pledged to complete renovation of old residential buildings without separate toilets or kitchens by the end of the year. Over 90 percent of the 6,300 households living in such buildings have benefited from the renovation project.
Another "boutique community" project will continue to launchfaceliftson other old neighborhoods. Over 80,000 households of residents have benefited from the project.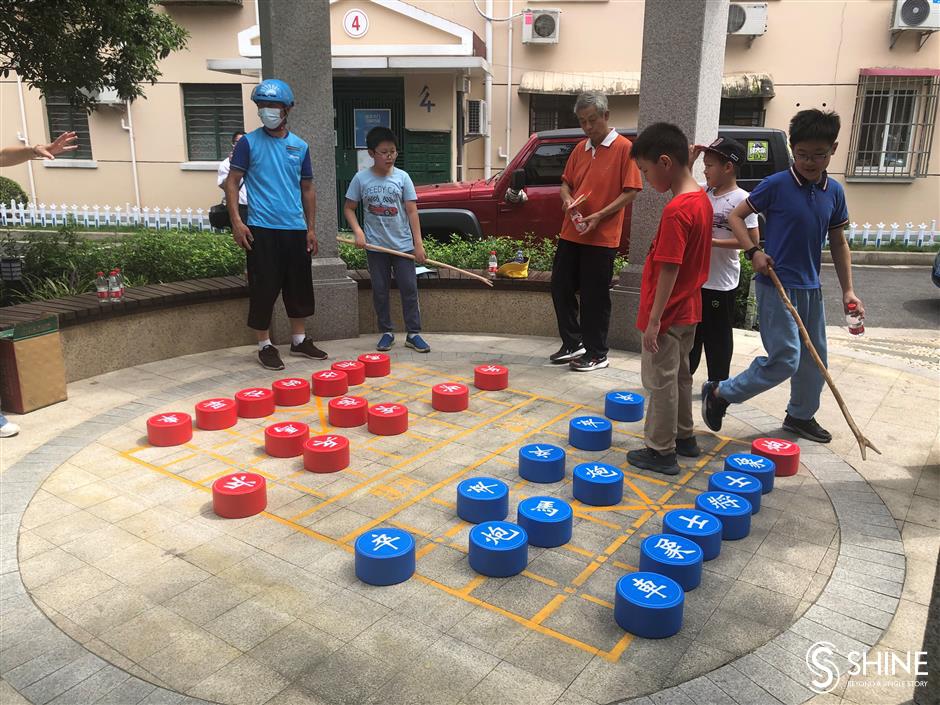 Song Yiyang / SHINE
A courier plays chess with seniors and children at the Hongxu Community on Wednesday.
Bottle Garden
Every corner of theHongxuCommunity, for example, has been renovated to create a better environment for residents. A bottle garden was initiated by the community with waste plastic bottles used to grow plants. It was welcomed by residents and has now been expanded to provide more space.
A long pipeline juts out from the grassland beside a fitness footpath, which is used to encourage residents to dispose of their dogs' waste. Earthworms deal with the waste and cleaners also help.
"Walking dogs always cause many problems in every community, so we have investigated in some areas and made several changes," said Wu Hongping, Party branch secretary ofthe Hongxuresidential complex. "This great idea was suggested by a resident."
An ecological garden, covering about 400 square meters, serves both plants and animals, to achieve a harmonious coexistence between people and nature.
The neighborhood committee also tries to build a digital communication platform for the elderly, and is experimenting with several families.
"I can use it to communicate with the committee directly, buy things online, and can also send messages to my kids if I don't feel well," said an 80-year-old womansurnamedPeng.
Changninghas established the city's first service center to help residents living in old residential buildings to have elevators installed. A total of 33 elevators were installed inChangningcommunities in 2018 and 2019.
Renovations projects will be launched on the four historic roads in Changning, said Wang.Xinhua,Yuyuan,WuyiandPanyuroads, with their historic villas and former residences of famous personalities, are all being refurbished.
Architects and designers from home and abroad have been invited, as part of an urban design festival, to share their ideas of how to renovate the streets, neighborhoods, stairways and garbage stations onXinhuaRoad. The 1.5 kilometers of roads between Huaihai andYan'an roads feature a dozen heritage villas and former homes of dignitaries, such as American missionary Gilbert Reid.
YuyuanRoad has new boutique stores and art galleries along with a market where residents can buy traditional breakfast foods, and there is the standard array of shoe repairers and stalls to get keys cut or broken umbrellas fixed.
The former site of the state-owned Shanghai Institute of Biological Products at 1262Yan'an Road W. nearPanyuRoad has been converted into a complex with offices, hotels and shopping area. Leading enterprises in culture, technology and fashion will be based there.
The former Columbia Country Club, the Navy Club and a villa built for SunYat-sen'sson, SunKe, along with 11 industrial buildings belonging to the institute have been preserved.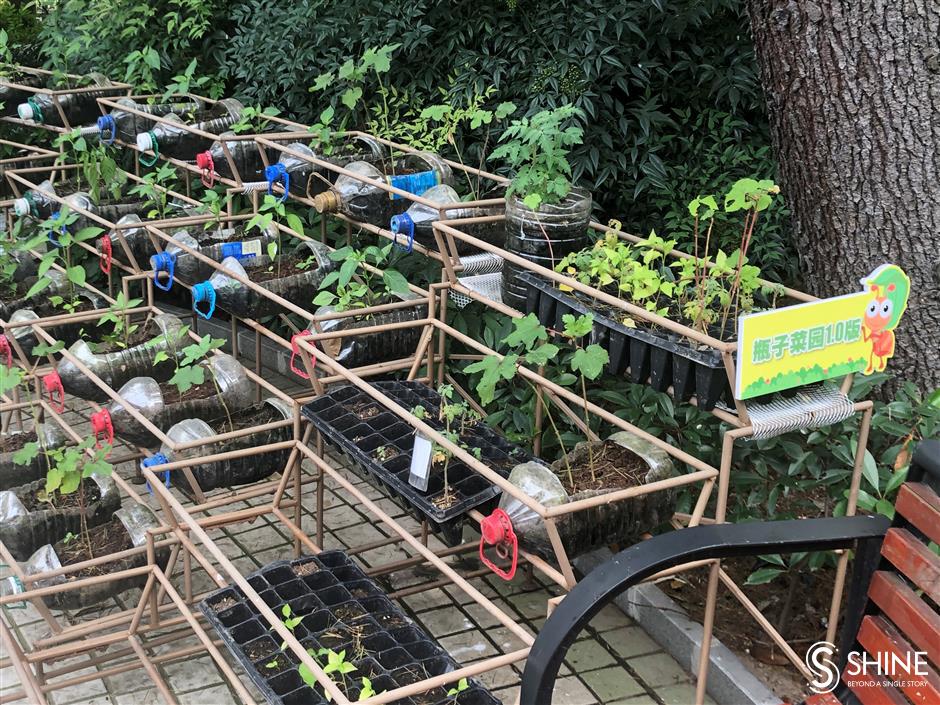 Song Yiyang / SHINE
The innovative bottle garden at the Hongxu Community.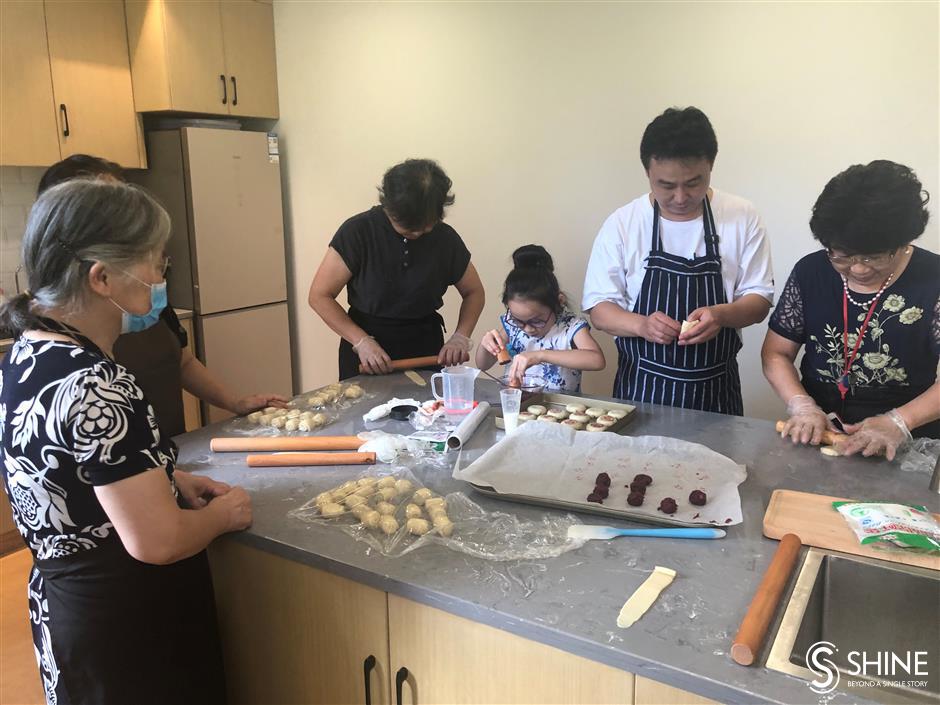 Song Yiyang / SHINE
A cooking workshop at the Elderly Care Center in XinhuaSubdistrict.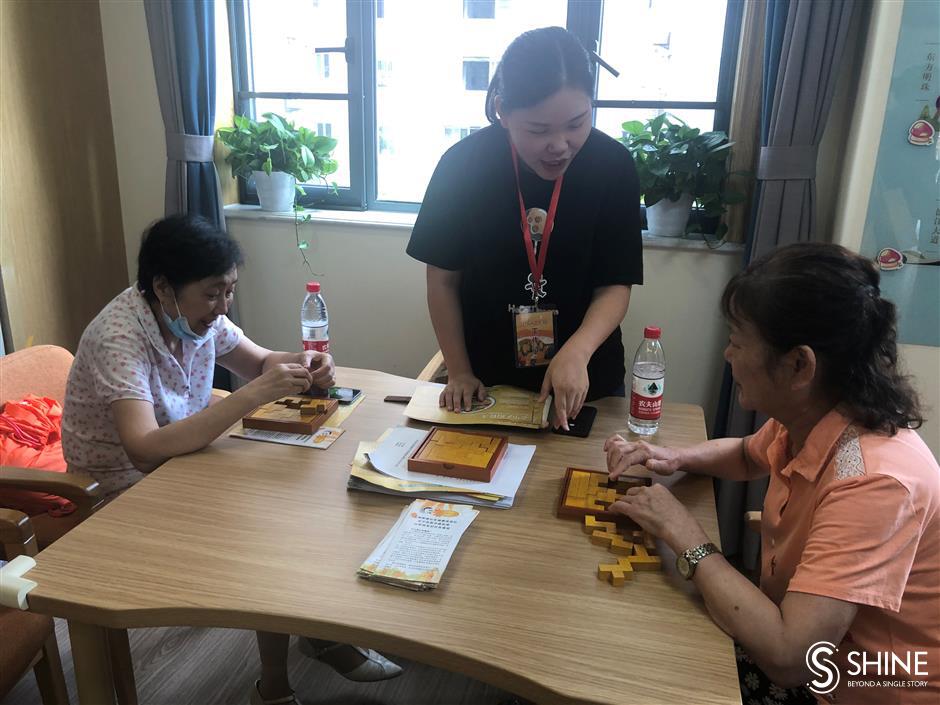 Song Yiyang / SHINE
Playing games at the Elderly Care Center in XinhuaSubdistrict.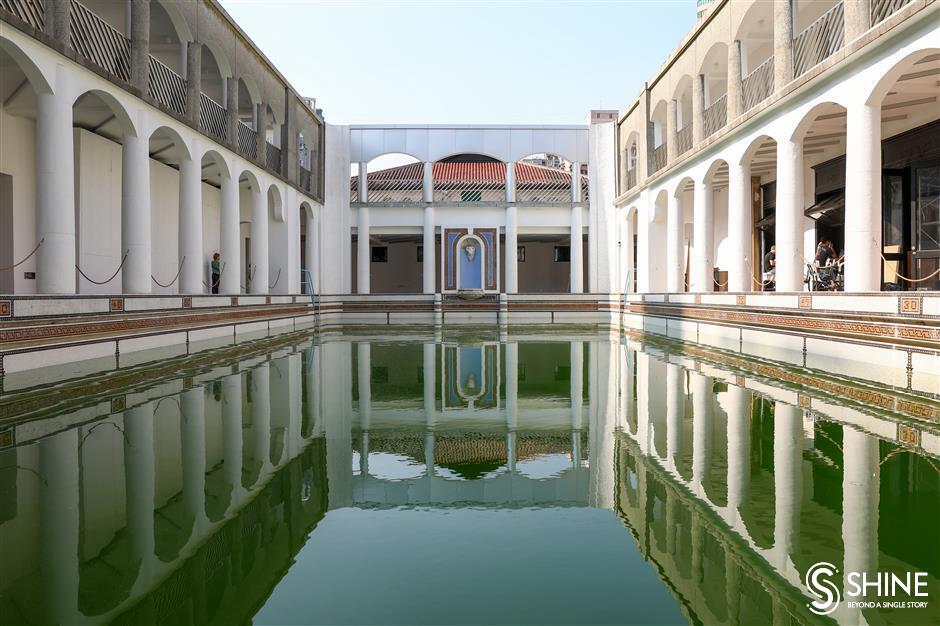 Jiang Xiaowei / SHINE
The Columbia Circle compound has been renovated as a hub for fashion and leisure arts.