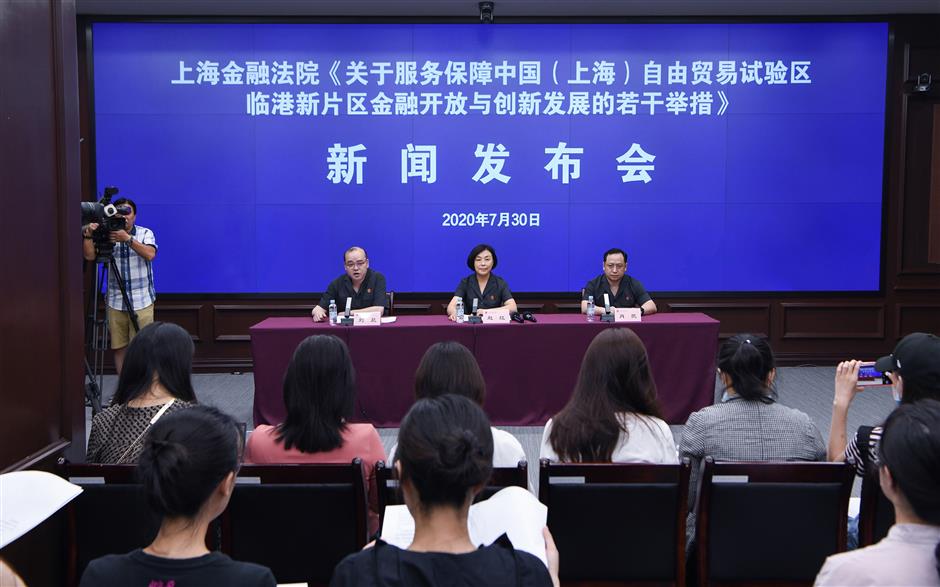 Shanghai Financial Court officials announce 15 measures for the Lingang New Area during a conference on Thursday.
The Shanghai Financial Court released 15 measures, including jurisdiction oftransnationalfinancial cases, technology and talent, to support development of the Lingang New Area of the China (Shanghai) Pilot Free Trade Zone on Thursday.
More trade and cooperation between home and abroad will be seen in Lingang which will increasetransnationalfinancial disputes and may cause new financial problems, saidZhaoHong, president of the court.
Under the new measures, litigants can choose the international court or domestic court to deal with financial disputes. But if transnational disputes affected domestic customers' and investors' rights and interests, the city's court would be assigned the case.
Different regulations will be released for new financial issues.Zhaosaid the new regulations are being discussed by the Shanghai branch of the People's Bank of China, adding that based on international treaty and practice, Shanghai aims to establish a special regulation that conforms to the country's national conditions. She also said a group including experts in financial law, professors and professional members from the court is in charge of solving new issues.
The result of the trial will be the criterion for the next trial. "Legislation always lags behind,"Zhaosaid. To solve new financial cases, the previous trial will be a model to regulate the trial of similar cases.Zhaosaid cases in Chinese and English translated by the court's translation group, named "Yiyanshe," will be published on its website for both domestic and international investors.
More technologies, including artificial intelligence, big data andblockchain will be used for justice. For example, a real-time translation systembasedon AI technology was developed by the court last year. The system can provide real-time translation during a hearing,Zhaosaid.
To support all measures being more practicable, the courtis keen to attractinternational financial talent. It will train students with universities and encourage judges to participate in exchange activities in international justice studies.