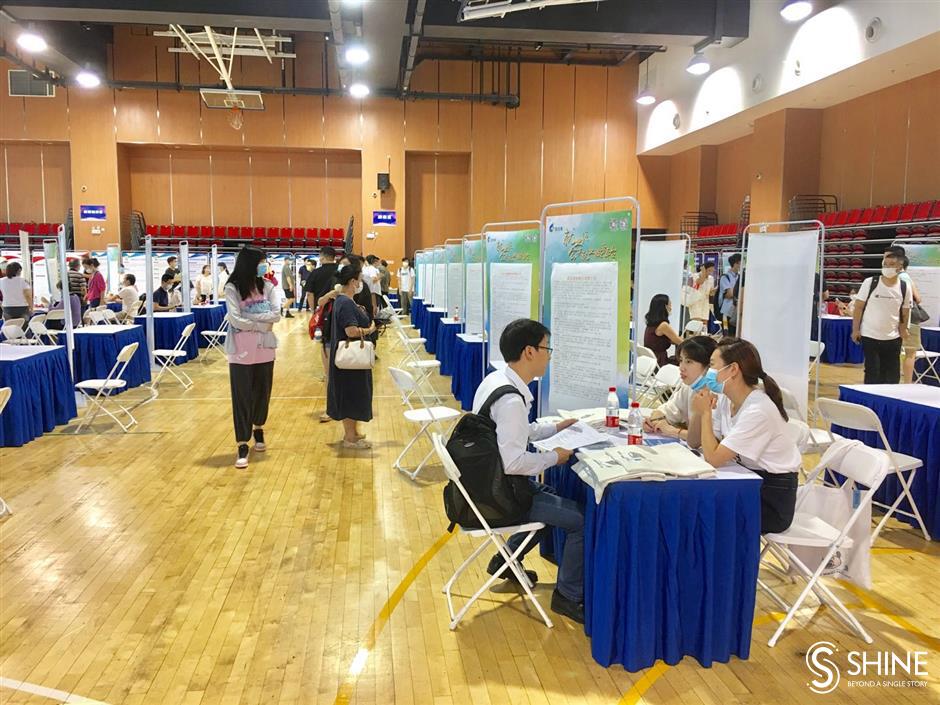 Putuo-based companies offered over 3,000 jobs at a job fair for college graduates at CaoyangGymnasium on Thursday.
Management and Internet major graduates as well as technicians were the most popular candidates at the first offline job fair for this year's college graduates inPutuoDistrict on Thursday.
More than 90Putuo-based companies were offering over 3,000 jobs in the commerce, technology, human resources and service sectors. They includedYuexingGroup, owner of the Global Harbor mall,Carrefour, security company ShanghaiBaoan, Shanghai Research Institute of Chemical Industry and online gamestartupBoke.
Some 760 people took part in the job fair atCaoyangGymnasium with companies receiving a total of 616 resumes and 258 candidates reaching agreements.
"We've lowered the threshold on educational background and are offering more internship opportunities to help graduates," said a human resources official with aPutuo-based service company. She suggested graduates find a job first rather than keep looking for the most ideal posts.
Carrefourplanned to recruit 200 online store managers and fill 300 other posts at the job fair, said LouZhenyu, head of human resources for the company'sEast China region.
"The managers will receive training and become reserve cadres to meet the demand of online shopping trends," Lou said. "We have not reduced the number of jobs this year because we are confident about China's economic condition."
There are about 3,000 graduates inPutuothis year and 906 have have found jobs, according to the district's human resources and social security bureau. Some 400 graduates said they needed assistance or guidance.
"My son should have been teaching students at a local school if there wasn't the novel coronavirus pandemic," said the mother of an applicantsurnamedZheng, who graduated from Shanghai Normal University in 2019.
Zhengsaid he couldn't find a job as a teacher because the teacher's certificate exam had been cancelled due to the COVID-19 pandemic.
"I just need an interim job before the exam resumes,"Zhengsaid.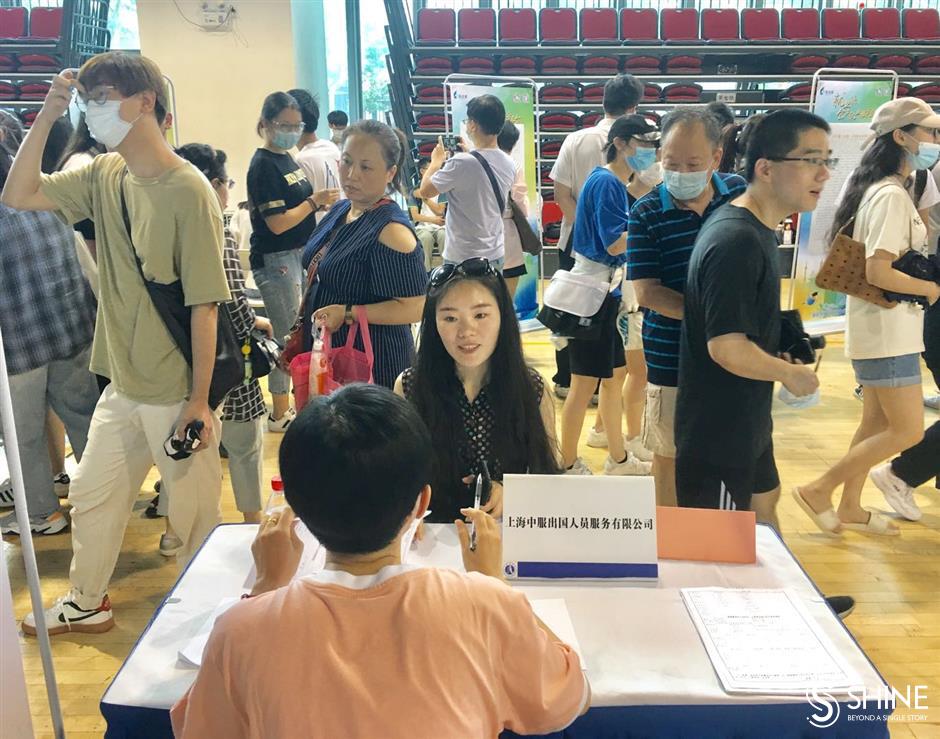 Yang Jian / SHINE
An applicant talks with a HR official at the job fair.
Shi Yue, an English major graduate from Shanghai Institute of Commerce and Foreign Languages, said he had lower down the level of expected monthly salary to 5,000 yuan (US$714) from 7,000 yuan due to the severe situation this year.
"I just need a stable job," Shi said. He used to be determined to become a television host.
His counterpart Liu Hao, a numerical control graduate from Shanghai Science and Technology Management School, said he planned to work for a senior's home and take part in the test for social workers next year to work at any local neighborhood committee or subdistricts.
"One reason is the difficulty to find the job related to my major. The other is I was touched by the hardwork and sincerity of many community workers during the pandemic. I want to be one of them," Liu told Shanghai Daily.
The fair is one of several events organized by the government to help graduates find jobs amid the COVID-19 pandemic. This year has been dubbed the most challenging for graduates due to the economic impact of the novel coronavirus outbreak.
Putuo District has launched a series of job fairs, startup contests and lectures amid the pandemic. The employment and entrepreneurship service season will run through September to offer over 5,000 jobs for this year's college graduates.
"College students must adjust their attitudes to focus on both job seeking and entrepreneurship to cope with the unprecedented employment pressure this year," Zhou Li, a career mentor with Putuo District.
Local private and high-tech firms have also posted thousands of job opportunities for the event on popular livestream platform Douyin (TikTok).
The district also launched an entrepreneurship competition to encourage more students to start their own businesses. The three-month competition includes preliminary selection, startup training and the final competition. A batch of startup projects will be picked to receive further support and incubation from the government.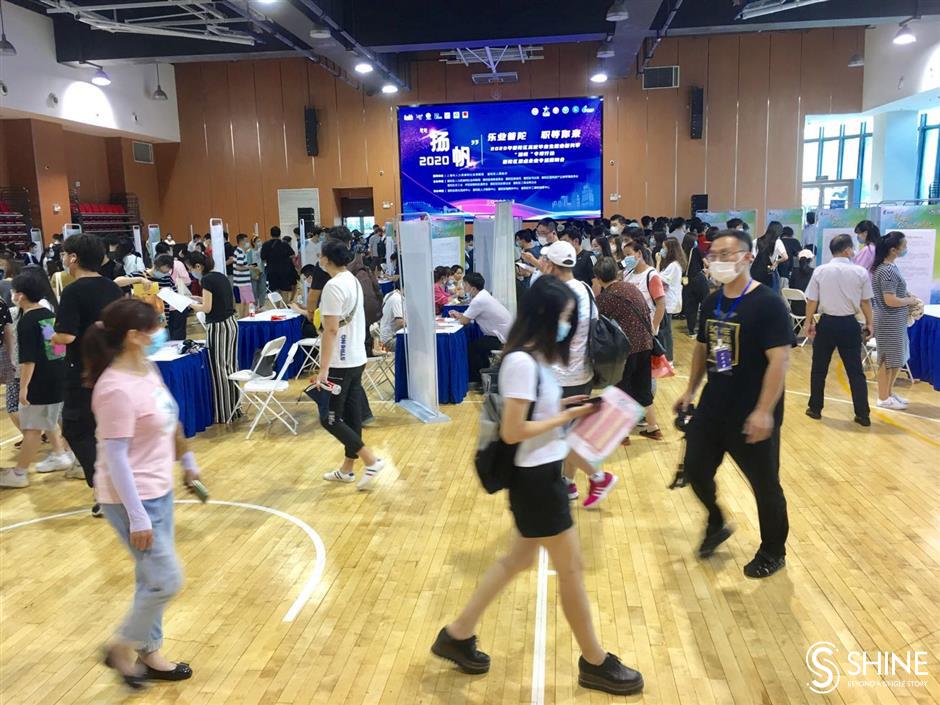 Yang Jian / SHINE
Around 760 people, most of them this year's graduate, took part in the job fair at Caoyang Gymnasium on Thursday.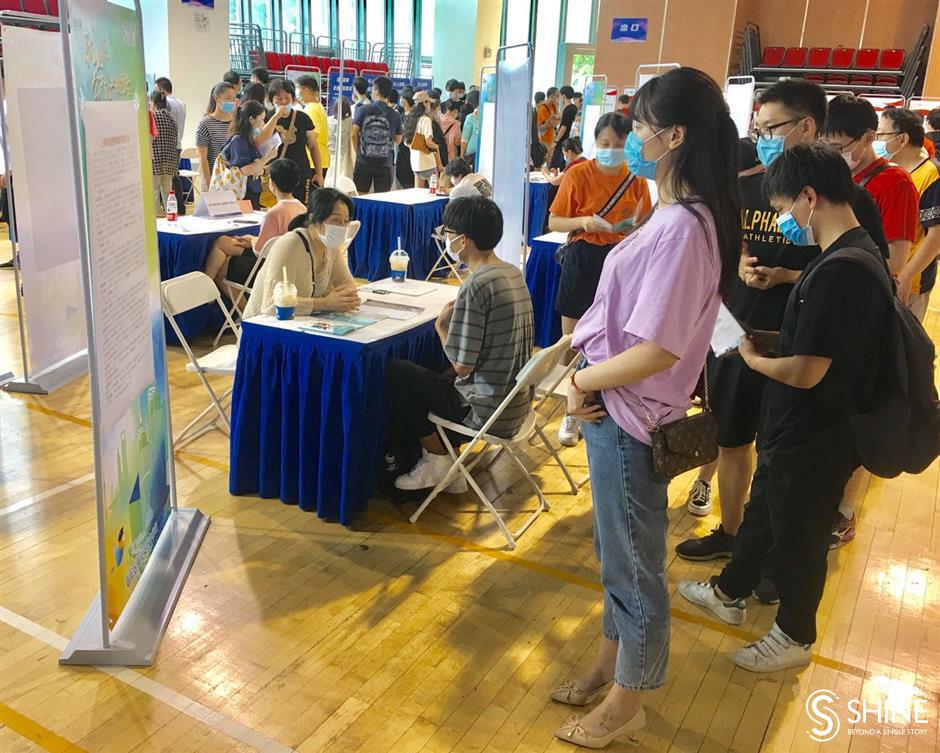 Yang Jian / SHINE
Applicants wait to talk to an HR official with a Putuo-based company.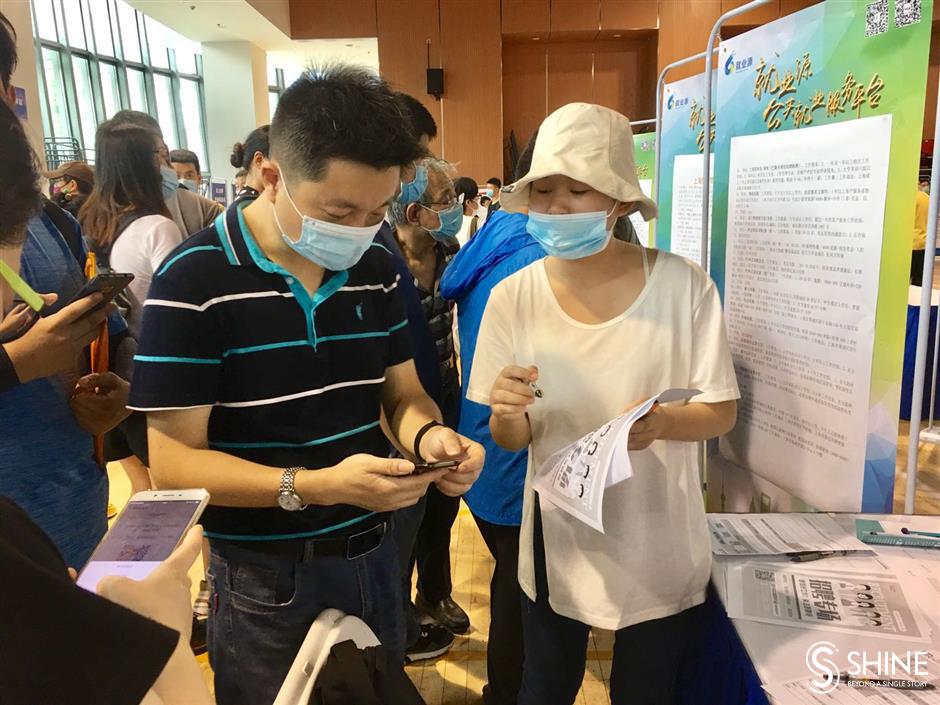 Yang Jian / SHINE
A graduate exchanges WeChat details with an HR official at the job fair.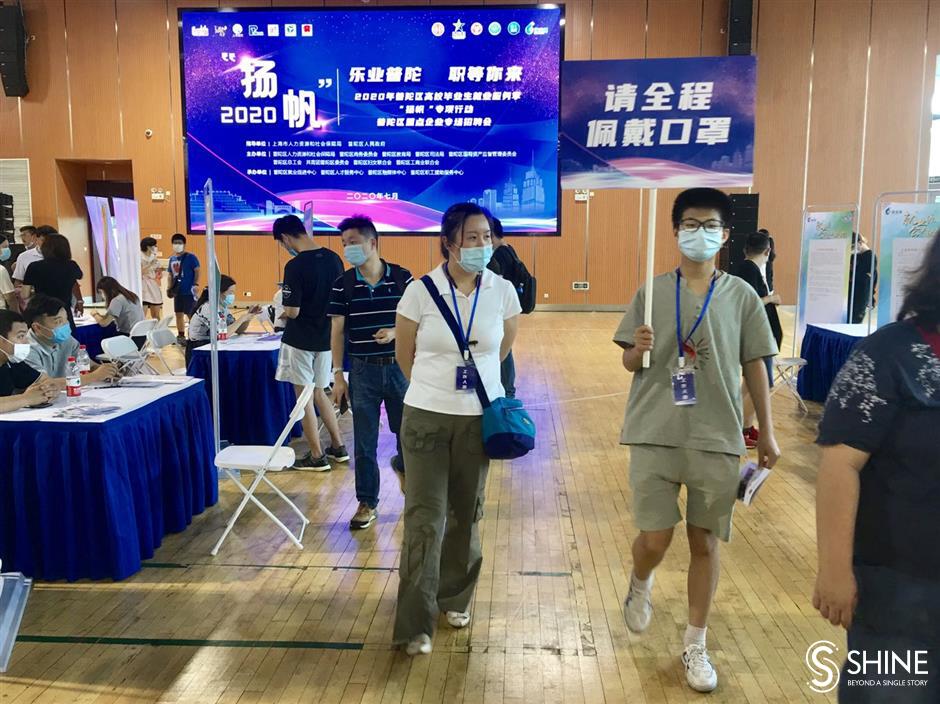 Yang Jian / SHINE
A signboard reminds job fair participants to wear masks.