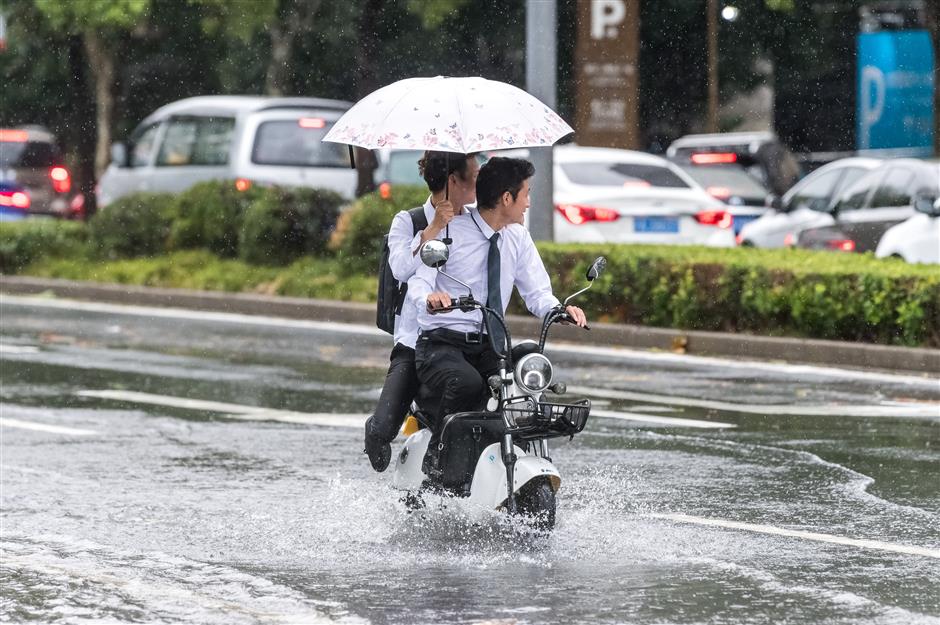 A moped makes its way along a waterlogged street after torrential rain in the city's downtownarea brought about by tropical stormHagupiton Wednesday.
Tropical stormHagupitis heading away from the city and its intensity is gradually declining, Shanghai Meteorological Bureau said on Wednesday.
The typhoon had been downgraded to a tropical storm with a wind force of 65 kilometers per hour when it entered the Yellow Sea at 6am, the National Meteorological Center reported.
Two weather alerts had been revoked, the bureau said at 11am on Wednesday.
The city's flood prevention bureau lowered its emergency response level at noon.
Torrential rain of over 140 millimeters in 12 hours was recorded at 24 of the city's 723 weather stations while more than half the stations detected rainstorms with 30mm to 69.9mm falls in a 12-hour period.
The rain fell mainly in atJingshan,Fengxianand Songjiang districts. TheLangxiastation inJingshanrecorded 333mm precipitation between 6pm on Monday and 9am on Wednesday, overtaking the figure when typhoonFitowaffected the city in 2013.Fitowis said to have caused direct economic losses of 62.33 billion yuan (US$8.96 billion) in China.
The flood prevention bureau said 18 measuring stations across the city had reported water-clogging problems mainly at underpass areas, such as theLongquanandYouyiunderpasses inJinshan, both with a water level of 120 centimeters.
It added that the 238-kilometer west flood channel project inJinshan, with an investment of 4.6 billion yuan from 2014 to 2016, had effectively prevented the overflow of local creeks.
As of 8am on Wednesday, a total of 80 sluice gates in the city had opened to discharge 1.7 billion cubic meters of water and 12 water pumps had been operated to dispose of 8 million cubic meters of water.
The flood prevention bureau worked overnight with the road transport bureau and the police to carry out emergency measures.
Inspection of key areas was implemented and more than 3,000 flood prevention workers dispatched to deal with water-clogging.
Over 23,000 police officers were deployed to divert traffic on congested roads.
Five ferry lines and two bus lines were forced to halt operations.
As of noon on Wednesday, there had been no reports of drownings or injuries.
Shanghai'sYangshanFrontier Inspection Station said that, due to the typhoon, over 10 international ships could not come alongside from 12am on Tuesday to 9am on Wednesday.
AfterHagupitleft the city, the station opened more windows with more police to reduce the waiting time for ship inspections. Up to 5:30pm, there were 13 international ships reaching the port and all ships in the port had resumed normal operations.
The maximum temperature of 29.8 degrees Celsius was recorded atthe Xujiahuimeteorological center inXuhuiDistrict on Wednesday.
Thursday will see gentle winds and a maximum temperature approaching 35 degrees, rising to 36 degrees by Sunday.