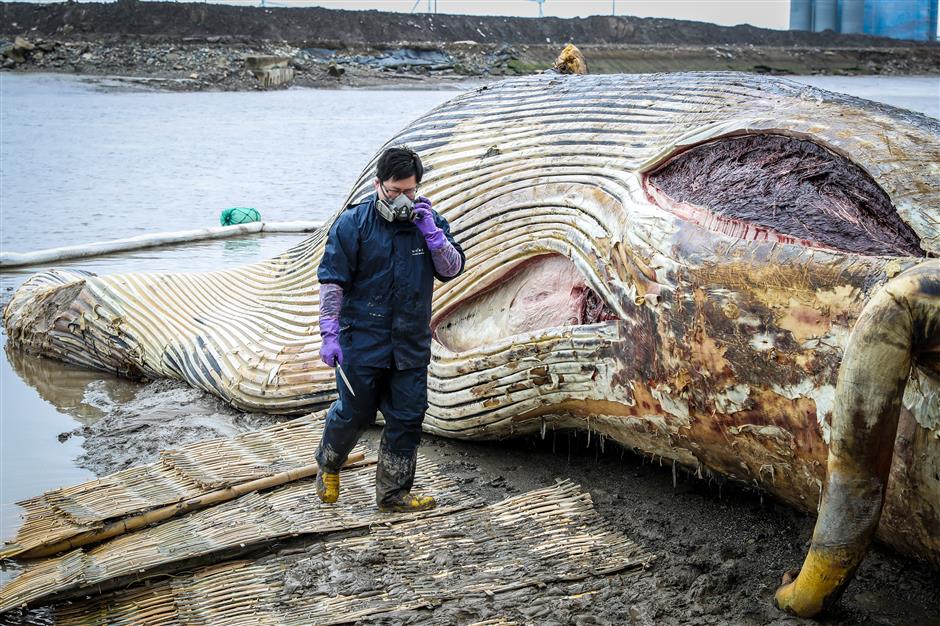 A taxidermist endures the overpowering stench of decomposing flesh of a dead whale.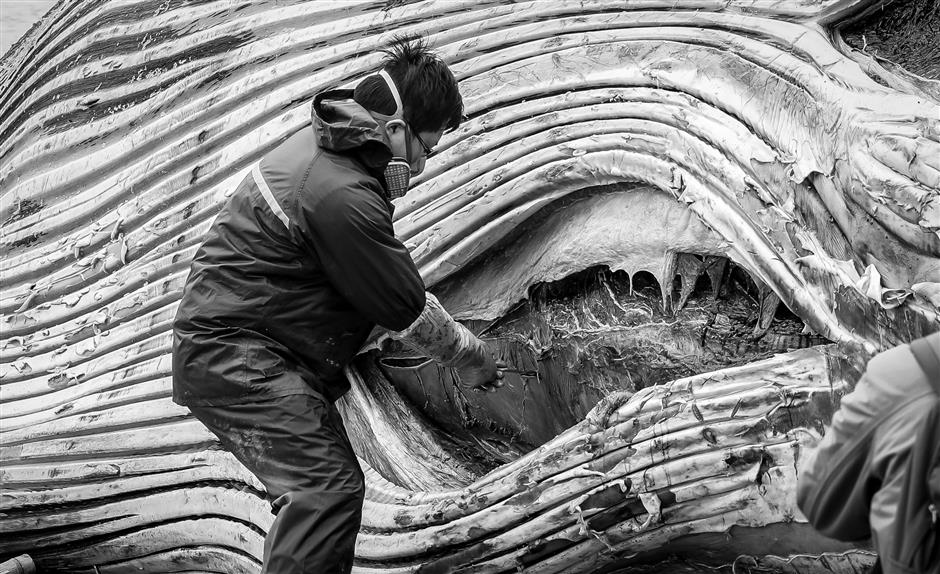 Sun Leqi / Ti Gong
A taxidermist dissects the huge mammal at the site.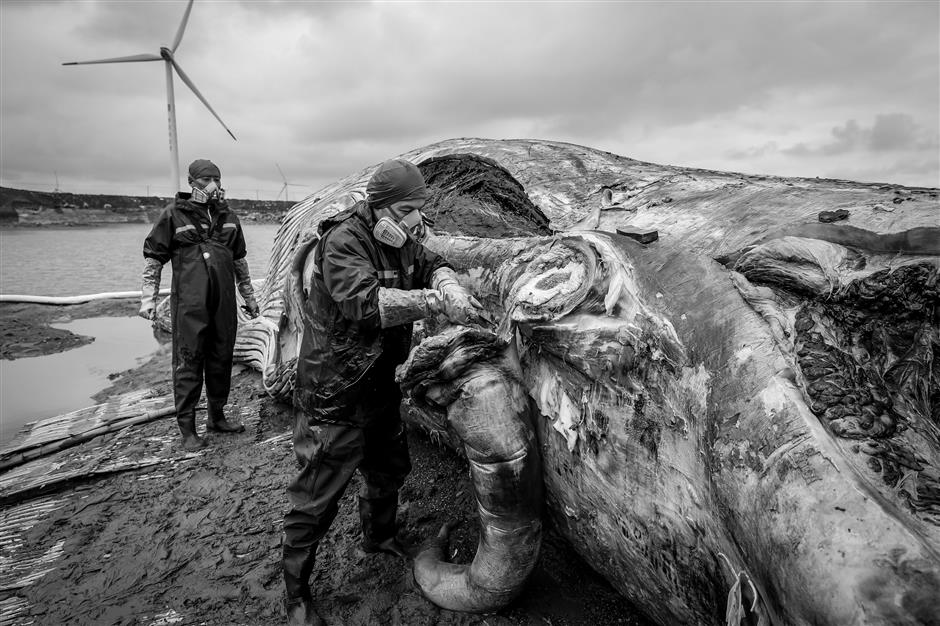 Sun Leqi / Ti Gong
It has been more than three years since taxidermist Shan Kun first came across the body of a dead whale that washed ashore at the mouth of the Yangtze River. But he still remembers the overpowering stench of decomposing flesh.
When Shan was called to the scene, the whale had been dead for more than 10 days. He had no choice but to process it in situ.
"Decay filled the whale carcass with methane gas, and it could explode any minute," Shan said. "So, we punctured the carcass to release the gas before we opened it up for a necropsy. It smelled so bad. I will never forget that."
However, that was just the start.
Shan and his colleagues from the Shanghai Science and Technology Museum stayed at the site for nearly one month to dissect the huge mammal, which was about 20 meters in length and weighed 40-50 tons.
"A crane and other heavy equipment would have quickly sunk into the mudflats, so we had to resort to machine-free methods," he said. "We used bamboo rafts to build a road leading to the whale and stood on the rafts to dissect it."
Then, the body parts were transported to the museum's taxidermy studio on Longwu Road to be turned into a whole specimen again. Instead of chemicals, taxidermists used water to wash away grease, a time-consuming but environmentally friendly way to proceed.
The painstaking efforts paid off.
The reconstruction of the mammal is now near completion. It is expected to be exhibited to the public this year at the museum's natural history branch.
Shan, deputy director of the museum's taxidermy division, leads a specialized team of nine, most of whom were recruited from museum guides or supervisors.
"Previously, we lacked a team specializing in taxidermy," said Zhang Yunfei, deputy director of the museum's natural history research center. "However, that is necessary for a world-class natural history museum. So in 2007, we selected some of the museum's workers for the job."
The team took their new work seriously.
From 2007 to 2010, they were taught by experts from the International Council of Museums and Museums Victoria in Australia on how to produce and preserve a variety of specimens, including birds, mammals, reptiles, fish and crustaceans.
"Taxidermy is a multidisciplinary professional," Shan said. "Anatomy and biology are basic. Next is to learn sculpture. It's more than just an art. It also involves carpentry, electrode welding and mechanical assembly."
He added, "New materials and chemicals keep emerging. A taxidermist can never cease learning if he wants to keep up with the times."
Two or three years ago, Shan started to explore to use 3D printing in the production of specimens. He spent half a year studying the technology at the Sichuan Fine Arts Institute.
"3D printing ensures accurate measurement," Shan said. "It also offers a reference to make other similar specimens because all the data is recorded on computers, which improves efficiency."
About 10 years ago, the processes used by taxidermists resulted in very heavy specimens, prone to tipping. Today, taxidermists use polyurethane foam to stuff carcasses. Where they once used toxic arsenic under the skin of carcass to prevent it from decaying, they now deploy non-toxic solutions. In specimen maintenance, they use plant extracts and essential oils.
"Now I feel safer in my job," Shan said. "Harmful chemicals are no longer used. Overseas experts have enlightened us, especially in environmentally friendly techniques."
He added, "Preservation of specimens and the health of taxidermists are equally important. A safe and comfortable work environment really matters."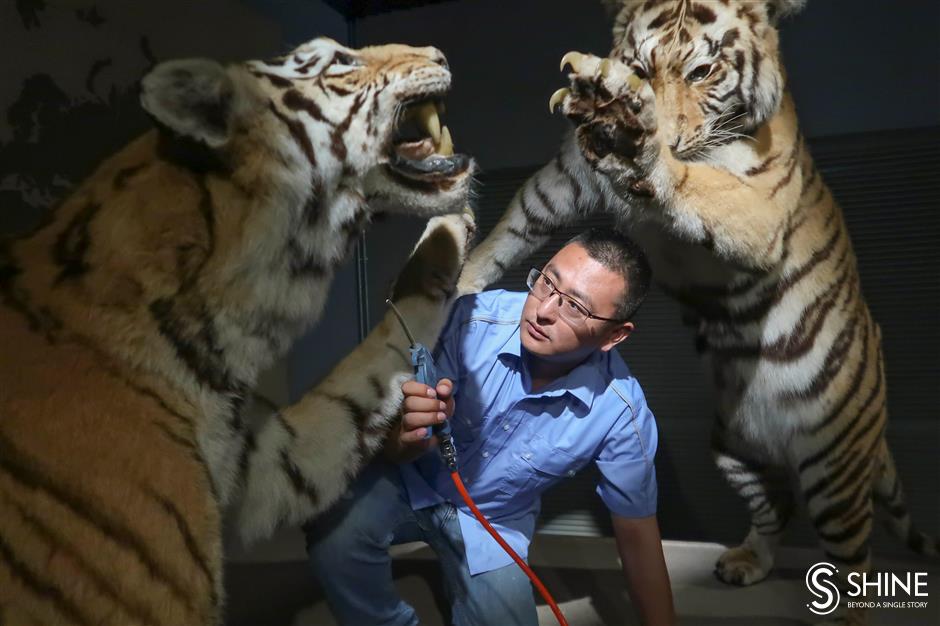 Wang Rongjiang / SHINE
Taxidermist Shan Kunvacuums and dusts a tiger specimen.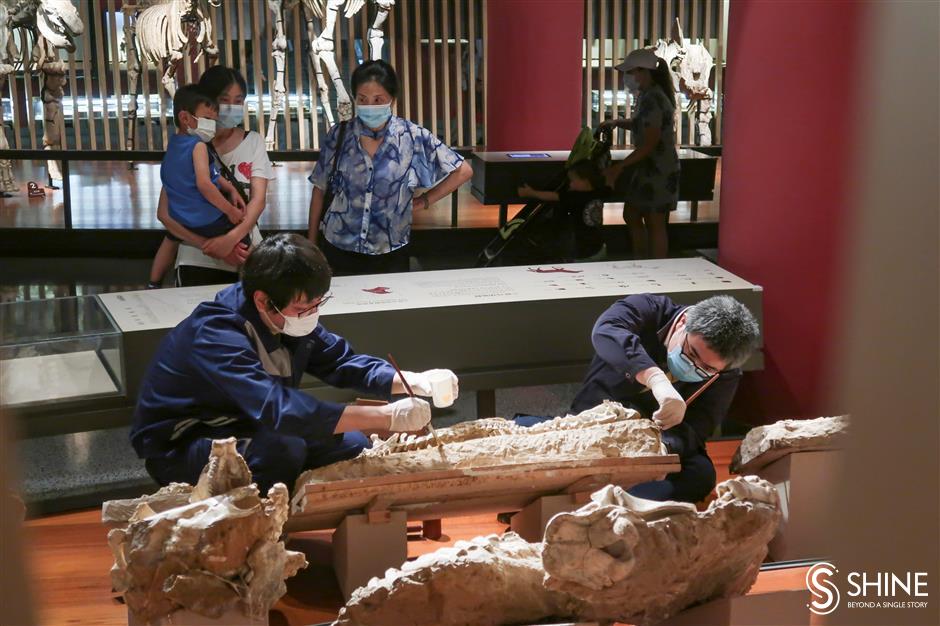 Wang Rongjiang / SHINE
Taxidermists maintain fossils.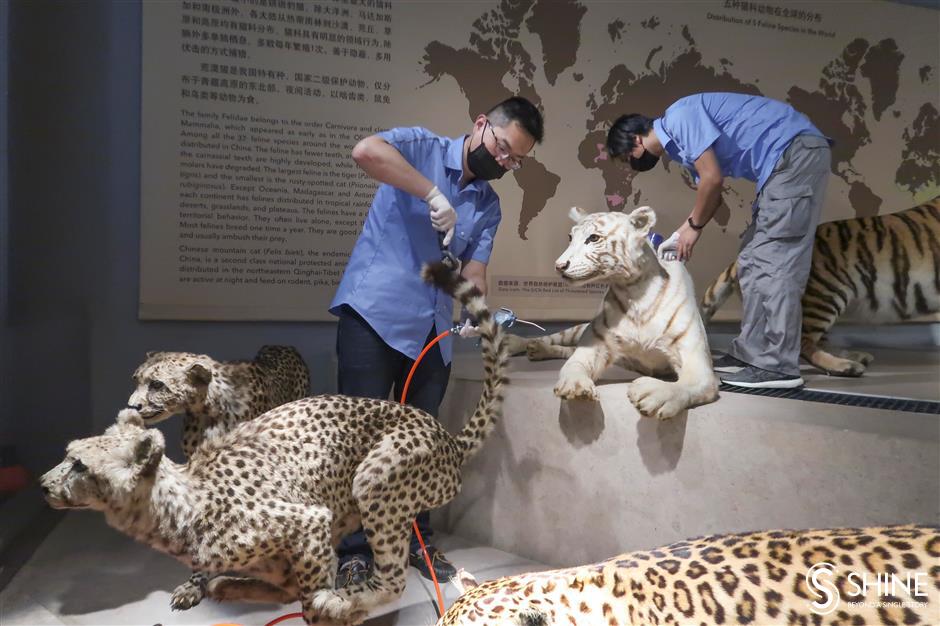 Wang Rongjiang / SHINE
Taxidermists maintain specimens.
Another advanced concept adapted from overseas, according to Zhang, is turning carcasses into lifelike display pieces, including birds flying, antelopes running or jackals hunting prey.
"Previously, we just made specimens, but now we bring dead animals back to life in their native habitats," he said.
One popular specimen at the Shanghai Natural History Museum is a lion made decades ago. With its tilted head, bulging eyes and smiling face, it looks cute and unassuming. Zhang said the specimen is all wrong because no lion in the wild would look like that.
The lion's exhibition neighbors, two fighting tigers, show how authentic specimens should look. They took Shan's team nearly three months to complete.
"We searched through photos of tigers in the wild and found one of two fighting tigers," Shan said. "We sent the photo to a Finnish expert, and a week later he gave us positive feedback."
Another challenge was to make the animals' mouths lifelike, from tongues to teeth, just as fighting tigers would show with mouths open.
"Good specimens should be lifelike," Shan said. "The muscles and vessels of a specimen of a running horse should be visible. We have to carefully measure every part, whether they be scales or fur or feathers of a carcass, and we have to know how animals live in the wild. Like when birds take off, how they spread their wings and position their feet."
Today, animals that live together in the wild are grouped together in the same museum setting to recreate the natural world.
"The museum is a book," Zhang said. "We have to tell the stories behind every specimen through our exhibits."
The museum and its natural history branch now house about 290,000 specimens, including animals, plants and fossils. It is a leader in the field in China. The oldest collections were made in the 19th century, and more than 2,000 bird specimens were made about a century ago.
However, Shan and Zhang think the collections are far from enough.
"Every specimen is precious," Shan said. "Even a blade of grass has its value."
Zhang added, "Specimens allow today's researchers to learn about the past ecological environment of a place. Diversified collections lead to extensive research. However, most of our collections come from East China, meaning that our study is still constrained to that geographic area."
He said the museum is very pleased by the donation of African specimens from US philanthropist Kenneth Behring.
"We were so exited that a Chinese mainland museum finally has overseas displays," he said.
By contrast, the Smithsonian National Museum of Natural History in Washington boasts more than 100 million collections from across the world. In the Europe, the national history museums of the UK and France each has tens of millions of collections.
"The Smithsonian's research on biology leads the world," Zhang said. "Natural resources really matter. That's why we want every specimen possible."
The museum's primary research mainly focuses on biological diversity in Shanghai.
"Though this is a megacity, Shanghai still features some natural wonders," Zhang said. "Shanghai has more than 400 bird species, including some in downtown areas, especially in parks."
One research project found that 1.4-square-kilometer Century Park is home to 70 percent of birds in the surrounding 25 square kilometers.
"A small downtown oasis plays a major role in protecting birds," he said. "If urban planners take more consideration into animal habitats, it would greatly improve local ecology."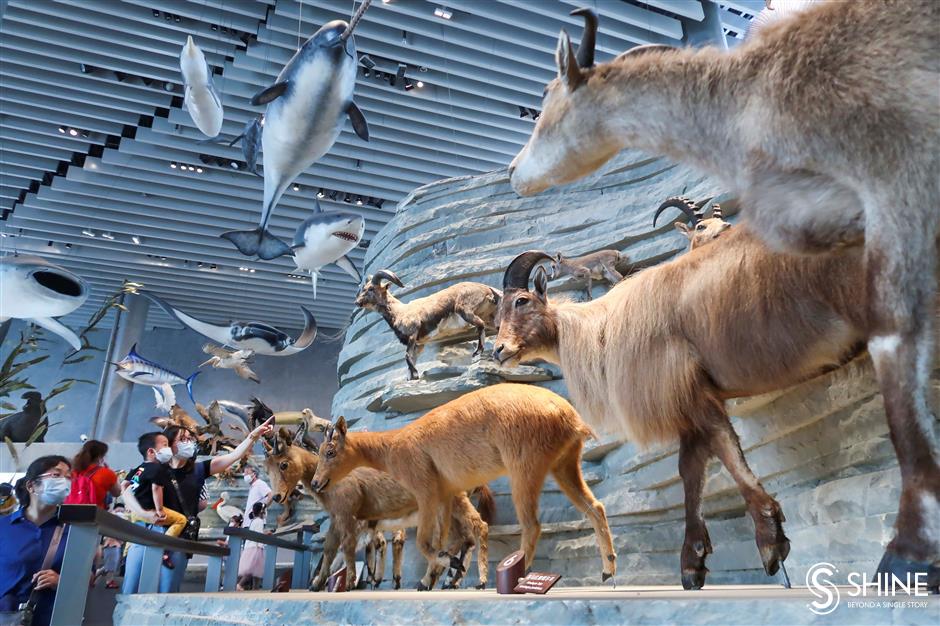 Wang Rongjiang / SHINE
Shanghai Natural History Museum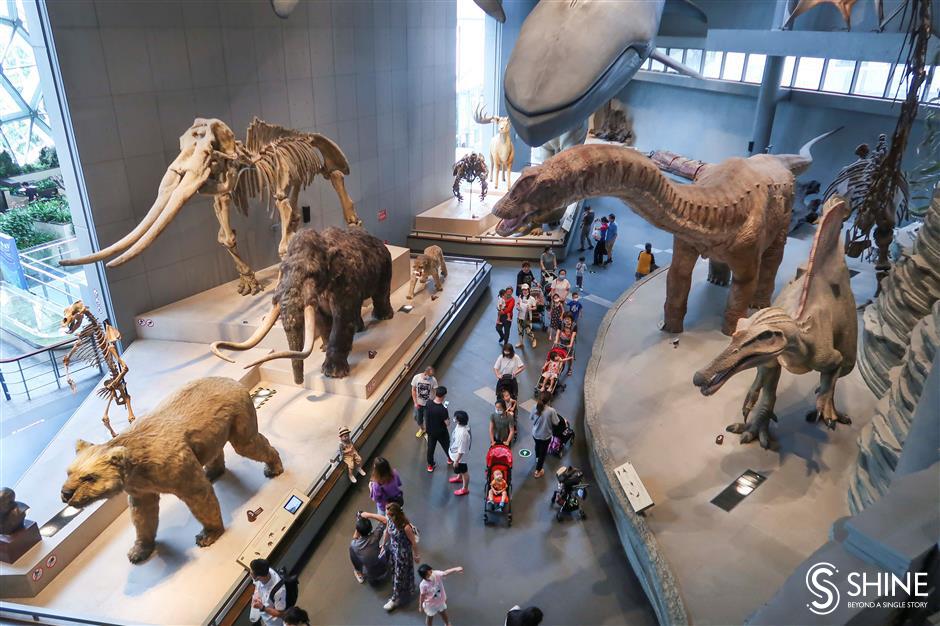 Wang Rongjiang / SHINE
Shanghai Natural History Museum