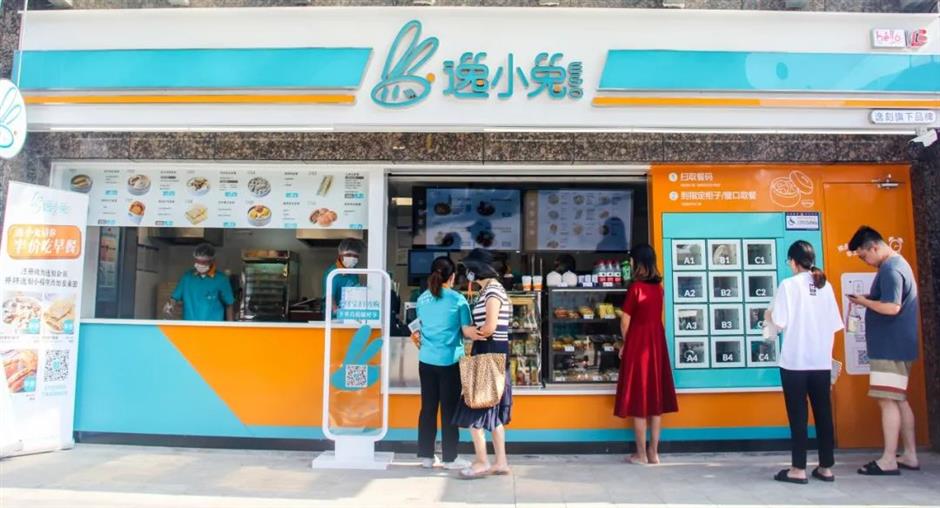 The breakfast convenience store in Songjiang's Dongjing Town
A breakfast convenience store offering customers many different types of food opened for business in Songjiang's Dongjing Town on August 18.
The breakfast store, one of five new stores and five food trucks launched citywide that day, was introduced by EGO New Retail Co, a joint venture between local retail conglomerate Bailian Group and Alibaba.
Recently, municipal authorities in Shanghai are undertaking a program to make breakfast convenient, more varied and healthier.
The EGO Songjiang breakfast store near Dongjing Station on Metro Line 9 is in response to the program.
The store is well equipped with modern facilities and more than 130 types of food on sale that include yogurt, fresh milk, toasted bread, fried dumplings, stir-fried noodles, cereals and steamed dim sum.
The store produces a package of fried pancakes, through spreading out pastry, brushing on sauce and adding fillings, within less than two minutes.
"I used to buy breakfast from a street vendor and I worried about the sanitation condition. Now I can see how the food is prepared and I feel reassured," said a local resident surnamed Li.
In addition, to respond to the nationwide campaign to curb food waste, the store also offers more than 10 types of set meals that are sold for under 10 yuan (US$1.45) each, including a pork bun, siu mai and soybean milk set (7.9 yuan), a fried pancake and soybean milk set (9.9 yuan) and a toast and milk set (9.9 yuan).
The store is said to be able to serve more than 500 customers during morning rush hours and food lockers are provided to enable advanced booking.
Besides breakfast, the store also sells lunch packages that are sold for under 30 yuan each.
"We will keep on developing more food flavors, improving our service and offer staff training. More stores and vans will be set up to cover more residential areas, schools and office areas to provide high-quality breakfasts for Songjiang citizens," said Zhao Chenbin, CEO of EGO New Retail Co.