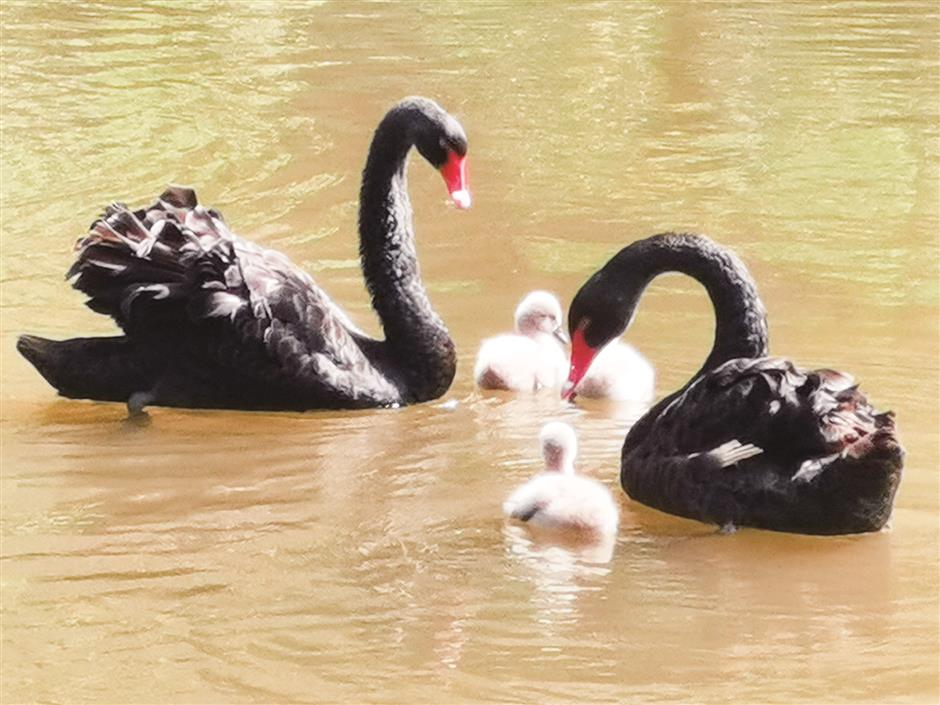 The swans in the Laidun Neighborhood have become stars of the community.
Three baby swans from a pair of black swans purchased through crowd-financing are being tended by residents of the Laidun Neighborhood in the district's Zhongshan Community with special care.
When anyone reaches the pond, a swan will quickly approach the shore. This is the cygnets' father, always cautious of strangers and protective of his young ones.
On the other side of the pond, the cygnets follow their mother and learn how to capture food. Their feathers are gray and they have black feet and appear full of curiosity.
In July 2019 residents renovated a pond, bought the pair of black swans through crowd-funding and built shelters for the swans.
Cameras were installed near the pond to ensure their safety.
In March this year the mother laid eggs for the first time but she didn't hatch them. Residents tried artificial incubation but failed.
On June 20, she laid another four eggs and after 40 days the babies emerged from their shells.
Residents were delighted. Walking past the pond they would lower their voices in case they disturbed the family.
One of the four offspring died but the others are healthy.
"More swans will come to live at Laidun Neighborhood and in the end we will introduce the swans to a river that crosses the neighborhood and create a beautiful landscape," said Qi Xiaohu, chief of Laidun Neighborhood homeowners' committee.