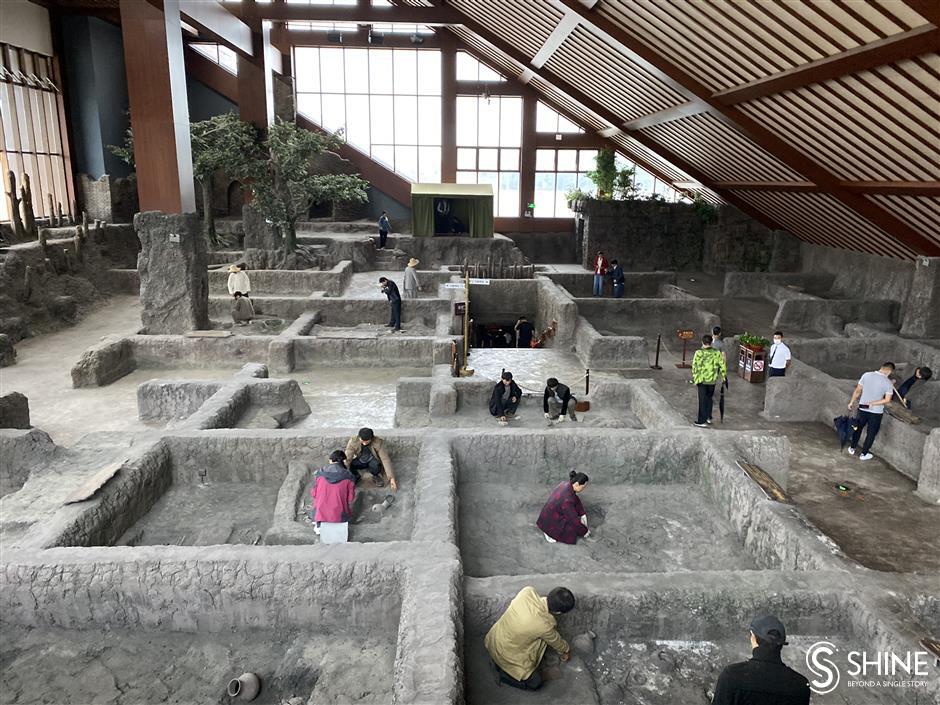 The Guangfulin Cultural Relics Park will open its Guangfulin Archeological Site Exhibition Hall to the public later this month.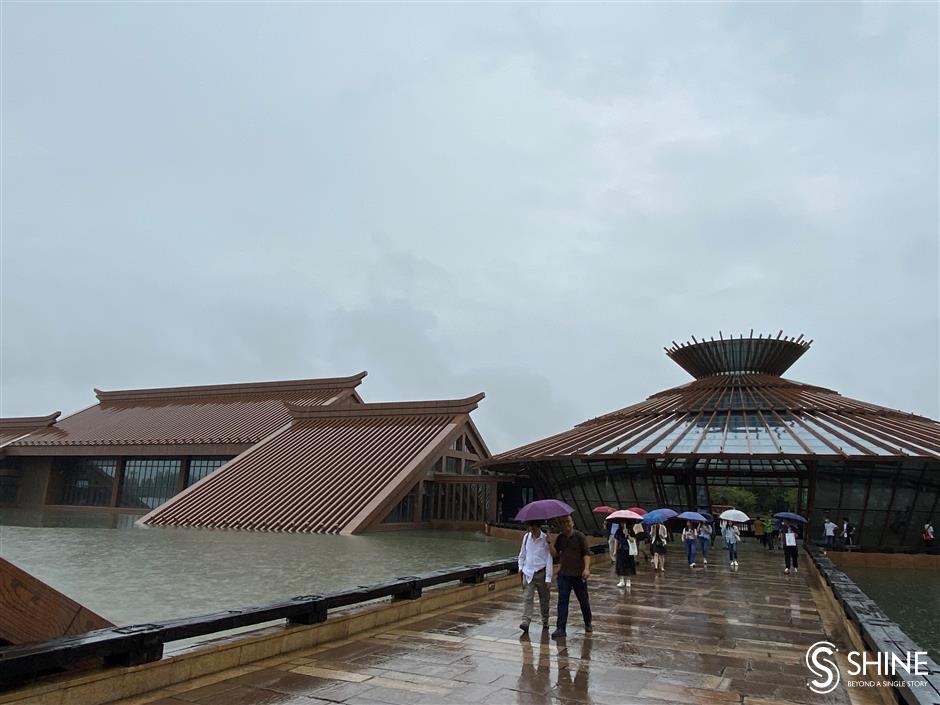 Hu Min / SHINE
Visitors tour the Guangfulin Cultural Relics Park at Guangfulin archeological site where Shanghai's earliest-known residents lived some 4,000 years ago.
Songjiang District is building a world-class advanced manufacturing industry cluster and a cultural andeco-friendly green district with its hi-tech enterprises doubling within three years and 31 cultural projects on the agenda, the district government announced on Tuesday.
The district has accelerated construction of its Shanghai Hi-Tech Films and Televisions City and has introduced 707 film and television companies so far this year, 146 percent more than in the same period last year, officials told told a press conference.
The district has gathered more than 7,000 companies in the industry, accounting for a third of the nation's total.
Songjiang authorities announced a raft of upgraded preferential policies covering subsidies and rewards to fuel development of its film and TV industry in July.
Construction of the second phase of the Shanghai Film Park andHaopuFilm Base have begun.
The district's import and export volume reached 189.8 billion yuan (US$27.9 billion) between January and August, officials said, rising 7.9 percent from the same period last year, and the number of its hi-tech enterprises doubled within the latest three years, with more than 1,400 new this year.
"It shows the good momentum and impact of the Yangtze River Delta G60 High-tech Corridor in magnetizing hi-tech companies," said Cheng Xiangmin, Songjiang's Party secretary.
"Songjiang is constructing a world-class advanced manufacturing industry cluster and strategic emerging industries such as integrated circuits, artificial intelligence andbiomedicineare highlighted," saidCheng.
It has registered 172 integrated circuit companies, 817 artificial intelligence firms and 181biomedicinecompanies so far, Cheng said.
Songjiang has also introduced theTencentYangtze River Delta AI supercomputing center with an investment of 45 billion yuan and the Evergrande global research institute of new energy vehicles worth 65 billion yuan, the district government announced.
"TheTencentYangtze River Delta AI supercomputing center will lay a solid base for the delta's science and technology development," said Zhao Hongwei, director of the district's science and technology commission.
The AI center will have eight computing centers, each with nearly 100,000 GPU capacity, according toZhao.
A three-year plan featuring 31 culture-related projects has been implemented in the district, the press conference was told.
Among them, theGuangfulinArcheologicalSite Exhibition Hall will open to the public in late September and the construction on 17 cultural venues such as theGuangfulincultural exhibition hall have been completed.
TheGuangfulinhall, covering 7,788 square meters, is inside Guangfulin Cultural Relics Park. The complex is in the shape of three ancient pottery jars, with its design drawing inspiration from jars unearthed during Guangfulin's archeologicalexcavation.
TheGuangfulinsite is where Shanghai's earliest-known residents lived some 4,000 years ago.
The district is also developing a number of new tourist attractions and projects.
A 40,000-square-meter culture and innovation park onSongjinHighway which hosts former factories and barns built between the 1950s and 1990s have been given a new lease of life after being turned into a beer museum and art galleries.
"New venues blending barn culture will be created in the park, making it a new cultural and tourism landmark in Songjiang,"said JinDongyun, director of the district's culture and tourism administration.
The district has dismantled industrial companies covering 78.95 square kilometers within the Huangpu River second-level water conservation zones in four years.
Its annual average concentration of PM2.5 was 38 micrograms per cubic meters last year, down 24 percent from 2016.
There were 296 days with excellent or fine air quality last year in the district and its forest coverage was 16.4 percent by the end of 2019.