The 2020 Rose Wedding, an annual group wedding event in Shanghai, was hosted at the Bund Finance Center on Wednesday.
A total of 15 newly-wed couples from across the Yangtze River Delta region attended the ceremony along the Bund.
Among them were two couples of medical professionals.
Xie Yunbin, a physician at First People's Hospital of Changzhou, had already postponed wedding celebrations twice due to the COVID-19 pandemic.
"We feel so excited to attend this special group wedding ceremony here in Shanghai," said Xie.
In the coming days, the couples will embark on honeymoons inMoganshan, Zhejiang Province; Changzhou, Jiangsu Province; and Wuhu, Anhui Province.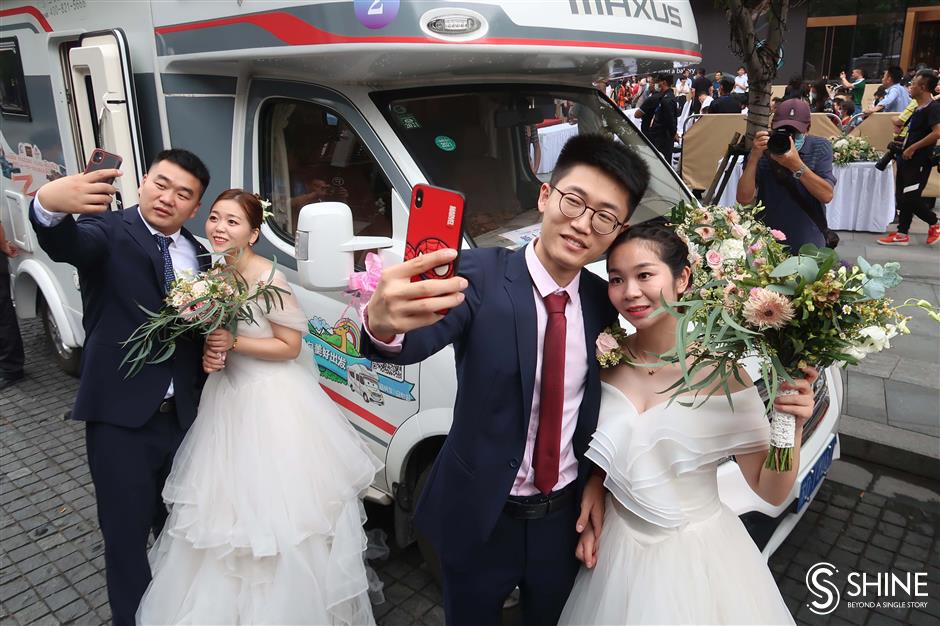 Wang Rongjiang / SHINE
Newly-weds take selfiesat the 2020 Rose Wedding.
According to Cao Zhonghua, an official with the Rose Wedding organizing committee, the event is a mainstay of the Shanghai Tourism Festival. This year's event is meant to enhance the integration of culture and tourism in the Yangtze River Delta region, and propel the development of related industries.
Shanghai's Rose Wedding ceremonies were initiated in 1998.