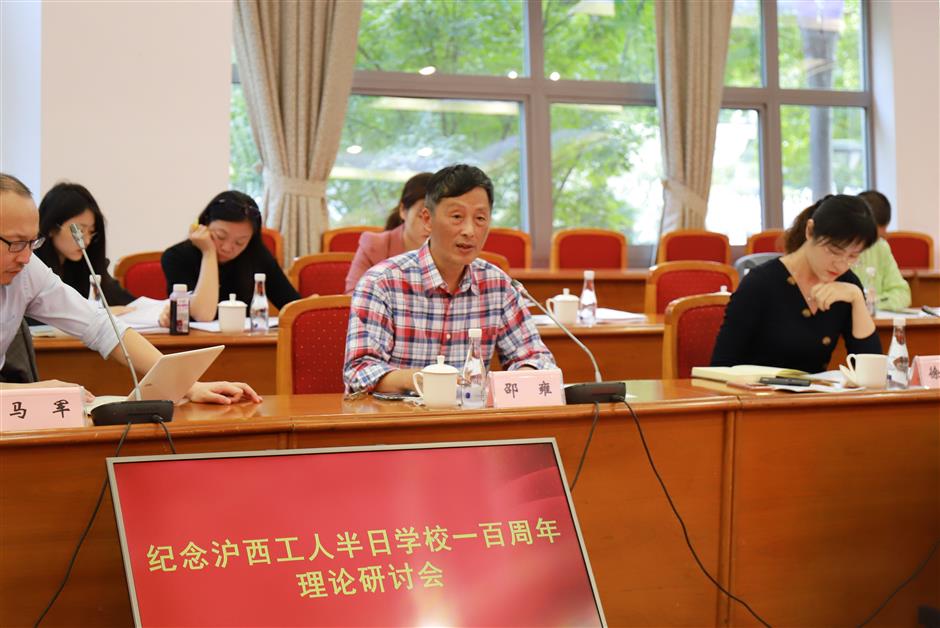 Shao Yong, aShanghai Normal University professor, shares his researchinto the HuxiHalf-day School for Workers at a seminar inPutuo District.
A memorial hall is be built by April next year to commemorate the first workers' school founded by the Communist Party of China in 1921 in Putuo District.
The Memorial Hall ofHuxi(West Shanghai) Half-day School for Workers will become a key cultural exhibition center and city landmark, the district government said on Wednesday.
Putuowas the birthplace of China's labor campaigns. The district was once home to a large swathe of China's earliest modern factories and workers.
Early Party members founded the school to promote Marxism and CPC principles among local workers as well as to organize labor movements.
The memorial hall on the former site of the school onAnyuanRoad will review the history of the place with cultural relics and introductions to key historic figures.
It will work along with the memorial hall ofGuZhenghong(1905-1925), a martyr who died in a massacre against a local workers' strike in 1925, to showPutuo'simportant status in China's revolutionary history, according to the district government.
The district hosted a seminar on Wednesday to invite scholars to share their latest research into the history of the workers' school and guide exhibition arrangements for the memorial hall.
ShaoYong, a professor with Shanghai Normal University, said the school operated between 1920 and 1925 with various names such as workers' club, continuation school and night school.
"TheHuxiworkers' movements later developed into the overwhelming May 30 Movement in 1925 against foreign imperialists," saidShao.
LiQihan, founder of the school, chose theXiaoshaduarea, which was home to over a dozen of cotton mills run by Japanese businessmen and some 20,000 Chinese workers. He rented three workshops of a cotton mill and turned them into classrooms with derelict tables and oil lamps, according to Shao's research.
The History Research Institute of Shanghai Academy of Social Sciences donated a replica of "Labor Circle," once a key Marxism publication for local workers to thePutuogovernment on Wednesday for the memorial hall.