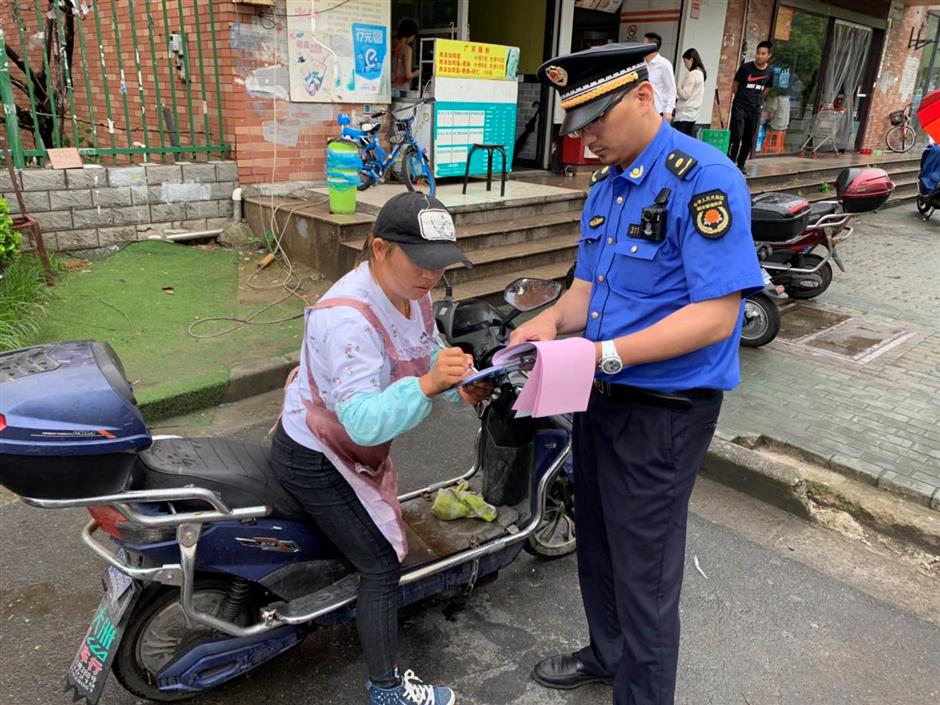 An urban management and law enforcement official issues a rectification notice to an unauthorized street vendor in Jiading District'sJiangqiao Town.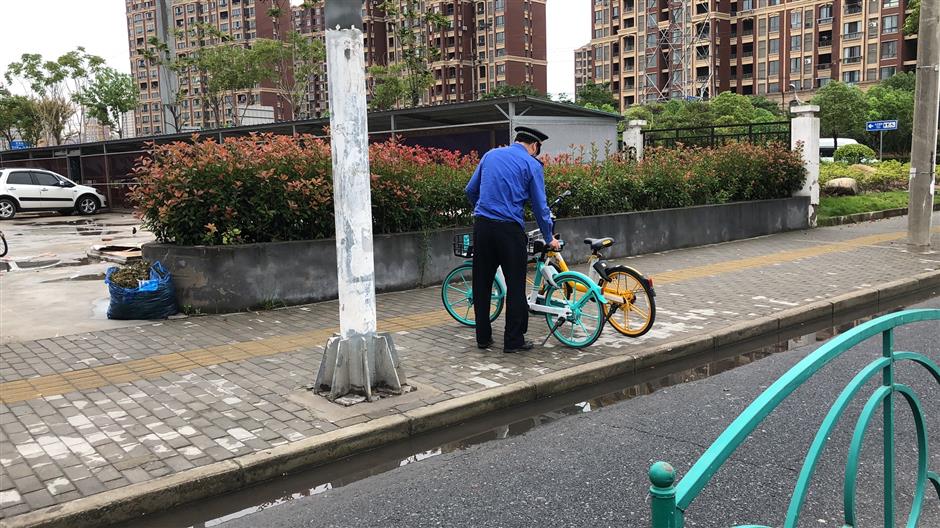 Ti Gong
An official puts shared bikes in place.
Shanghai's urban management and law enforcement authorities are fully prepared for the upcoming China International Import Expo to ensure a tidy environment and good order.
"We have strengthened crackdowns on environment-related irregularities, and more than 5,800 irregularities across the city in the CIIE-related task list will be eliminated by the end of this month ahead of the event,"XuZhihu, director of the Shanghai Urban Management and Law Enforcement Bureau, told Shanghai Daily.
"We are working out on-the-spot guarantee plans at the CIIE venue, and enhancing law enforcement guarantee and inspections," he said. "The goal is to create a more brilliant city environment for exhibitors and participants."
CIIE venue, the National Exhibition and Convention Center Shanghai, is in Qingpu District, and officials there have been taking strict measures to curb flying dust by checking trucks carrying construction waste on key streets.
Licensing, sealing measures and the routes of these trucks are particularly targeted in inspections.
At key guarantee areas, 36 construction sites have been inspected.
By the end of September, urban management and law enforcement authorities in the district had dealtwith 79 cases involving irregularities with construction waste transport and at construction sites with fines totaling more than 1.08 million yuan (US$160,380) imposed.
Patrols targeting streetside catering businesses near the venue and key streets have been beefed up in regard to trash sorting, and crackdowns on signboards have been conducted to improve the environment.
More than 1,050 outdoor advertisement boards and shop signboards with irregularities or potential safety hazards in the district had been dismantled by last month.
InMinhangDistrict, law enforcement officials are ensuring round-the-clock, all-out and blanket supervision and management.
TheXinhongSubdistricturban management and law enforcement team received a tip-off about temporary sheds at parking lots near the expo venue, and found them surrounded by trash, seriously affecting the environment, officials said.
The sheds were resting places for parking lot staff but posed safety hazards and led to sanitation problems, officials said. They were dismantled.
InJiangqiaoTown inJiadingDistrict, a key area of the CIIE, 835 environment-related irregularities had been cleared up as of late September, its urban management and law enforcement officials said.
These included unauthorized street vendors, business operations beyond registered scope, garbage clearance and outdoor advertisements.
In the town, an unauthorized barbecue vehicle near a shopping mall has been removed, the number of shared bikes controlled and shop signboards that affected public sanitation dismantled.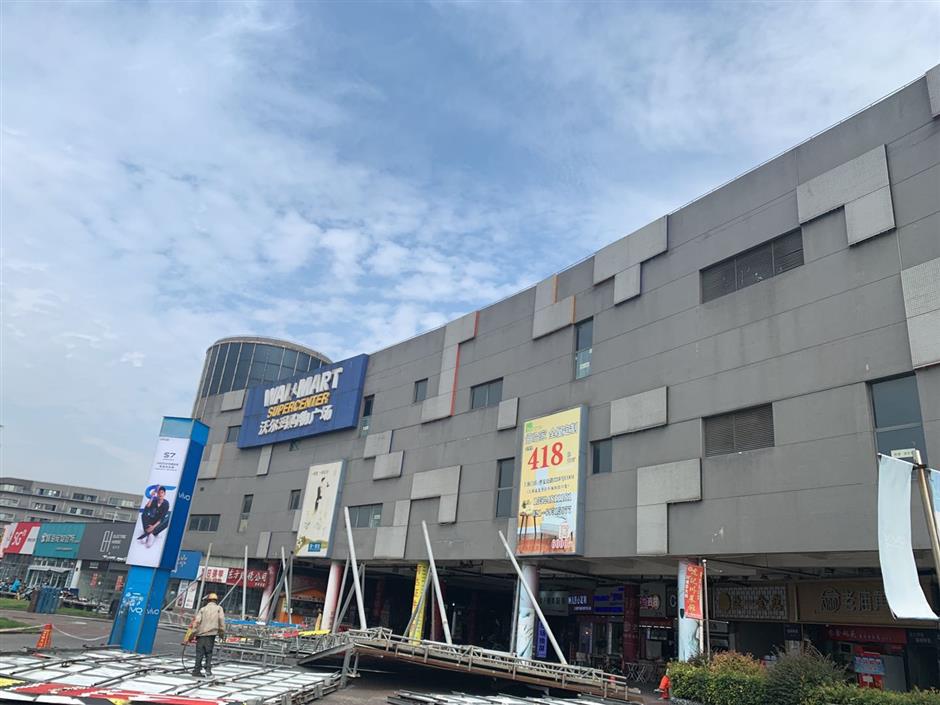 Ti Gong
Signboards with irregularities and which present safetyhazards are dismantled.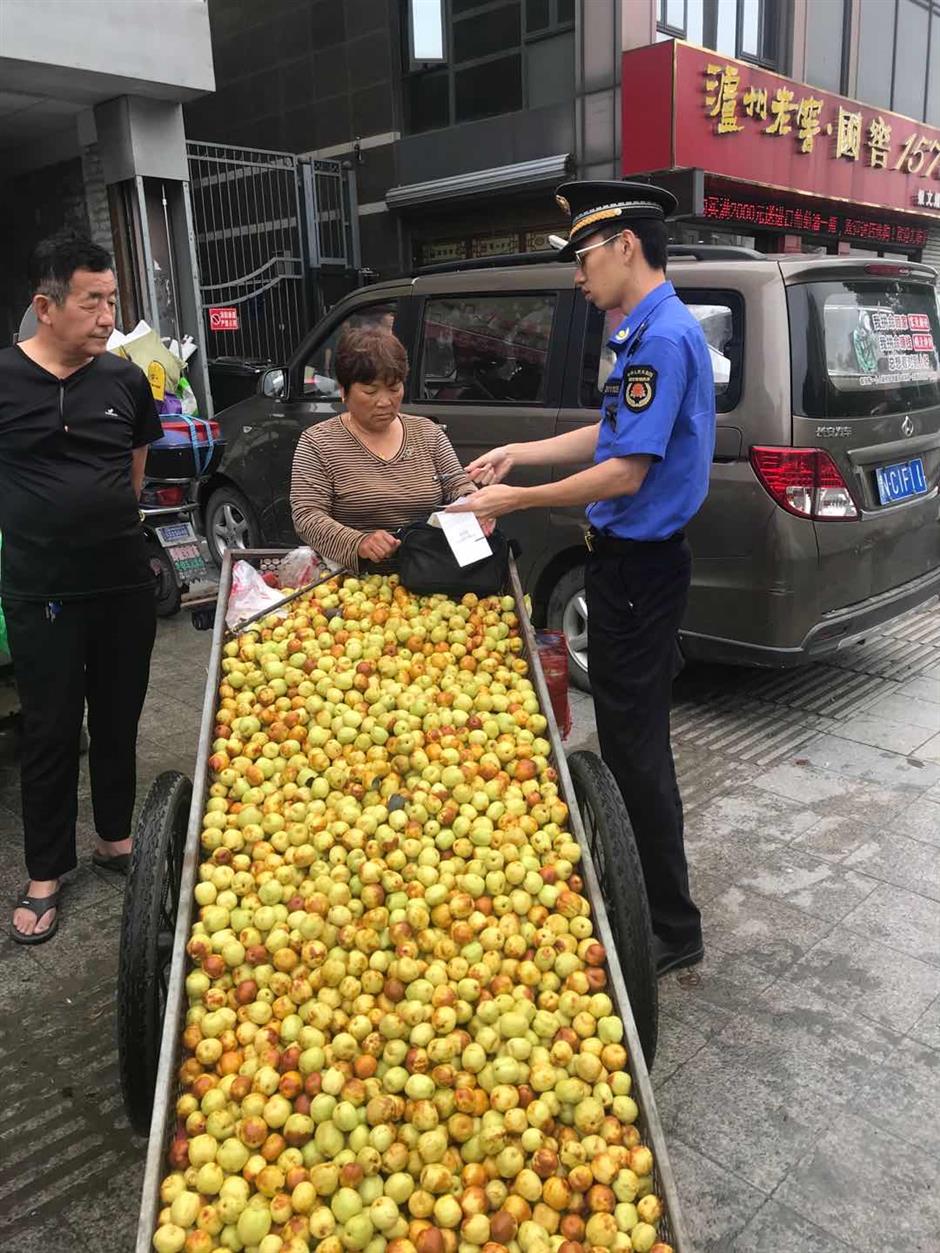 Ti Gong
An official issues a rectification notice to an unauthorized street vendor.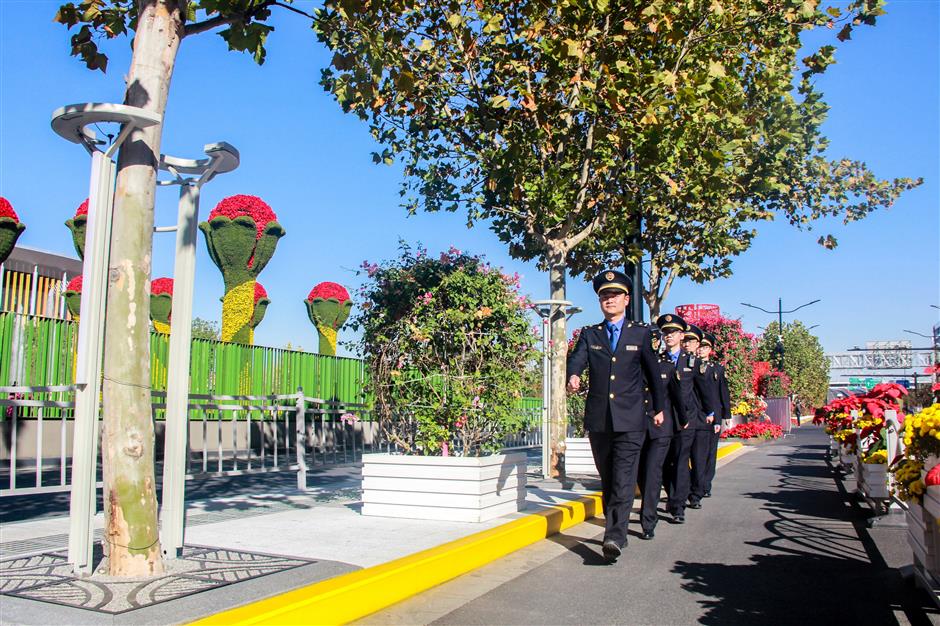 Ti Gong
Urban management and law enforcement officials patrol around the CIIE venue.