Cruise operators are gradually resuming their cruise sailing and waiting for a resumption in the China market amid robust recovery of the domestic tourism industry.
China has become the largest emerging cruise liner market and the world's second-largest tourist source country. The COVID-19 prevention measures at the Wusongkou terminal have become a model and brought confidence to the global cruise liner industry.
Many liners have expressed hope to restore operations soon, according to the Baoshan District government.
Cruise ships which make Wusongkou their home port are expected to return and launch onshore tourist events to prepare for the industry's resumption amid the COVID-19 pandemic, the Baoshan government said.
The Shanghai Wusongkou International Cruise Terminal, the busiest in Asia and the fourth-busiest in the world, is now able to receive four luxury liners at the same time. They will be allowed to berth at the port with strict coronavirus prevention measures in place and with the approval of national authorities.
"The pandemic has had a great impact on the world's cruise liner sector, but such influence is temporary and won't change long-term positive trends of the industry," said an official with the government.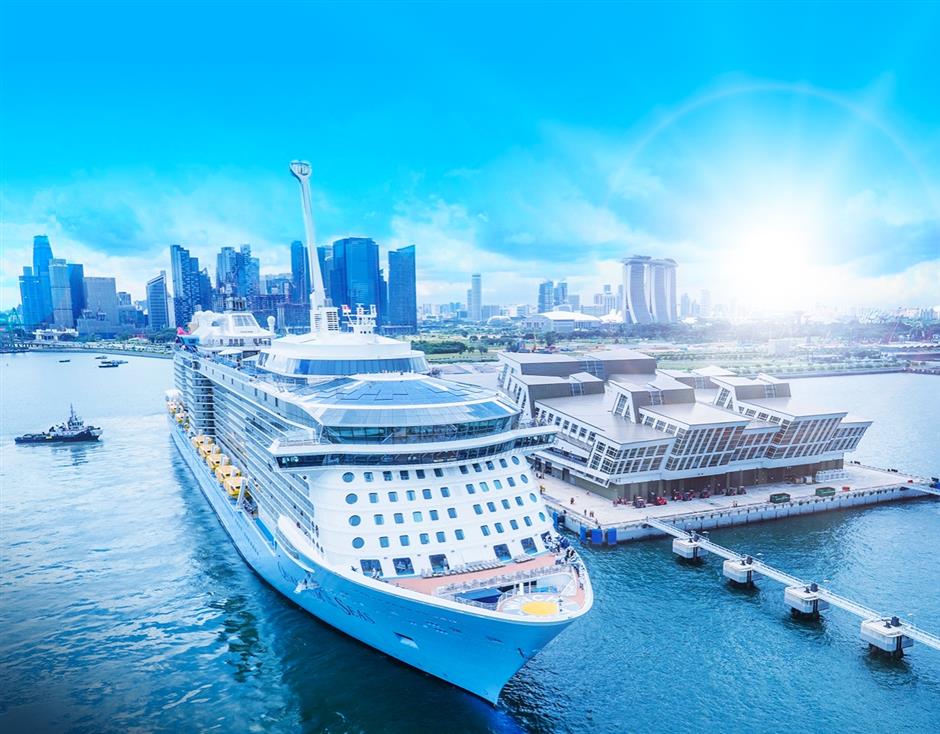 Ti Gong
Quantum of the Sea
According to current plans, returning liners will serve as "floating resorts" where tourists can experience theaters, gyms and restaurants as well as surfing, rock climbing and swimming pools under strict COVID-19 prevention measures.
Since its opening in October 2011, the terminal has welcomed 2,200 cruise ships carrying over 13 million passengers. Several liners from the world's top cruise companies — Carnival, Royal Caribbean, Norwegian, MSC and Genting — made their maiden voyages in Asia from the Wusongkou terminal.
All cruise liners operating at the port have been suspended since January 30 to prevent the spread of the coronavirus outbreak.
The terminal received its last eight luxury cruise liners between January 22 and 29, carrying 30,595 inbound and outbound passengers along with over 10,000 crew.
No infections have been reported among tens of thousands of passengers, thanks to joint prevention efforts led by the terminal and other government bodies.
As most cruise liner ports were suspended amid the COVID-19 pandemic, foreign crews were forbidden to disembark in most countries. The Wusongkou terminal decided to accept the Chinese crew of the Quantum of the Seas in April after they had been at sea for over 60 days. All of them tested negative for infection.
Royal Caribbean has announced it will begin operating a series of "cruises to nowhere" from Singapore from December 1.
It will offer three-to-four-night Ocean Getaways from Singapore on Quantum of the Seas. The cruise ship will remain at sea for the duration of the cruises that are planned from December through March.
The new sailings are exclusive to residents of Singapore.
The cruise operator said it will ensure rigorous protocols that include testing and screening, upgraded heating, ventilation and air-conditioning systems that enhance filtration, stringent cleaning practices, reduced capacities for greater physical distancing and expert medical care and onboard facilities.
"We have been actively preparing for the resumption of sailings in China with massive efforts in designing the Healthy Return to Sailing protocols and taking close communications with relevant authorities regarding the resumption policies." said Liu Zinan, chairman of Royal Caribbean Cruises Asia.
"Though impacted heavily by the epidemic, the nature of people pursuing social togetherness and huge potentials of cruise industry will not be reversed by the epidemic. It is a driving force of the tourism industry," he said.
Royal Caribbean said it would test each passenger before they board. The cruise ship will sail at reduced capacity, namely no more than 50 percent, with upgraded cleaning standards and medical facilities.
Costa Cruises restarted its operations from Italian ports in early September. Its cruise ship Costa Deliziosa departed from Trieste on a one-week cruise with stops such as Bari, Brindisi and Catania, followed by Costa Diadema departing from Genoa in mid-September.
"We've been working together with the authorities on implementation of the new health procedures that will allow our guests to make the most of their cruise experience while ensuring maximum safety," said Group CEO of Costa Group & Carnival Asia Michael Thamm.
"Meanwhile, we're continuously monitoring the situation with a view to gradually reintroducing cruising on more ships from October, with itineraries extended also to include guests from our other markets."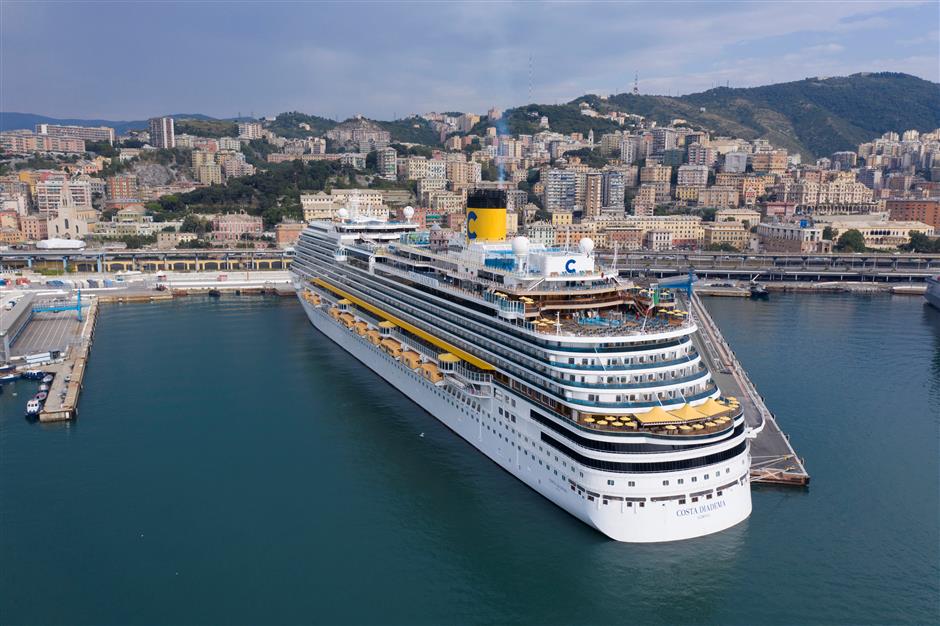 Ti Gong
Costa Diadema departs from Genoa in mid-September.
The cruise operator said it has taken strict precaution measures dealing with all aspects of the cruise experience both on and off the ship.
Each guest had his or her temperature scanned, submitted a health questionnaire and was subjected to an antigen rapid swab test, with the possibility of an additional molecular swab test for any suspected cases. Prior to embarking, crew members were also subjected to a molecular swab test at intervals and were quarantined for 14 days. In addition, each member of crew will have a monthly test.
The destinations on cruise itineraries can be visited only by joining protected excursions organized by the company for small groups of people on sanitized means of transport, and subject to temperature measurement before leaving and rejoining the ship.
Other measures include repeat performances of live shows for smaller audiences; a switch from buffet restaurants to seated dining and staggered entrance for some facilities such as the spa, pools and kids' mini-club with a limited number of people allowed in at any one time.
The Italian company has recently announced its new 2021 itineraries. Among them, three ships will be deployed on a regular basis in the Western Mediterranean and summer will see the return of cruising in Northern Europe, it said.
For now, Chinese tourists are cautious about joining cruise experiences.
"I am interested in 'nowhere' cruise tours on the sea and cruising is perfect for family trips, but I need to think twice because of potential hazards from indoor environment," said Li Wenmei, a Shanghai resident.
"Previous reports on COVID-19 outbreaks on cruises cast a shadow, but if safety measures are guaranteed and the cruise journey is operated within China, I may consider a try, but not in the short term," said Yang Jun, another local resident.