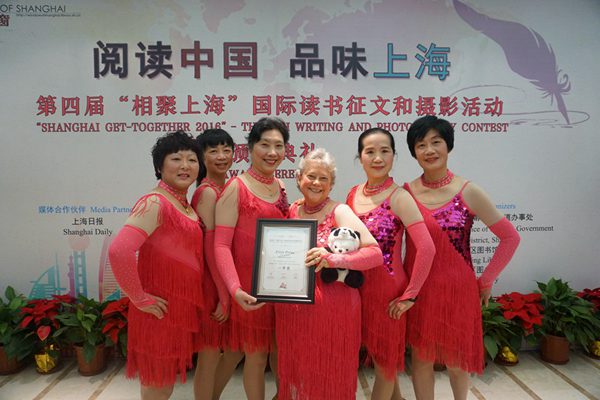 One of the first prize-winners American Debrah Roundy poses for photos with her dancing teammates. (Photo by Giovanna Lin) 一等奖获得者之一Debrah Roundy 与上海阿姨合影。
"Shanghai Get-Together 2016" - The Fourth Writing and Photograph Contest award ceremony was held recently at the Jing'an Temple Community Culture Center in Shanghai. The 5-month-long event received a total of 248 works from 63 countries.
American Debrah Roundy who lives in Shanghai won the first prize for her article "The Builders of a Nation". She is deeply fascinated by the elegant demeanor of Shanghai aunts who dance in the squares and parks and has joined three dancing groups. Debrah said that she is very proud part of them.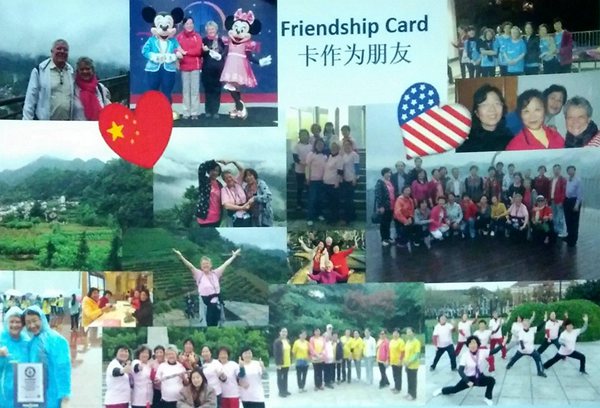 Postcards designed by Debrah Roundy (Photo by Giovanna Lin) Debrah设计的明信片
Launched in 2010, "Shanghai Get-Together" was designed to solicit excellent book reviews from Chinese and foreign readers through the "Window of Shanghai", a cultural exchange project by the Shanghai Library which donates books to overseas readers.
This year, a photography category was added to the contest in Shanghai, so that people can record memories and stories of China through photos as well as essays. The event itself has become a significant display, which highlights people-to-people exchanges in Shanghai.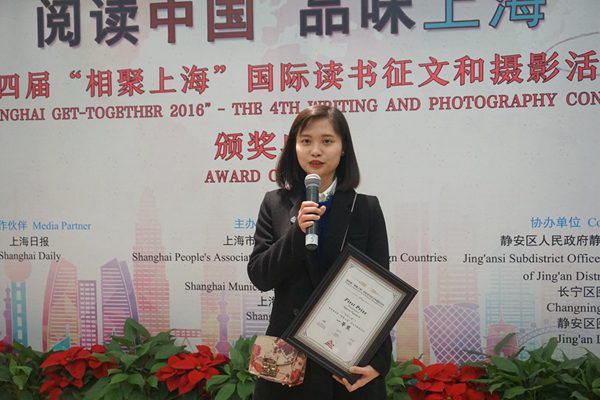 Another first prize winner, Nguyen Ngocbich from Vietnam (Photo by Giovanna Lin) 征文一等奖获得者、来自越南的Nguyen Ngocbich(阮玉碧)发表获奖感言。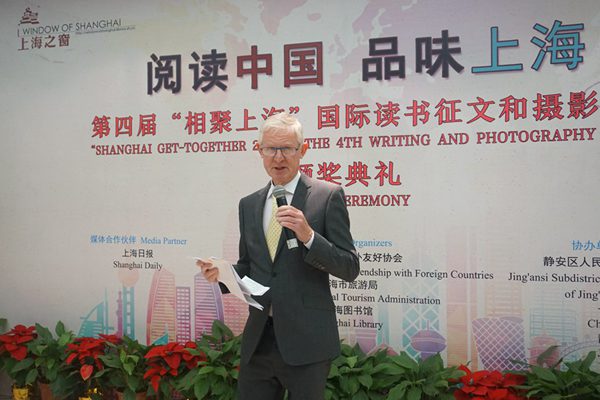 One of the second prize-winners British born Anthony Hugh Jefferson Cole came all the way from UK. (Photo by Giovanna Lin) 获得二等奖的读者是上海图书馆"上海之窗"项目的英国读者Anthony Hugh Jefferson Cole,此次为了领奖专程来沪,并作为获奖代表作了发言。
Up until now, Shanghai Library has set up the "Window of Shanghai" in 138 organizations in 66 countries and regions on 6 continents, donated a total of 93,274 books, and partnered with 45 libraries and research institutes in 28 countries along the "One Belt and One Road".
Chinese version
相聚上海|见证中国文化与世界文化的亲密交融
近日,第四届 "相聚上海"国际读书征文和摄影活动经过5个月的征集和评选,从来自63个国家的共248份作品中评选中一等奖2名,2等奖两名,三等奖若干,在静安寺社区文化活动中心举行颁奖典礼。
凭借《国家的建设者》(The Builders of a Nation)一文,获得征文比赛一等奖的美国朋友Debrah Roundy居住在上海,她被上海广场舞阿姨的风采深深地吸引住了。现在的她,已经加入了三个舞蹈队。"他们向着蓝天舞剑,舞姿优美,每一个动作都如此协调,像一条可爱的小河泛起阵阵涟漪。这些阿姨们已经不年轻了,看起来和我一个年纪。但她们不是那种静静等待死亡的老人,她们正在享受生活。这些杰出的女人们拥有开放的胸襟,她们身体力行地教给了她们的孩子和孙辈们如何与来自不同地方的人相处,如何接纳这个多元化的世界。她们的身上蕴含着岁月沉淀下来的智慧。她们是中国宝贵的财富。我非常自豪,我是她们中的一员。"
"相聚上海"国际读书征文和摄影活动诞生于2010上海世博会期间。举办初衷是旨在通过上海图书馆的"上海之窗"赠书项目向海内外读者征集优秀书评和读后感。自诞生以来,该征文活动一直在不断地成长,无论是作品数量、品质、创意还是参赛人群、方式和宣传媒介都有了巨大的发展。
2016年的活动在保留传统征文之外,还结合当今手机摄影普及化的潮流,纳入了摄影部分,让国外友人不仅用文字,也可以用图像记录下有关中国的故事和上海的记忆。活动本身成为上海民间外交的一张名片,更是城市精神的一个缩影。
截至目前,上海图书馆在全球6大洲66个国家和地区的138家机构开设"上海之窗",共计捐赠图书93274册。其中,"一带一路"沿线中的28个国家共45个图书馆和研究机构成为"上海之窗"的合作伙伴。