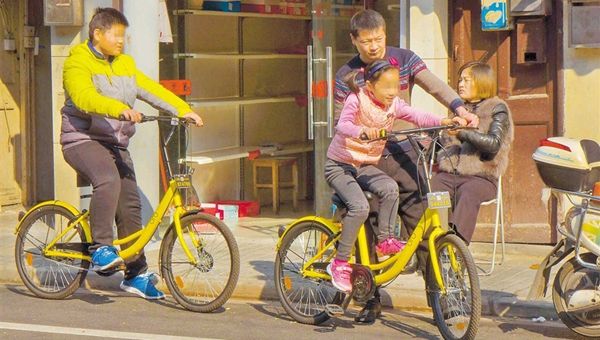 A father shows his daughter and son how to ride on Ofo bikes on Zhaozhou Road yesterday. Local authorities are reminding parents and bike rental companies that it is illegal for children under 12 to ride a bike on public roads. — Wang Rongjiang

Bike rental companies will put warning signs on their bikes after authorities expressed concern at under-age riders. They will also stop releasing bikes in areas where there are many children, such as schools.
Major rental firms such as Mobike, Ofo and Xqchuxing were called in to meet traffic police and education commission officials over concerns about youngsters using rental bikes and e-bikes, the city government said.
It is illegal for children under 12 to ride bicycles on roads and the minimum age for e-bikes is 16.
Bike rentals — or bike sharing — are booming but are raising many traffic issues. Many riders are inexperienced and many park the bicycles illegally. Many under aged people — sometimes even primary school students — have been seen riding shared bikes on streets.
The traffic authority said some children even rent a shared bike together to ride in turn for fun, which could be very dangerous on roads.
After the meeting, the city's education authority, traffic police and bike sharing companies agreed to measures including improving the user registration scheme, adding a pop-up reminder and updating the smart locks on shared bikes to prevent under-age riding.
The transportation authority will tighten control on illegal non-motor vehicle riding.
Schools will also launch traffic safety education for students.
Mobike, the city's largest bike sharing operator, said users have to register with their real name and identity card.
Those under 12 are banned.
The company also released a pop-up notification on its application yesterday, reminding parents of the minimum age rule.
"Our bikes are all using smart-locks which make it difficult for under-aged children to misuse the bikes," Mobike staffer Alanda Yang said.
Beijing-based Ofo told Spring City Evening News that some adults might rent bikes but give them to children.
The company has a real name registration scheme and said it will implement a dynamic password system to replace its mechanical locks.
Last year, the city recorded 85 injuries and one death in 245 traffic accidents involving children under the age of 12 riding non-motorized vehicles.