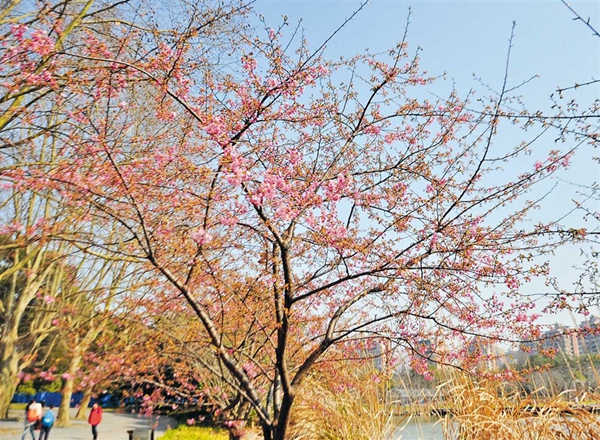 A warm weather boost for Shanghai Botanical Garden's blossom. — Ti Gong

Now is the time to relish the cherry blossom in the city's parks.
The first wave of cherry blossom has flowered at Shanghai Botanical Garden — the earliest for nearly 20 years.
"The warm mild temperature this winter is the major reason for the early flowering, which advanced two weeks compared with last year," said Zhu Jijun, a cherry blossom expert at the garden.
Last winter, the city's lowest temperature reached 6 degrees Celsius below zero, causing the cherry blossom to suffer frostbite, he said.
The Kawazu-zakura cherry blossom, one of the earliest blooming and the major cherry blossom in Shanghai, is expected to be at its best appreciation time at the garden next week, Zhu said. The cherry features large petals and is bright pink in color.
Shanghai's weather conditions suit the Kawazu-zakura cherry, which is among the most beautiful cherry blossoms, said Zhu.
About 20 percent of the park's Kawazu-zakura has flowered, about a week earlier than usual.
It prefers temperature above 6 degrees, and can flower for seven to 10 days if the mercury keeps stable and mild during the period, Zhu said.
Shanghai Chenshan Botanical Garden has a 550-meter boulevard featuring this flower.
The garden operator said its Kawazu-zakura cherry blossoms have sprouted and will flower soon. The best appreciation time is expected to be early March, the garden operator said.
Other cherry blossom varieties should also gradually flower late this month and in early March, Zhu said.
Luxun Park, Zhongshan Park, Tongji University and Gucun Park are other good spots to appreciate the flower.