St. Patrick's Day: Join in Irish revelry in Shanghai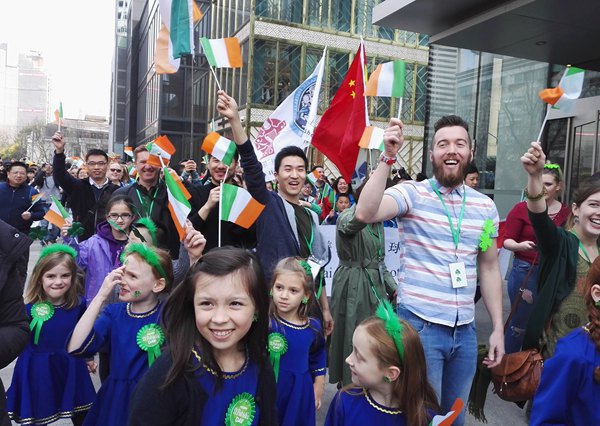 A traditional St. Patrick's Day Community Parade led by the Consul General of Ireland in Shanghai, accompanied by St. Patrick himself and by the President of Le Chéile, the association of the Irish community in Shanghai
The Féile Shanghai Family Day Festival kicked off at the downtown Kerry Centre Jing'an last weekend, celebrating Ireland's National Day, St. Patrick's Day (March 17th). It was the biggest-ever celebration of Irish culture in China, featuring the traditional parade, a live show and an Ireland village where companies displayed a wide range of information and products from Ireland. Fáilte means 'welcome' in Irish.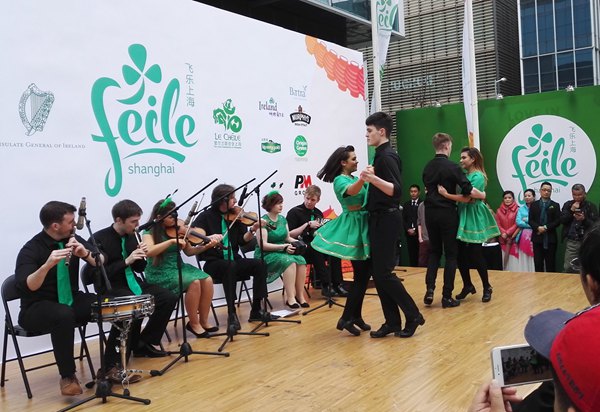 "Cnoc na Gaoithe", a troupe from Ireland
Following the parade, a live show was held at the outdoor stage of the plaza with both Irish and Chinese cultural performances. The troupe "Cnoc na Gaoithe" specially flew here from Ireland to showcase Irish music and dance. Some local groups also presented performances including the widely-popular Irish tap dance.
At the event a young father, Praveen was eye-catching with his twin babies. He told the reporter that he is Indian and his wife is from Ireland. They met in Shanghai, fell in love and got married. Now they live in town with their 19-month boy and girl. The family takes part in the festival every year. "It's great and our kids like it", he said.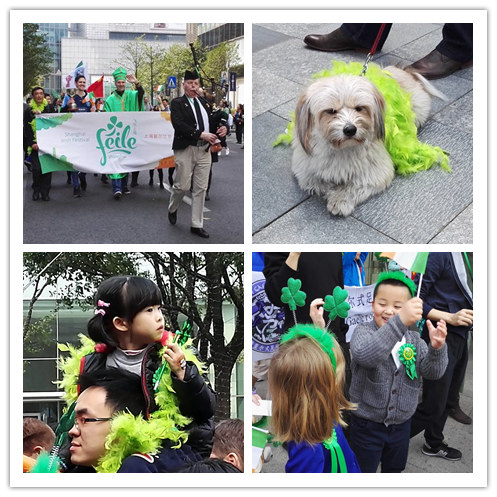 The Ireland village offered festival-goers a flavour of Ireland with companies showcasing information and products in terms of food, tourism and education.
Besides, the Children's Area added to the fun with clowns, twisty balloons, green candy-floss and face painting on offer for the young and the young-of-heart.
It is known that on and around St. Patrick's Day, Irish people extend their warm Irish Fáilte or 'Welcome' to people around the world and invite them to become Irish for the day.
Since 2005, Shanghai has held St. Patrick's Day celebrations for more than 10 years. At this time of the year, people dress-up, and wear something green (the traditional colour of Ireland) to join in the fun.
Ms. Therese Healy, Consul General of Ireland in Shanghai attended the event and said, "The cultural exchange and community links between Irish and Shanghai people are very rich and reflect the very strong and positive relationship between Ireland and China."
The Féile Shanghai Family Day Festival was organised by Le Chéile, the association for the Irish community in Shanghai, with the support of the Consulate General of Ireland in Shanghai and the Jing'an District Foreign Affairs Office.