【中英双语】Interview with SHETO's Director: Shanghai-Hong Kong cooperation lights spirit of innovation
沪港携手 闪耀创新之光——访香港特别行政区政府驻上海经济贸易办事处主任邓仲敏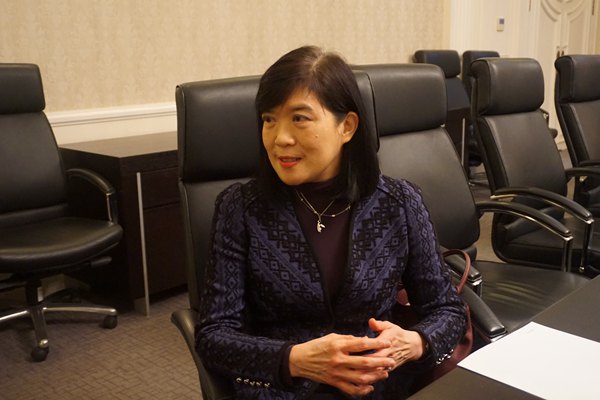 Victoria Tang Chung man, Director, Hong Kong Economic and Trade Office in Shanghai (SHETO) (Photo by Lin Xiaoying)
香港特别行政区政府驻上海经济贸易办事处主任邓仲敏(摄影:林晓盈)
The Shanghai Municipal Foreign Affairs Office, together with district governments from the year of 2017 have started hosting the "FAO Int'l Cooperation Promotion Series" to further enhance exchange and cooperation between Shanghai and places around the world. The first event was themed "Internationalized Shanghai: Heritage and Innovation on the Yangpu Waterfront" and took place in the Shanghai Fashion Center along side the Yangpu River.
2017年起,上海市人民政府外事办公室携手各区政府,举行"上海外事对外合作系列推介活动"。3月22日,首次推介活动以"国际化的上海:杨浦滨江传承创新"为主题,亮相于杨树浦滨江的上海国际时尚中心。
With an elegant smile and makeup, Victoria Tang Chung man, Director of the Hong Kong Economic and Trade Office in Shanghai (SHETO), was interviewed by Eastday.com during the promotional event held in Yangpu District on March 22, 2017. She introduced the major work of the SHETO and talked about the present and future cooperation between Shanghai and Hong Kong in the area of innovation.
清致妆容,优雅笑颜,对沪港科创合作侃侃而谈……坐在记者面前的正是香港特别行政区政府驻上海经济贸易办事处主任邓仲敏。日前,她在参加杨浦推介活动的间隙接受了东方网记者的专访。
What is SHETO for?
"驻沪办"是个怎样的机构?
Since its establishment in September 2006, the Hong Kong Economic and Trade Office in Shanghai has linked HK and the Municipality of Shanghai and four provinces including Jiangsu, Zhejiang, Anhui and Shandong, promoting exchanges and cooperation between these areas in the fields of the economy and trade, investment and culture.
香港特别行政区政府(特区政府)驻上海经济贸易办事处(后简称驻沪办)成立于2006年9月,主要为香港和华东地区,包括上海、江苏、浙江、安徽和山东,建立一道桥梁,促进上述地区在经贸、投资、文化领域的交流与合作。
"We hope to better promote the latest developments of Hong Kong and introduce its business advantages", Tang said. In addition, she stated that they set up the Shandong Liaison Unit in Jinan, the provincial capital, in April 2015, with a view to promote cooperation between Hong Kong and Shandong in various areas. They are planning to set up the second liaison unit in Hangzhou, Zhejiang Province this April.
"我们希望更好地推广香港的最新发展,介绍香港的营商优势",邓仲敏告诉记者,2015年4月,驻沪办在山东济南成立了第一个联络处,致力于推动香港和山东在各领域的合作。此外,他们计划于今年4月在浙江杭州成立第二个联络处。
Tang stated that SHETO set up the Immigration Division here in Shanghai in October 2016, providing different kinds of practical services for Hong Kong residents who meet with accidents (e.g. traffic accident, etc.) or lose identity cards. "Foreigners can also apply for visas at the Immigration Division if they plan to go to HK", she added.
邓仲敏介绍说,2016年10月,驻沪办在上海设立了入境事务组,提供各种便民服务,比如,协助香港人换领特区护照,为在华东地区遇上事故(如车祸)、遗失身份证等的香港人提供实务协助,"外国人如果要到香港去,也可以通过我们入境事务组办理签证。"
"In our work, we appreciate the assistance from many organizations in Shanghai, such as the Hong Kong and Macao Affairs Office of the Shanghai Municipal People's Government, the Hong Kong community and the Hong Kong merchant association", Tang said that all these parties working together pushes forward the SH-HK exchanges. For instance, better connections between Hong Kong students and enterprises help these employees-to-be better plan their future career.
"我们在工作的过程中,很高兴得到上海各方的协助,如上海市人民政府港澳事务办公室,上海的港人团体、港商组织",邓仲敏表示,各方共同努力,以促进沪港两地之间的交流。比如,帮助香港学生与在职人士、香港企业、内地企业建立更好的联络,为他们未来的职业规划助一臂之力。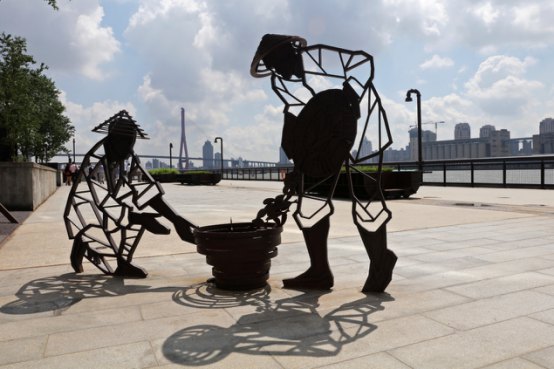 Yangpu Waterfront (Photo by Zhu Liangcheng)
杨浦滨江(摄影:朱良城)
Broad prospects for cooperation between Shanghai and Hong Kong in the innovation area
科创领域:沪港携手 合作前景巨大
During the event in Yangpu District, internationalization and innovation were enthusiastically discussed by more than 300 people from Chinese and foreign organizations.
Tang stated that the Hong Kong government has been attaching much importance to innovation, hoping to promote scientific and technological innovation through pooling the strengths of the government, enterprises, colleges and scientific research institutions, making good use of resources and giving full play to the advantages.
在3月22日的杨浦推介活动中,邓仲敏与来自境内外机构的300余人齐聚杨浦滨江,畅谈"国际"与"创新"。邓仲敏说,香港政府一直以来都十分重视科创领域,希望通过政府、企业、高等院校、科研机构等多方机构,善用资源,发挥优势,集合"官产学研"的力量,带动科技创新合作。
Tang used the 'Knowledge and Innovation Community' (KIC) as an example. This is a project located in the sub-downtown Wujiaochang area in Yangpu and cooperates with a Hong Kong company and the Yangpu District government, bringing together high-tech companies, encouraging innovation and promoting entrepreneurship.
"举个例子,我们知道有一家港资企业在杨浦区的城市副中心创立了以创新、创业为主的中心'创智天地'。这就是一个私人企业与地区政府合作的项目,建立高科技企业集中地,鼓励创新、推动创业",邓仲敏说。
What policies does Hong Kong have to promote innovations? Tang told the reporter that since the establishment of the Innovation and Technology Bureau in November 2015, the Hong Kong government has taken multiple measures involving a total of 18 billion HK dollars to build a better development system for scientific and technological innovation.
在科创领域,香港有哪些推动政策?邓仲敏介绍说,2015年11月,特区政府成立了创新及科技局后,推出涉及180亿港元的多项措施,希望建立一个更好的科创发展系统。
In terms of talent cultivation, Hong Kong encourages interdisciplinary and inter institutional cooperation between universities and the world's top scientific research institutions, and developing products from research results in Hong Kong.
在人才建设方面,香港提倡院校研发服务概念,鼓励大学与世界顶尖科研机构进行跨学科、跨院校合作,并在香港将科研成果成品化。
"In terms of resources, Hong Kong has a 5-billion-HK-dollar innovation and technology fund. We support different types of technological innovation programs. We provide assistance to the 22 Hong Kong partnership laboratories of the State Key Laboratories and the Hong Kong branch of the National Engineering and Technology Research Center, which we believe are also good platforms to promote cooperation between Hong Kong and the Mainland."
"在资源方面,香港有一个50亿港元的创新及科技基金。我们支持不同类型的科技创新计划。我们向22个在香港的国家重点实验室伙伴实验室和国家工程技术研究中心香港分中心提供资助,相信这些也是推动香港和内地合作的有利平台。"
Tang noted that Hong Kong, as an international financial and trade center, expects to better push forward the development of innovation as Shanghai does. In the process of the development of the "Four Centers" and the construction of the innovation center with global influence in Shanghai, Hong Kong will strengthen cooperation with Shanghai by virtue of its sound judicial system, superior financing ability, mature modern service industry, intellectual property protection system, network and talent advantages.
邓仲敏表示,香港作为一个国际金融贸易中心,和上海一样,希望更好地推动科创发展。在上海发展"四个中心"和建设具有全球具有影响力的科创中心的过程中,香港凭借其稳健的司法系统、优越的融资能力、成熟的现代服务业、知识产权保护体系、网络、人才等经验与优势,将可与上海进一步密切合作。
"We know that Shanghai has developed rapidly in some high-end areas, and these are also vigorously promoted in Hong Kong, for example, biotechnology, big data, Internet of things, smart city...... Therefore, there is huge space for cooperation between Hong Kong and Shanghai in these areas."
"我们了解到,上海在一些高端领域发展迅速,而这些领域也是当前香港正在大力推动的,比如,生物科技、大数据、物联网、智能城市……因此,沪港两地在这些领域合作空间巨大。"
Tang concluded that "we hope to seize the great opportunities brought by the 'Belt and Road' Initiative and the 13th Five-year Plan, with Hong Kong playing the full role of "Super-connector" and looking forward to a brighter future through more cooperation with Shanghai."
采访临近结束,邓仲敏表示,参加杨浦推介活动,让她看到了杨浦区这个老工业基地的传承与创新,感受到香港和上海未来的合作潜力。"我们希望抓住国家'一带一路'倡议和'十三五规划'所带来的巨大机遇,发挥香港'超级联系人'的作用,期待透过与上海加强合作擦出更多火花。"